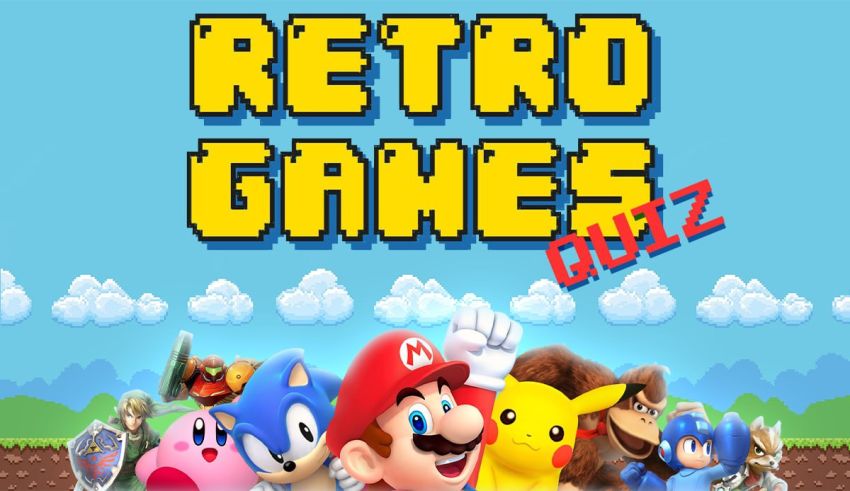 The Retro Games Quiz determines how well you know classic games. It's a fun trivia test about the famous 80s and 90s video games.
Retro Games Quiz Explained
The Retro Games Quiz is a 20-question trivia test that tries your retrogaming knowledge. It reveals how well you know the 80s and 90s video games.
Retro games are classic titles of first- to fourth-generation gaming consoles (that is, video games released from 1987 to 1993).
The current test quizzes your knowledge of the topic with three types of questions:
·       Retrogaming history.
The history of old-school games is fascinating. It started as early as 1948 when a computer code was written for a missile launch simulator.
But how well do you know the retrogaming timeline? Take the test to find out.
·       Retrogaming trivia.
Did you know that retro games had no boss fights until 1979? (Peaceful days). Well, that's just one example of shocking trivia. How many more do YOU know about? The quiz results will tell.
·       Guessing classic games by picture.
Can you guess a retro game by only one frame of gameplay? If yes, let's see your talent. The quiz has several picture questions to challenge you.
🏆 Another challenge for you: Guess the Anime Character by Picture.
How Difficult is the Retro Game Trivia?
While an average retrogaming fan would do well on the test, newbies would find it difficult. Why? The questions gradually become more challenging, making it almost impossible to get a perfect score.
Here are three examples of retrogaming trivia questions.
| | |
| --- | --- |
| Question | Difficulty |
| What was Mario originally called? | Easy |
| What was the first video game with colors? | Medium |
| Who wrote the first video game code? | Hard |
🤫 Psst! Looking for new retro games? Try "What Game Should I Play?"
Get Your Retrogaming Knowledge Scored
One thing about the Retro Games Quiz is that it's brutally honest. It gives you one score for each correct answer, categorizing you into one of these leaderboard-inspired groups.
0-5 points: Newbie retro gamer.
Having five or fewer correct answers means you don't know much about retro games—you're a newcomer.
6-10 points: Retired gamer.
While a six to ten score is impressive, it's not enough to get you a title. It only indicates you're an old gamer, a retired one.
11-15 points: Passionate retro gamer.
Modern game fans rarely score as high as fifteen. But it's the sweet spot for average retro gamers—most end up in this category.
16-20 points: True retro gamer.
Only genius expert-level gamers get sixteen points or more. It's a clear sign of being a certified retrogaming guru.
By the way, are you into gaming trivia tests? If yes, try beating our Ultimate Roblox Quiz. (We're 100% sure you'll fail).
How Well Do You Know Old School Games? Let's See!
Are you ready to assess your knowledge? The retrogaming questions await you. Hit the start button and beat 'em up. (See what I did there?).
Disclaimer
QuizExpo does not own the images in the Retro Games Quiz and intends no copyright infringement.
How to Play?
A trivia quiz comes with right and wrong answers. You receive one point for each correct response—but no negatives for the incorrect ones. Take your time and read the questions carefully because some might be trick questions. Choose an option and lock it in by tapping "Next." Lucky for you, the trivia quizzes have instant results. You see if your response was correct immediately. (Green is good, red is bad.) Even better, you can learn more about the topics with the "answer reveals," the fun-fact snippets that appear after each question.
Questions of the quiz
Question 1

Yes, it's Street Fighter. But which one is it?

Street Fighter 1

Street Fighter 2

Street Fighter 3

Question 2

Which Mario game is this?

Super Mario 64

Super Mario World

Mario Clash

Super Mario World 2

Question 3

Okay, stranger. Which retro game is this one?

Contra

Super Contra

Contra Force

Hard Corps

Question 4

Can you name this 1982 retro game?

E.T. The Extra-Terrestrial

Keystone Kapers

Pitfall!

Kaboom!

Question 5

Is this an image of the original Final Fantasy VII?

Question 6

What retro game is this?

Out Run

Hang-On

Power Drift

Daytona USA

Question 7

Okay, now let's level up the questions. How many Mario games are there?

About 50

About 100

About 200

Over 400

Question 8

What was the first retro game with a storyline?

Super Mario

Donkey Kong

Pac-Man

Space Invaders

Question 9

In what year was the first color game released?

Question 10

What was the first gaming console called?

NES

Atari Home Pong

The Magnavox Odyssey

Coleco Telstar

Question 11

The first two-player game was a ___________ game.

Tennis

Table tennis

Spaceship battle

None

Question 12

Which one was the first arcade game released in 1971?

Computer Space

Pong

Space Invaders

Question 13

What game introduced boss fights?

Zelda

Galaxian

Paperboy

Chuckie Egg

Question 14

Croc: Legend of the Gobbos was supposed to be a Mario game.

Question 15

Which one is the most popular NES game after Super Mario Bros.?

Duck Hunt

Tetris

The Legend of Zelda

Question 16

In Super Mario Kart, Peach and Bowser celebrated their wins by drinking champagne.

Question 17

Who's nickname was "Jumpman?"

Bowser

Mario

Luigi

None of them

Question 18

Donkey Kong was actually Mario's pet. Fact or fiction?

Question 19

Which of the following consoles DID NOT support Tomb Raider 1996?

PlayStation 1

Saga Saturn

NES

Question 20

What's the highest (the world record) score on Donkey Kong?

1,047,200

1,050,200

1,062,800

2,035,200