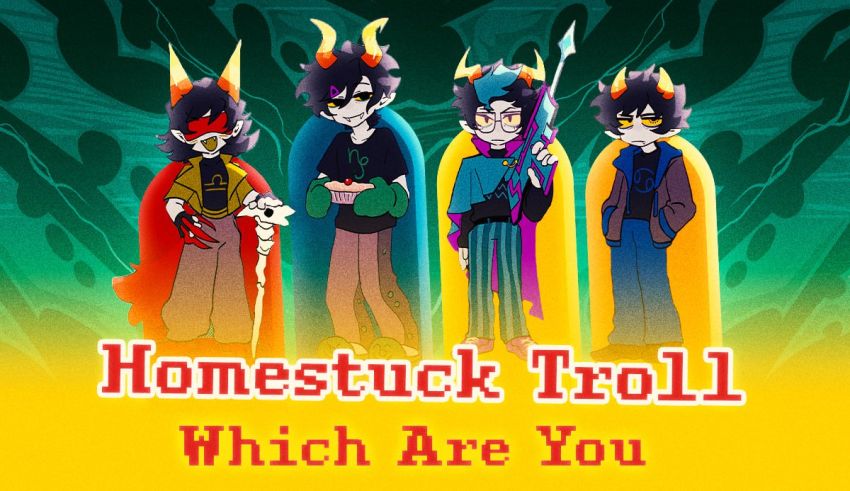 Hey, you, which Homestuck Troll are you? My MS Paint Adventures Quiz will reveal your true internet troll persona. Are Aradia, Nepeta, Karkat, or else?
Two things are infinite: Time and, well, internet trolls. (Both are infinitely annoying as well.) But as a Homestuck fan, I'd say not all trolls deserve to perish in the dumpster. The Trolls I'm talking about live on planet Alterina in Universe A. Yeah, those MFs.
To be clear, Trolls are a race of creepy human-like creatures in Homestuck and Hiveswap. They dedicate their lives to harassing kids and trash-talking them for fun.
But this is not an introduction to Trolls' race; it's a personality test! By pressing the start button, you allow me to judge the sh** out of your character and decide which Homestuck Troll looks like you.
Since I know most of you Trolls are pretty impatient, I've also compiled an MBTI table. With this table, you can discover your "trollsona" on your own. (You're welcome.)
| | |
| --- | --- |
| Troll | MBTI |
| Aradia Megido | ISFJ |
| Nepeta Leijon | ESFP |
| Karkat Vantas | ENTJ |
| Feferi Pixes | ESFJ |
| Kanaya Marya | ISFP |
| Tavros Nitram | INFJ |
But hey, if you genuinely wonder which MSPA Troll you are, just take the test already. The following questions will expose your toxic internet persona according to our beloved webcomic, Homestuck.
I would also encourage you to take the Homestuck Classpect Quiz next—especially if you're new to the fandom. I designed that test to be super simple and newbie-friendly.
SUGGESTED: The Ultimate Creepypasta Quiz
Before you jump into the Troll test, here are some of the prominent characters that you might match:
Nepeta Leijon: Known for her soft and loner persona, Nepeta is an artistic Troll. If you get her in the test results, you are an imaginative person with a knack for art.
Karkat Vantas: A moody and aggressive Troll, Karkat is a fan-favorite character because of his blunt and rude attitude. Those who match Karkat are self-reliant, confident, and tetchy people with short-lived bursting waves of anger.
Aradia Megido: Considering everyone and everything boring, Aradia is an introverted, cold, and irritable girl. She particularly struggles with showing her emotions, preferring to feel nothing as her coping mechanism.
Okay, you're all caught up. It's about time to investigate your dark core and pull out the Troll(s) lurking within. ✌🏻🤡
Disclaimer
QuizExpo does not own the images in this test and intends no copyright infringement.
How to Play?
Playing personality quizzes is straightforward: Choose the option that's true about you—or you relate to—and select "Next." Unlike trivia quizzes, personality tests have no right or wrong answers. But the questions are in forced-choice format. The point is to push you to choose an option that makes the most sense, not the one that's 100% true. For the most accurate results, don't overthink your responses. Go with options that you "feel" are the best.
Questions of the quiz
1

How do you respond to negative comments?

I ignore them

It depends on my mood

I laugh them off

I roast them back

2

What kind of Trolls are the funniest?

Dumb ones

Aggressive ones

Depressed ones

Violent ones

3

Why do you like Homestuck?

It's funny

It's relatable

Meh, it's kind of entertaining

I don't like it that much

4

What's the most toxic thing about you?

Laziness

Anger issues

Detachment and numbness

Lying or cheating

5

What do you do when someone hurts you?

I cut ties with them

I confront them

I pretend we're cool

I plan my revenge

6

How do you spend your free time?

Craft things, do art stuff, or read

Play video games, watch anime, sleep

Eat a ton of food, sleep, and repeat

I'd rather not say

7

What's your morning mood like?

Peaceful

Irritable

Sad

Violent

8

Should people fear your anger? Why?

No, my anger is controlled

Maybe, I can get physical

Yes, I will break things

Yes, I might hurt myself

9

Which one better describes your texting style?

Quick, short responses

Late, short responses

Leave people on read

Late, long responses

10

What's your Snapscore?

Less than 1,000

About 5,000 to 10,000

Somewhere around 50,000

100,000 or higher

11

What's your TikTok FYP like?

Fandom, niche videos

Random funny stuff

Gen-Z memes and dance videos

Depressing stuff

12

What do you do when you're bored?

I do something productive

I hang out with friends

I just sleep

I cry or listen to loud music

13

Be honest; do you post mean comments on other people's stuff?

No, never

Yes, but it depends on my mood

I might do that, yeah

Yes, I love doing that

14

If you were an actual Troll, how would you dress up?

Artsy

Sporty

Casual

Sexy or trendy

15

Final question: Why should people like you?

I'm honest

I'm protective

I'm funny

They shouldn't. I'm unlovable