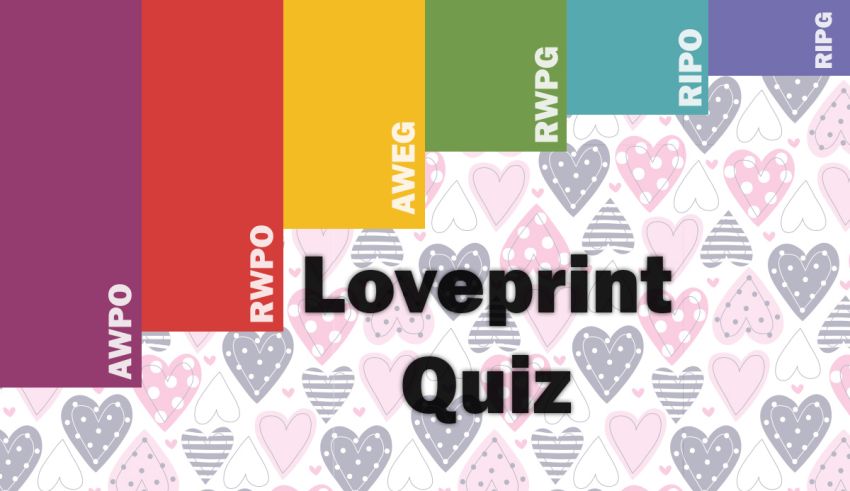 The Loveprint Quiz identifies your lover persona and reveals how you are in romantic relationships. Just answer 20 simple questions to get accurate results.
Loveprint Quiz Explained
Comprised of a series of romance questions, the Loveprint Quiz is a dating personality analyzer. It categorizes you into one of the 16 Loveprints, which are different lover personas.
Your Loveprint is your style of communication, partnership, intimacy, and vulnerability in romantic relationships. It is your way of showing and receiving affection combined with your views on emotional and physical closeness.
How to Know What Your Loveprint Is
To find your Loveprint, analyze the primary factors: How you communicate, how you commit, how you get intimate, and how you express your vulnerabilities.
Communication
The communication spectrum has two ends: Active and Reflective. Active Loveprints are extroverted communicators, while Reflective ones are the opposite.
Partnership
You are either an "I" or a "we" person. The latter means you value your independency regardless of the relationship status. And the latter means you prefer shared activities—but it doesn't necessarily tell you to dislike independency.
Intimacy
Loveprints have various intimacy styles. On one end, some prioritize emotional closeness; on the other, some prefer physical intimacy.
Vulnerability
A person can have a guarded or open vulnerability style. A Loveprint with guarded vulnerability finds it challenging to express insecurities. But the one with open vulnerability is expressive.
The Meaning Behind Loveprint Letters
Like with Myers Briggs Type Indicator, the Loveprint letters distinguish personalities—within the framework of love and romance.
The first letter is A or R, which stands for Active or Reflective. The second is I or W, which stands for I or We. The third is E or P, which stands for Emotional or Physical. And the last one is G or O, which stands for Guarded or Open.
Based on its four-factor system, the Loveprint Quiz has 16 personality types that are as follows:
AWPO
AWEO
RWPO
RWEO
AWPG
AWEG
AIPO
RWPG
AIEO
RWEG
RIPO
RIEO
AIPG
AIEG
RIPG
RIEG
How the Loveprint Trend Started
Initially created by Jubilee's Nectar Comma Love branch, the Loveprint Test took over the internet via TikTok. TT users liked the relatable results of the quiz, sharing them with their friends and followers on the app.
But this is not the first time a romance-inspired personality quiz has gone viral. Earlier this year, another similar test called the Smile Dating Quiz gained TikTokers' attention, becoming an online phenomenon.
By the way, people who enjoy the Loveprint Test also like the Bittersweet Quiz, another romantic personality analyzer with touching results.
See What Your Loveprint Is (with a Twist)
Most Loveprint Quizzes are in the agree-disagree format. They give you some statements and ask you to choose the extent to which you agree (or disagree) with them. It's a reliable process—but it's inflexible.
The good thing about our Loveprint Quiz is that it has descriptive options for its relatable questions. You don't have to express yourself through agreement or disagreement. You can choose the answer that makes the most sense to you.
Are you ready to find your Loveprint? Hit the start button for an accurate analysis.
Disclaimer
QuizExpo is not associated with any of the names/companies mentioned on the test. And the Loveprint Quiz is an independent personality test, intending no copyright infringement.
How to Play?
Playing personality quizzes is straightforward: Choose the option that's true about you—or you relate to—and select "Next." Unlike trivia quizzes, personality tests have no right or wrong answers. But the questions are in forced-choice format. The point is to push you to choose an option that makes the most sense, not the one that's 100% true. For the most accurate results, don't overthink your responses. Go with options that you "feel" are the best.
Questions of the quiz
1

What's the first thing you do when you're mad at your partner?

I stop talking to them, or I cry

I talk to them calmly and explain my feelings

I often let them know that I'm mad at them

I usually hide my emotions and pretend I'm fine

2

How do you feel when your partner is mad at you?

Nervous

Empathetic

Calm

Irritated

3

How easy is it for you to talk about your insecurities with your lover?

It's nearly impossible

It's quite easy

It's not easy, but I do that

It's easy, but I don't do that

4

What kind of listener are you?

Patient

Empathetic

Curious (focused)

Inattentive

5

Do you express your negative emotions immediately, or do you need some time to process them?

Yes, but I need some help to do that

It depends. But I try not to pile up negative emotions

I don't do that immediately. But I'm quite expressive

I need a lot of time to process my negative emotions

6

Which one sounds like the type of activity you'd enjoy?

Snuggling in the bed and netflixing

Going on a date with my partner

Going on an adventurous solo trip

Being in my room alone and doing what I love

7

Which one's closer to your definition of "me time?"

Being able to manage your time in a relationship

Giving your partner privacy and space

Hanging on to your independence in a relationship

Taking breaks from your relationship

8

How do you feel when your partner is not around for a while?

I miss them so much

It depends on why they're gone

I miss them, but I use that as an opportunity to care for myself

I feel peaceful and excited about the time I have

9

Do you think that solo activities keep relationships healthy?

No, I don't like solo activities

Maybe. It differs from one couple to another

Yes, solo activities are excellent confidence-boosters

Yes, no relationship can last without them

10

How often do you feel like you need some privacy to recharge?

Rarely or never

Occasionally

More than my partner

All the time

11

What's your go-to method for showing affection?

Words of affirmation

Giving gifts or doing favors

Physical favors (massage, hugs, etc.)

Sex

12

What do you think of a non-sexual romantic relationship?

I relate to the idea

I get it, but I don't relate to it

I would never want that

I don't get it, and I'd never relate to it

13

Can you get physically intimate with someone you barely know?

No, never

Maybe. It depends on the synergy

Yes, why not

Yes, it's actually easier that way

14

Is "good sex" among your top-3 criteria for a good relationship?

I'd say it's in the top 5

I think it is

It's in the top 2

It's #1

15

How would you react if your partner suggested an open relationship?

IDK. I'd be broken

I'd break up with them and move on

It depends on my desires at the time

I'd be down to give it a try

16

Which one is the most difficult thing to talk about?

My past (in general)

My future plans

My ex

My emotions

17

What are you insecure about?

My look (facial features)

My weight

My career

My social status

18

Do you want to know about your partner's insecurities?

It depends. I'm not sure

Yes, I'd love to

Only if they want to talk about them

No, I don't need to go that deep

19

Do you believe that being vulnerable with your partner is a must for a healthy relationship?

I'm not sure

Yes, it's crucial

It helps with that, but it's not a must

No, I think the opposite is true

20

Final question: How old are you?

17 or younger

18-24

25-29

30 or older