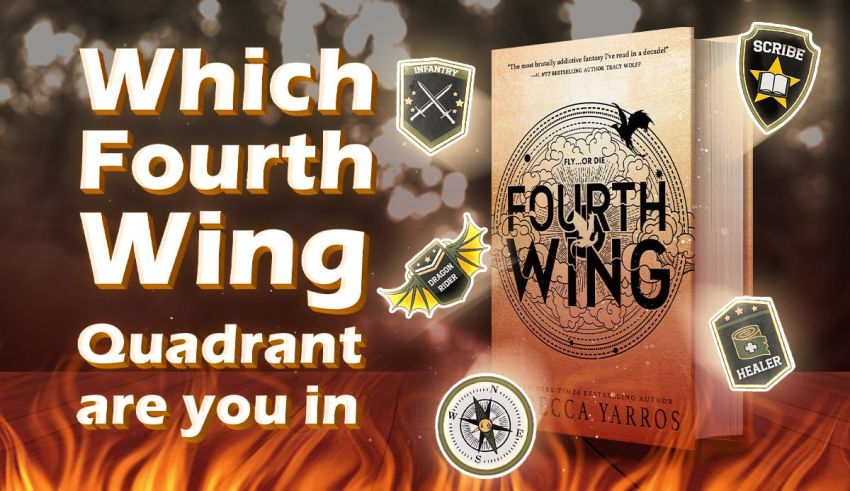 With this Fourth Wing Quadrant Quiz, you see which group you fit in: the Riders, the Healers, the Scribes, or the Infantry.
After my second binge-reading of Fourth Wing—and in anticipation of Iron Flame—I created this Quadrant Quiz that tells you which faction you are in.
In case you need a quick recap, there were four Quadrants in The Empyrean's first book: Riders, Healers, Scribes, and the Infantry. My goal is to identify which of these groups you would fit in.
Think of this test as a virtual Conscription Day or a Threshing ritual. You must prove worthy of becoming a Dragon Rider or join one of the other three parties.
Here's a rundown of each group:
Riders are Dragon tamers who are also the primary military clique of Navarre.
Healers serve as the equivalent of doctors in the military, tending to injured soldiers and researching medicines.
Scribes are historians and academics of Navarre.
The Infantry is a group of military personnel that engages in ground combat, builds camps, and advances in the enemy territory.
On a side note, these Quadrants are divided into three subdivisions: Flame, Claw, and Tail.
I know what you think: "I am a Rider." (Aren't we all?) What's funny about the Fourth Wing fandom is that it's packed with fans rooting for Riders, but only a handful of people match the faction.
The Riders syndrome is comparable to that of the Slytherin dilemma among Harry Potter fans. Most want to enter this House, but not many actually do.
I'd say trust the selection process. Let me reveal which Fourth Wing Quadrant you are in based on solid evidence. Answer the following 15 questions as a Basgiath War College student, and I'll expose your true faction.
Are you a Healer, a Scribe, an Infantry soldier, or an actual badass Rider like Violet and Xedan? Let's find out. 🐉⚔
By the way, The Empyrean fans like you would definitely enjoy our Wings of Fire Quiz. So, make sure to check that one out, too.
Disclaimer
QuizExpo does not own some of the images used in this test and intends no copyright infringement.
How to Play?
Playing personality quizzes is straightforward: Choose the option that's true about you—or you relate to—and select "Next." Unlike trivia quizzes, personality tests have no right or wrong answers. But the questions are in forced-choice format. The point is to push you to choose an option that makes the most sense, not the one that's 100% true. For the most accurate results, don't overthink your responses. Go with options that you "feel" are the best.
Questions of the quiz
1

How should you prove yourself worthy of becoming a Rider?

Show no mercy

Be your true self

Abide the rules

Focus on teamwork

2

What would you wear to the Conscription Day ceremony?

A leather jacket and a pair of jeans

A white robe with a loose dress

Something like a suit

A comfy T-shirt and a pair of shorts

3

What makes a great Wingleader?

Ruthlessness

Kindheartedness

Intelligence

Physical strength

4

How would you feel the night before the Threshing day?

5

How would you kill a Wyvern?

Cut its head off

Shoot it with poisonous arrows

Set a deadly trap and hunt it

Attack it with a group of friends

6

What do you think of Venins?

I despise everything about them

I think they might not be absolute monsters

I'm scared of them

I kind of like them

7

Describe the Fourth Wing book in one word or two.

8

Which one are you good at?

Multitasking

Assistance or teaching

Writing or organizing

Crafting and fixing

9

What kind of romance would you like to experience?

Intense and challenging

Peaceful and ordinary

Romantic and novel-like

I'm not sure about the answer

10

What's something about the Dragons that fascinates you?

Power and magic

Emotions

Wisdom

I'm actually scared of them

11

When you and your friends go camping, what tasks do you handle?

Looking for the best spot and leading the way

Helping in carrying items or cooking

Wandering around and enjoying the view

Setting up the tent and fire

12

What would you do to a surrendered Venin?

I'd kill them

I would probably set them free

I would interrogate them

I don't know what I d do

13

On a scale of 0 to 5, how excited are you for Iron Flame?

3 (moderate excitement)

1-2 (I could wait a bit longer)

4-5 (Can t wait any longer; super excited!)

0 (Not excited at all)

14

Choose a motto.

Fight back, no matter what.

Listen to your heart.

Do what's right, not what s easy.

Survive.

15

Final question: What would you call your Dragon?

Comrade

Bestie

Senpai

None of them