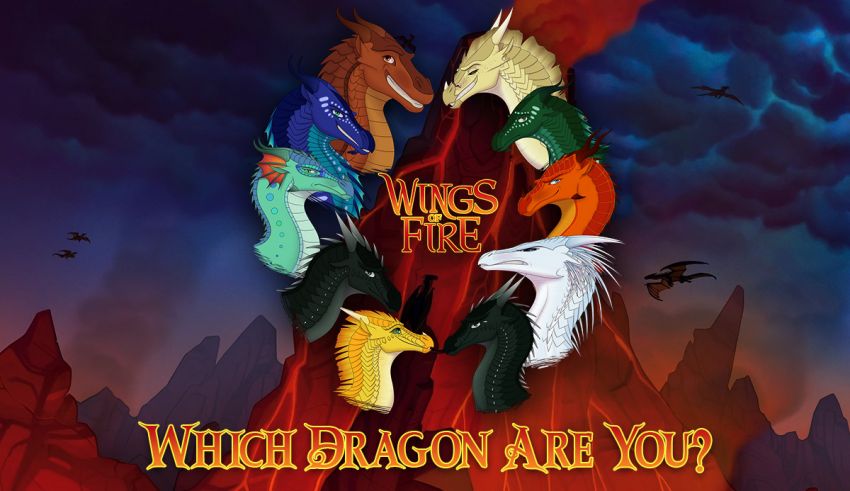 The Wings of Fire quiz is a set of 20 questions to reveal which Pyrrhia or Pantala dragon you are. Are you a Dragonet or a Bigwing? Let's unveil your character!
A Wings of Fire Quiz to Reveal the Dragon Within You
Our test is based on the personality analysis of all the Distant Kingdoms' tribe members. It exposes what Wings of Fire dragon you are after answering all the twenty questions.
But we wanted to create a special WoF quiz. So, the results include much more information than an average test. Here are some of the stuff you are about to find out about your Dragon-ish persona.
· Discover Your Dragon Soulmate
First things first, the quiz unveils which Dragon matches your personality. We have a list of all the main characters of the book series. So, by the end of the test, the algorithms compare your characteristics to the database and reveal the exact match in less than a few seconds.
· Find Out More Information About Your WoF Counterpart
The Wings of Fire quiz also offers additional information about your Dragon persona. For instance, you find out how old you are in the WoF universe. You also receive a love life analogy, describing who your crush or BF/GF would be in the Distant Kingdoms. Plus, we tell you about your possible special powers and iconic traits to make the results even more fun.
· Explore Your Possible Life in Pyrrhia
Which Wings of Fire tribe do you belong to? That is a question our test answers. By the end of the quiz, you discover your tribe, allies, and other relative information about your life on the Pyrrhia continent.
Which Wings of Fire Character Are You
The premise of the test is to figure out what WoF Dragon matches your personality. So, we already analyzed the iconic tribe members to create a reliable database. Here is a guide to some of the protagonists and antagonists of the fantasy book series to help you understand the quiz better.
1. Clay
Clay is the main character or the hero of the first arc. He is a brave, strong, friendly, and loyal dragon who protects his loved ones, no matter what. Clay is a MudWings member, and he is about seven years old. People who match Clay during the Wings of Fire quiz have unconditional love for food. And that is because Clay is an always-hungry type of creature.
2. Moonwatch
Being one of the beloved female characters, Moonwatch is a determined, friendly, and shy dragon from the NightWings tribe. She suffers from social anxiety, and her special powers like reading others' minds have led her to be socially awkward. She is often trying to make the right decision despite the challenges. Participants who match Moon during the Wings of Fire quiz are usually the quiet and innocent ones (aka hidden talents in the room).
3. Blue
Blue is a SilkWing who fears changes and challenges. He is often seen trying to have a calm and peaceful life. And he hates adventures as they might ruin his casual life. If you match Blue during the WoF quiz, you are a lie-hater, caring, and overthinking person who enjoys life as it is.
4. Darkstalker
Darkstalker is one of the main antagonists of Tui T. Sutherland's book series. He is a charming, intelligent, and powerful Dragon at the beginning. However, Darkstalker becomes a manipulative, selfish, and toxic creature throughout the story. Matching him during the Wings of Fire quiz means you always put yourself before others. And you tend to ignore others' feelings at all costs.
5. Other Dragons
Our quiz includes the most popular WoF Dragons, such as Sunny, Tsunami, Glory, Peril, Qibli, Snowfall, etc. So, you might end up matching with other characters as well. (Make sure to read the descriptions in the results for a proper analogy of your personality).
Discovering Your WoF Dragon without a Test
Are you wondering, "What Wings of Fire Dragon am I?" That is a-okay. Here is the easiest way to find out which WoF character is similar to you—without answering any questions. The following table describes the main protagonists' characteristics, abilities, and traits. So, you can decide which one represents you based on your behavior and features.
| | | |
| --- | --- | --- |
| Character/Dragon | Description | Age and Gender |
| Clay | Friendly, Strong, Brave | 7 / Male |
| Moonwatch | Determined, Shy, Caring | 4 / Female |
| Blue | Calm, Obedient, Honest | 6 / Male |
| Sunny | Exciting, Bubbly, Agreeable | 7 / Female |
| Tsunami | Snarky, Brisk, Buoyant, | 7 / Female |
| Winter | Fierce, Polite, Curious | 5 / Male |
| Turtle | Quiet, Laid-Back, Persistent | 5 / Male |
| Qibli | Stubborn, Compassionate, Talkative | 5 / Male |
| Luna | Reckless, Unworried, Fierce | 6 / Female |
| Sundew | Brave, Menacing, Furious | 6 / Female |
| Cricket | Impulsive, Stubborn, Intelligent | 6 / Female |
Fun Facts Before Taking the Wings of Fire Quiz
WoF is full of mysteries and shocking facts. But here are some of the funniest ones to break the ice before the test.
The Author's Tribe Is RainWings
When asked, "What is your favorite tribe?" Tui T. Sutherland said, "RainWings." She then added, "Because they sleep a lot, get to eat lots of fruits, and are pretty mellow Dragons. But they also have this secret weapon that I love."
Sunny Is Named After a Dog
The author of the beloved fiction book series named Sunny after her dog, Sunshine. She believes that is a suitable title for an excitable, bright, and bubbly like Sunny.
Disclaimer
QuizExpo does not own any of the images used in the Wings of Fire quiz. Please, contact us if you own any, and you want them to be removed.
How to Play?
Playing personality quizzes is straightforward: Choose the option that's true about you—or you relate to—and select "Next." Unlike trivia quizzes, personality tests have no right or wrong answers. But the questions are in forced-choice format. The point is to push you to choose an option that makes the most sense, not the one that's 100% true. For the most accurate results, don't overthink your responses. Go with options that you "feel" are the best.
Questions of the quiz
1

What is the best part of being a Dragon?

Adventures

Friendships

Having Wings

Power

2

Which one sounds like a good place to create your Dragon-ish empire?

Sky

Mountains

Jungle

All the planet!

3

What kind of a Dragon would you like to be?

Leader

Companion

Alone

Scary

4

Do you think that Dragons should go to battles?

5

Which one sounds like the type of food you'd like to eat as a Dragon?

6

Is it easy for you to make new friends?

7

Choose your favorite word.

Caring

Lovely

Calm

Ambitious

8

What symbol would you like to tattoo on your body if you had to?

9

What do you think about Dragonets?

They are lovely

They are cute

They are noisy

They are pathetic

10

As a Dragon, all you want to have is __________.

Loyal friends

A loving home

Peace of mind

Power, power, and power

11

Would you ever kill another Dragon to gain more power?

12

What is the scariest thing about being a Dragon?

Responsibilities

Lifestyle

Threats

Losing a battle

13

Which one sounds like your favorite activity?

14

On a scale of 0 to 10, how much do you like sleeping? (10 means you LOVE it).

15

Are you an adventurous person?

16

Which of the following Wings of Fire books is your favorite?

The Dragonet Prophecy

The Lost Heir

The Hidden Kingdom

The Dark Secret

17

Choose a nickname for your Dragon persona.

Big Guy

Cutie

Lone Wolf

The King

18

Which of the following concepts matter to you the most?

19

Are you a day or night person?

20

Final question; what do you hate the most?

Disloyalty

Laziness

Lies

Weakness