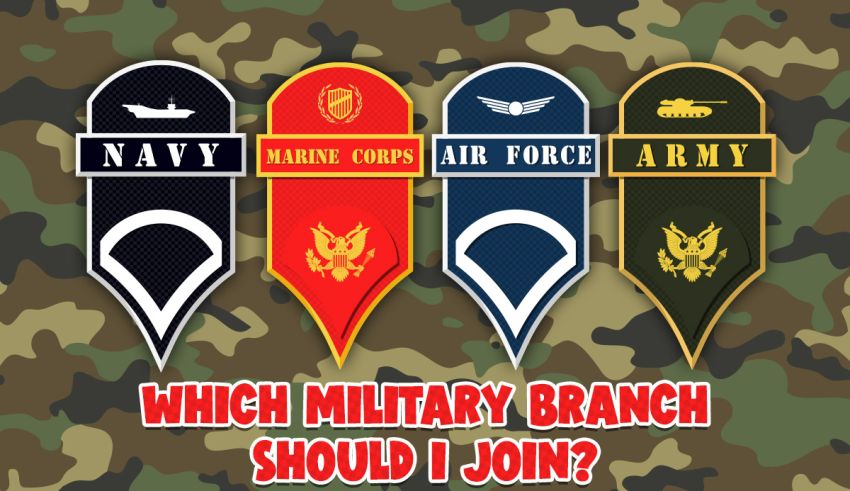 Do you ask, "Which military branch should I join?" This honest quiz reveals which branch suits you. Should you join the Navy, Air Force, Army, or Marine Corps?
A Sure-Fire Military Branch Quiz
It's challenging to decide which branch is right for you. And the fact that you cannot change your service easily makes it even more difficult. However, the 20-question on this page can lend a hand with choosing your dream U.S. forces based on your likes/dislikes and skills.
We designed the test for any American confused about joining the military forces. It's a self-report type of questionary that includes detailed, reliable results. Here's what you learn by participating.
Note: the quiz can also expose those who should NOT join the military.
Find out which branch you should join.
The goal of the quiz is to help you find the right military force to join. So, that's the first piece of useful information it offers. We've created a database of all six branches to find the perfect option for you. We have questions that lead you through picking the best service like a professional recruiter.
Discover why you suit a specific military branch.
It's crucial to know why a particular force is your best bet. That's why the military branch quiz explains the reason behind each result. It helps you get your head around the idea and have your own analysis based on ours.
Get some tips on how to join your dream force.
What happens after you decide which military branch to join? The quiz gives you some pieces of valuable information on what to do next and how to sign up. Each U.S. military service has its own recruiting process, although they overlap.
Things that the Military Branch Test Considers
How can we answer a big question like, "Which military branch should I join?" Well, the key is letting you create your own path. The quiz here is in self-report format. So, it's more of a guided process to enable you to choose your branch. We consider the following factors to do so.
Job Selection.
The military does not consist of soldiers. There are hundreds (if not thousands) of different jobs you might want to have. So, the quiz helps you review all the options you have without mentioning them directly—because that's just not possible.
Duty Station.
Where you serve plays a significant role in your life. You might not want to leave your family behind or live abroad. Thinking about such concerns is crucial to discover which military branch you should join. The quiz offers questions you need to ask before making any decisions. And your answers help us deliver the most reliable and accurate results.
Travels or Rotations.
No matter what branch you join, there's always a possibility of traveling or rotating. You cannot choose where to go next. And you have to live in a particular place as long as the U.S. forces want you to.
Some services have a shorter rotation period, meaning you have to move every year or so. But some others require fewer travels, and you're guaranteed to stay in the same place for quite a while. The quiz analyzes your answers to determine what type of rotation plan suits you.
Requirements.
To join a military branch, you need to meet certain requirements. Each section or service has its own unique criteria for picking the forces. So, you have to review them individually. However, the good news is that the quiz you're about to take can do that for you. Our database is based on current requirements. So, matching a particular service also means that you'll probably pass their tests.
Payment Expectations.
Although all military branches' payments are the same, the extras and bonuses can significantly differ. The quiz considers your financial expectations to come up with a suitable result. Keep in mind that the average U.S. military member's annual salary is $40K. But it can go as high as $85K depending on your branch and rank.
Know Your Options before the Military Branch Quiz
You get to choose between five Department of Defense and one Department of Homeland Security branch. It's crucial to know what each of them is about prior to make any decision or taking online quizzes.
Air Force (USAF)
The motto of this branch is, "To fly, fight, and win." It clearly shows the importance of aircraft and pilots because the whole service depends on them. Being a pilot means you're on top of the hierarchy in the air force, and almost everyone else (excluding your commanders) is there to support you. It's also said that U.S. airmen experience the highest life quality during their service time.
Army (USA)
When a tough and athletic person asks, "Which branch should I join?" a cliché answer is that you should join the armies. Yes, the branch indeed requires physically strong individuals. But there are other jobs in the U.S. army that do not need you to be the Rock. However, be mindful that being in the army means you'll have to travel a lot, get used to low-quality life, and lots of dangerous missions—especially abroad.
Coast Guard (USCG)
USCG is a part of DHS, so some do not consider it a military option. But that's not accurate. The branch focuses on keeping the coastal and waterways safe from smugglers and any other type of law violation. The official U.S. government website states, "USCG enforces marine environmental protection laws. Service members are Coast Guardsmen and nicknamed Coasties. The reserve component is the Coast Guard Reserve."
Marine Corps (USMC)
The main purpose of the branch is to provide land combat, sea-based, and air-ground operations support for all other forces. Becoming a Marine is one of the toughest processes among U.S. military training. It requires lots of rotations, abroad missions, high-risk operations, and direct combat.
Navy (USN)
USN's territory starts when the USCG's jurisdiction ends. Most navy members need to be on a warship or serve in a coastal area near one. The rotation period is relatively short. And you might spend a couple of months on the sea with no land contact.
Space Force (USSF)
This force is relatively new, and many people who ask, "Which military branch should I join?" don't even know that it's an option. According to the U.S. government website, "The Space Force falls within the Department of the Air Force. It organizes, trains, and equips space forces to protect U.S. and allied interests in space and provide space capabilities to the joint force."
Disclaimer
QuizExpo is not associated with the U.S. government, military, or other organizations mentioned in the quiz. The Military Branch Quiz on this page was created independently for entertainment and educational purposes.
How to Play?
Playing personality quizzes is straightforward: Choose the option that's true about you—or you relate to—and select "Next." Unlike trivia quizzes, personality tests have no right or wrong answers. But the questions are in forced-choice format. The point is to push you to choose an option that makes the most sense, not the one that's 100% true. For the most accurate results, don't overthink your responses. Go with options that you "feel" are the best.
Questions of the quiz
1

Describe the type of job you want to have in the military.

Protecting important places

Commanding a team

Doing missions abroad

Engaging in direct combats

Doing all sorts of military activities

Doing intelligence-based works

2

How important is it for you to serve in the same city you live in?

I must stay close to where I live

It'd be nice if I could be near to my house

I'm okay with being away from home

I don't think soldiers have the luxury to choose that

I'm ready to serve anywhere on this planet

I'd feel better if I was away from my hometown

3

What's your salary expectation after joining a military branch?

$70K

$80K

$85K

$90K

$100K

$110K or more

4

Which one describes your current situation?

I live with my partner and kid(s)

I live with my partner

I live with my parents

I live with my friends

I live by myself

None of the above

5

What type of operations would you like to be a part of?

Search and destroy

Solo missions

Vehicle-based battles

Direct, close battles

Sniping and assassination

Intelligence missions

6

Do you prefer land, sea, air, or else?

Coast

Air

Sea

Land

All of them

None of them

7

What kind of training process do you like to go through?

Easy

Academic

Slightly challenging

Challenging

Extremely challenging

I don't like training

8

Do you want to be directly involved in the combats?

No

It depends

Kind of. I'd like to operate warcraft

Yes, I'd love it

I'm fine with both direct and indirect involvement

I don't like to be involved at all

9

How often do you work out?

Once per week

Twice per week

Three times per week

Four times per week

Every day

Not at all

10

How long should the boot camp be? (In your opinion).

3 months

4 months

6 months

8 months or more

2 months or less

11

What do you think about being deployed?

I wouldn't like it

I'd try to deal with it

I'm okay with being deployed

I'd love to be deployed

It OK with whatever orders

I don't want to be deployed AT ALL

12

Which one sounds like a fair signing bonus?

$20K

$25K

$30K

$35K

$40K

$45K or more

13

How long do you think you can stay away from home?

1 month

2 months

3-5 months

6-8 months

Whatever it takes

Not at all

14

What do you think about your life quality as a military member?

I need moderate life quality

I need to high life quality

I can deal with low life quality

Soldiers don't have the luxury to talk about life quality

I don't care about my life quality. All I care about is my mission

I can't imagine having a low life quality

15

Would you like to be an operator or a soldier?

I don't know

I'd like to be a warcraft operator

I'd like to be a radar operator

I'd like to be a soldier

I'd like to command other soldiers

I'd like to operate high-tech military devices

16

Do you prefer teamwork or noncooperative missions?

I like both

I prefer noncooperative missions

I like working as a team

Soldiers are nothing without a team

The decision needs to be made by my commander

I'm not sure about the answer

17

Which one describes your physical attributes?

Regular

Tall and athletic

Small and thin

Tall and bulky

Small and muscular

None

18

On a scale of 0 to 10, how mentally prepared are you to lose your friends in a battle? (10 means completely ready).

1

2-4

5-6

7-8

9-10

0 (NOT ready at all)

19

How do you feel about traveling a lot as a military member?

I wouldn't like it

I'd try to deal with it

I'm okay with it

I'd love to travel a lot

It fine with whatever orders

I don't want to travel AT ALL

20

30 or older

25-29

23-24

21-22

20

18-19 (or younger)