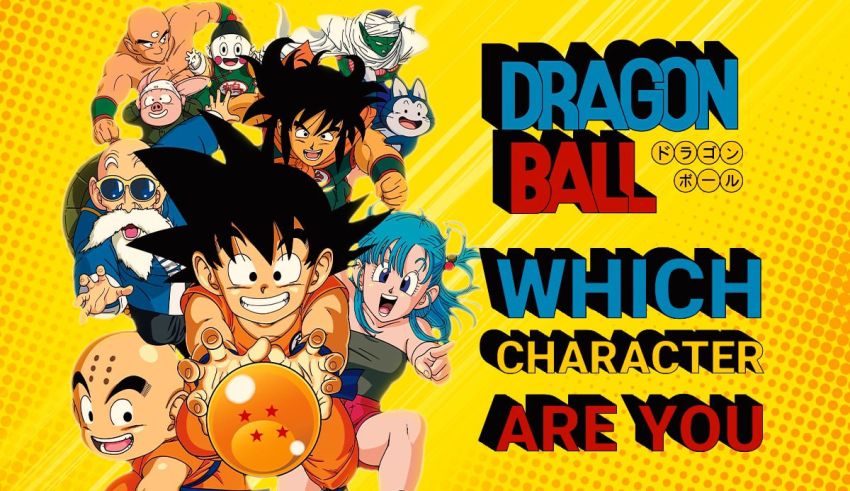 Do you want to know which Dragon Ball character you are? Are you Goku, Bulma, Piccolo, or else? This anime quiz reveals.
Find Your Dragon Ball Character with an Otaku Quiz
The Dragon Ball Quiz is a series of personality questions to determine which Dragon Team member you are.
It compares your MBTI type with that of the anime/manga characters to find the perfect match.
| | |
| --- | --- |
| Dragon Ball Character | MBTI Type |
| Goku | ENFP |
| Bulma | ENTP |
| Son Goku | ESFP |
| Master Roshi | ESTP |
| Krillin | ISFJ |
| Chi-Chi | ESTJ |
| Yamcha | ESFP |
| Piccolo | INTJ |
| Son Gohan | INFP |
| Trunks | ENTP |
Created by Akira Toriyama in 1984, Dragon Ball is an anime franchise about Saiyans, humans, and aliens with superpowers fighting over Dragon Balls.
The current test lets you know which character in the franchise—Goku, Bulma, Yamcha, Piccolo, Krillin, etc.—shares the same characteristics as you.
If you're into anime quizzes, you'll also like "Which JoJo Character Are You?" It's about another classic show with the same vibes as DB.
Are You an OG Dragon Team or a Z Fighters Member?
The cool thing about the Dragon Ball Quiz is that it determines your team, too.
You could end up being one of the original Dragon Ball Gang (Doragon Chīmu) or a Z Fighter.
We also recommend the Naruto Clan Quiz. It sorts you into one of the noble clans—the same way the DB test identifies your team.
How to Know Which Dragon Ball Character You Are
With 444 episodes in total, Dragon Ball comes with a long list of characters. And it's quite a challenge to find your match among them.
One shortcut, though, is to read the main characters' descriptions.
#1. Goku
Compassionate, respectful, and kind, Goku is a pure-hearted young man with a heroic personality. He is willing to go the extra mile to become a better person and never hesitates to sacrifice his life for his loved ones.
#2. Bulma
Despite her short temper, Bulma is a generous mom and a helpful friend. As she grows older, her spoiled, tomboyish attitude gives place to empathy.
#3. Master Roshi
Also called the Turtle Hermit, Master Roshi is a dirty-minded martial artist. Personality-wise, he is absent-minded, laid-back, and lazy. But as a teacher, he's a strict, visionary mentor.
#4. Piccolo
Originally a Dragon Ball villain, Piccolo transforms into one of the beloved protagonists. He is blunt and has dry humor. But deep inside, Piccolo is as caring as other characters.
Good News: DBZ, GT, and Super Characters Are Included
With all the spin-offs and sequels combined, the Dragon Ball franchise has five anime series: Dragon Ball, Dragon Ball Z, Dragon Ball GT, Dragon Ball Z Kai, and Dragon Ball Super.
As for the good news, the Dragon Ball Character Quiz covers all of them. This means you might match any of the personalities from the five shows.
Bad News: You Might Get a Dragon Ball Villain!
For some otakus, Dragon Ball Quiz ends on a sad note. They match an antagonist.
This could be Goku Black, Janemba, MAJIN BUU, or even Frieza. It all depends on your choices.
Ready to Meet Your Dragon World Self?
You are now officially a candid Saiyan. But first, you must pass the Dragon Ball Quiz.
The following questions—all inspired by Akira Toriyama arcs—will expose which character you represent in real life.
Hit the start and let the test release your Kamehameha!
Disclaimer
QuizExpo does not own the images in Dragon Ball Personality Quiz and intends no copyright infringement. Bird Studio/Shueisha owns the said pictures.
How to Play?
Playing personality quizzes is straightforward: Choose the option that's true about you—or you relate to—and select "Next." Unlike trivia quizzes, personality tests have no right or wrong answers. But the questions are in forced-choice format. The point is to push you to choose an option that makes the most sense, not the one that's 100% true. For the most accurate results, don't overthink your responses. Go with options that you "feel" are the best.
Questions of the quiz
1

What would you wish for if you had all the Dragon Balls?

Peace

Health

Strength

Longevity

Success

Beauty

Money

Power

2

What type of Dragon Ball Z characters are your favorite?

Nice

Temperamental

Heroic

Funny

Somber

Sexy

Strong

Ruthless

3

How would you feel about training like a Saiyan?

I wouldn't enjoy it.

I'd hate it.

I'd love it.

I'd try to keep up with it.

I'd own it and make it my lifestyle.

I'd never train like that. I'm not crazy.

I'd find another way to become stronger.

I'm already training like Saiyan.

4

Aliens are about to attack the Earth. What should we do?

Evacuate the cities.

Hide in underground camps.

Prepare to defend our planet.

Send someone to negotiate with them.

Accept our fate and prepare to die honorably.

Move to another planet.

Assassinate their leaders.

Surrender and let them have the planet.

5

Which one would you prioritize if you were a Dragon Ball character?

Family

Love

Martial arts

Friends

Peace of mind

Style or look

Reputation

Money and power

6

What would it be if you could change one thing about DB?

I'd add more romance

I'd decrease the fight scenes

I'd add more fight scenes.

I'd add funnier characters.

I'd reduce the jokes and goofy characters.

I'd add more drama.

I'd make it a tragic anime.

I'd add brutal, R-rated scenes.

7

Fill in the blank. Dragon Ball Z fight scenes are ________.

Boring

Annoying

Cool

Meh

Captivating

Unnecessary

Enjoyable

Inspiring

8

Which one is annoying?

Loud chewers

Slow walkers

Unempathetic people

People with dry humor

Babies

Unstylish and lame people

Tardy people

Everyone is annoying

9

How would you feel if you lost the World Martial Arts Championships?

Fine

Irritated

Motivated (to do better)

Disappointed

Indifferent

Broken

Vengeful

All of them

10

What's your best friend's toxic trait?

Negativity

Quick to anger

Rudeness

Being judgmental

Laziness

Sneakiness

Selfishness

All of them

11

What about yours? What's your toxic trait?

Laziness

Moodiness

Naiveness

Trust issues

Dark humor

Attention seeking (mommy/daddy issues)

I don't have a toxic trait

I have all of them

12

Shonen aside, what anime genre do you like better?

Seinen (action, robots, warfare)

Josei (first crushes, school-life drama)

Isekai (ordinary people whisked away to fantasy worlds)

Kodomomuke (kids' stuff)

Shoujo (young girls' stuff)

Mecha (cyborgs, humanoids, and badass fights)

Ecchi (naughty and sexy stuff)

I just like dark anime

13

Describe your current mood in one word.

Happy

Worried

Energetic

Bored

Lonely

Naughty

Irritated

I'd rather not say

14

How would you use your superpower if you had one?

I'd teach it to others

I'd use it to protect my family

I'd use my powers to save the world

I'd use my superpower to fight criminals

I'd use my abilities to live a peaceful life

I'd use it to become famous

I'd use it to become rich

I'd use my powers to become a king

15

What's a trait that every noble warrior must have?

Kindness

Protectiveness

Determination

Sense of humor

Discipline

Charm

Vengefulness

Ruthlessness

16

Random question: what do you think of having babies?

I'm not sure if I'll ever have kids

I'd love to have kids

17

Do you ever persuade people to do what you want? How?

No, I don't like that.

Maybe. I threaten them.

I don't think so. I try not to do that.

Yes, I bribe them.

Yes, I give non-negotiable orders.

Yes, I use my beauty and charm for that.

Yes, I trick them into doing what I want.

Yes, I just force them to comply.

18

How would you describe Dragon Ball Z to a newbie anime fan?

A cool Shonen.

An annoying Shonen.

A nostalgic anime.

A funny anime.

A sad anime.

A lovely anime with lots of hot characters.

An average Shonen.

A boring Shonen.

19

What's your style like?

Casual

Chic

Sporty

Whatever

Formal

Sexy

Gothic

It's not up to you

20

Final question: How old are you?

17 or younger

18-19

20-21

22-23

24-26

27-29

30 or older

I'd rather not say