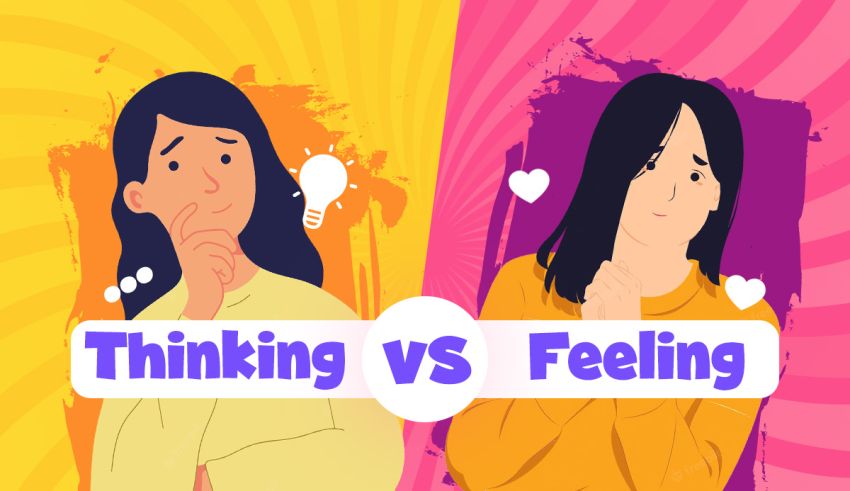 The thinking vs. feeling test has 20 questions that reveal your MBTI judging axes. It focuses on your decision-making style to see if you're a thinker or feeler.
Thinking Vs. Feeling: A Test to Discover Your Judging Axes
What follows are a set of twenty judgment- and decision-related questions to categorize you into one of either end of the Thinking (T) and Feeling (F) spectrum.
Similar to the Realist Vs. Visionary Test, the goal is to identify how logical or emotional your approaches are. Plus, the quiz unveils the way you express your thoughts and sensations according to Introverted (i) and Extroverted (e) dynamics.
Are you a Te-Fi or a Ti-Fe?
The Feeling-Thinking dichotomies in MBTI theory function with introversion and extraversion aspects of one's personality. There are two possible combinations: Te-Fi, which is Extroverted Thinking-Introverted Feeling dominant, and Ti-Fe, which is Introverted Thinking-Extroverted Feeling dominant.
If the idea sounds confusing, allow the test to simplify it. You do not need to understand any of the Myers-Briggs principles to participate. And the results will elaborate on each combination's meaning.
Who Is a Thinking Person?
A Thinker (also referred to: Thinking or T) is a person with logic-oriented judging axes. Such an individual would base their decisions on external facts and objective opinions. For example, a Thinker (T) would treat everyone equally according to the rules, allowing no exceptions.
Who Is a Feeling Person?
A Feeler (also referred to: Feeling or F) is a person with value-oriented judging axes. Such an individual would make decisions based upon subjective factors and inner conclusions. For example, a Feeler (F) might allow exceptions to the rules or break them for the greater good.
| | | |
| --- | --- | --- |
| Type | Judgment | Expression |
| Ti-Fe | Objective conclusion | Relatable logic |
| Fi-Te | Subjective conclusion | Direct message |
Misconceptions that the Test Resolves
Some employ the literal sense of the terms to define the types. Others believe that it's unscientific to assume people use only one particular aspect of their persona when making decisions.
But both ideas are kind of wrong.
Although the stigma around the Thinking vs. Feeling idea is overwhelming, the test attempts to resolve three dominant fallacies.
#1. Thinkers feel feelers think.
Never should you assume a T is a logical or intelligent individual, whereas an F is overly emotional or illogical. The concepts of Thinking and Feeling distinguishes two different decision-making methods that both include thoughts and emotions.
The test helps you understand that being a Thinker doesn't make you a philosopher so being a Feeler doesn't make you an empath.
#2. Gender doesn't affect your judging axes.
The quiz doesn't have any gender-biased questions to influence the results.
Data shows no correlation between your gender identity and judging axes. Unlike popular belief, women are not natural Feelers—and, similarly, men are not born as Thinking creatures.
#3. There's no specific benefit in being a thinker or feeler.
None of the test results are biased toward any end of the spectrum.
Thinkers vs. feelers in the workplace is a debatable topic. While some may suggest specific benefits to being either of the types, there has been no scientific data to back that. And a healthy work environment is ideally a mixture of both.
The same can be said about other aspects of life, too. Your Fi-Te or Ti-Fe function doesn't come with any advantages. But you can turn them into practical aspects of your character, improving your communication style.
The Influence of Other Myers-Briggs Dichotomies on the Test Results
Thinking vs. Feeling form only one of your preferences regarding the four MBTI dichotomies. So, determining your type based on one sole aspect (i.e., T or F) is inaccurate.
You are about to take a quiz that considers all four pairs and generates accurate results according to your preferences.
Your question might be limited to "Am I a Thinker or Feeler?" but the results are not. By the end of the test, you find out how other aspects of your judging axes, such as Introversion or Extroversion, might affect your T or F.
What Are Some Examples of Thinking vs. Feeling Nature?
An example of a Thinking person is a boss who believes maternity/paternity leaves should not be extended because of a personal situation—and rules must be applied to everyone. But an example of a Feeling person would be a boss that allows a couple of extra days off to an employee on maternity/paternity leave to handle a family crisis.
Note: It's difficult to give examples of T or F personalities. It's because judging axes are about the process of concluding—as opposed to distinguishable actions. In other words, you might see a Thinker and Feeler performing the same actions but with different intentions and logic.
Questions That Matter More Than "Are You a Thinker or Feeler?"
Overthinking your decision-making process can backfire, making it even harder to distinguish right or wrong. However, you can come up with better questions to ask yourself.
Here are a few valuable topics to think about instead of focusing on the Thinking vs. Feeling dynamic.
Is there anything wrong with my decision-making approaches?
If you are happy with how you're managing your life, then why bother overthinking it? Of course, it's always wise to reevaluate your behaviors. But that has nothing to do with determining if you are a Thinking or Feeling person.
Am I a fair person?
Both Thinkers and Feelers have one common goal: Making fair decisions. So, if you have already achieved that purpose in life, you need a test to tell you what's going on.
What is my priority when making decisions?
If you care about everyone's well-being, you are good to go. There is no specific advantage to being a Thinking or Feeling person. But being a considerate decision-maker could validate your personality.
Let's Uncover Your MBTI Judging Axes with Interesting Questions
You are only twenty questions away from better understanding your nature. The Thinking vs. Feeling test has everything you need to analyze the type of person you are based on your judgments.
Disclaimer
QuizExpo is not associated with any of the names/organizations mentioned on this page. The test is an independent work based on the MBTI principles, and no copyright infringement is intended.
Questions of the quiz
Question 1

"The ends can justify the means." What do you think about this sentence?

Yes, I agree with that.

No, I disagree.

It depends on the context.

Question 2

What is your priority when advising someone?

Being as objective as possible.

Being subjective and considering their current situation,

A blend of both.

Question 3

What would you ground your decisions on if you were a lawmaker?

Scientific facts.

Social statistics.

None of them.

Question 4

Which one can be named or referred to as the humans' savior?

Education

Empathy

Both or none

Question 5

What's one of the challenges you face when expressing your ideas?

Finding words that others can relate to.

Remaining as objective as possible.

None of the above.

Question 6

Which one is a sounder approach to talking about controversial topics?

Using logic and data to explain the topic.

Leaving room for emotions.

I'd rather not talk about controversial topics.

Question 7

"Exceptions don't bother the rules." What do you think about that?

Yes, it's true.

No, it's not true.

It depends on the context.

Question 8

Do you agree that fixating on facts could be a toxic trait?

No, I don't agree with that.

Yes, it could be pretty toxic.

I'm not sure. It depends.

Question 9

Imagine you're the CEO of a company that needs to lay off some employees. Which approach do you think is better?

Laying off low-performing workers.

Laying off workers that are more likely to find a new job.

I don't know. None of them sounds cool.

Question 10

Of the following options, which one is a must-have for a person in charge of a team?

Common sense

Compassion

None of them is a must-have.

Question 11

Which one are you better at when it comes to social interactions?

Motivating people

Consoling people

None

Question 12

Which one would it be if your friends had to put you into one of these categories?

Determined

Passionate

Easygoing

Question 13

What's something you think about when self-reflecting on your negative attitudes?

I might ignore people's emotions

I might overreact to some minor problems.

Both or none.

Question 14

What kind of details do you often spot or are concerned with?

I'm often focused on the bigger picture

I'm concerned with small details.

IDK. It depends on the context.

Question 15

Would you rather be a tactful or truthful person?

Truthful

Tactful

I'm not sure.

Question 16

How easy is it for you to understand another person's emotion without them expressing it?

It's somewhat challenging

It's quite easy.

It depends on the person.

Question 17

How do you feel about people who can't control their emotions and often overreact to minor problems?

I don't relate to such people.

It's understandable.

I don't know. It depends on their reactions.

Question 18

How often do you make impulsive decisions?

Rarely or never

Quite often

I'm not sure

Question 19

What could force you to give up on your values and get out of your way?

Responsibilities or obligations.

Greater good.

None of them,

Question 20

Final question; which one could challenge your skills?

Self-learning a new topic.

Teaching a topic to a beginner.

None of both.