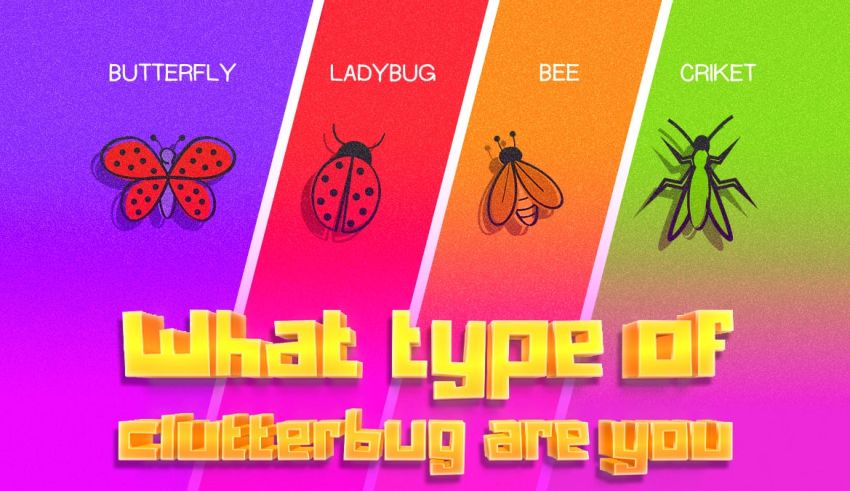 Take this Clutterbug Quiz to find out which decluttering bug matches your neatening style. Are you a Ladybug, Cricket, Butterfly, or Bee organizer?
The Clutterbug Quiz, Explained
Inspired by Cassandra Aarssen's work, the Clutterbug Quiz is a self-assessment to discover your organizing style. According to Cassandra's theory, people can be grouped into four types of organizers: Bees, Butterflies, Ladybugs, and Crickets. Each type has a unique tidying preference that determines how their home and interior design look.
Our quiz utilizes the four axes of declutter (visual, hidden, micro-thinker, and macro-thinker) to expose what type of Clutterbug you are.
Generally, if you're a visual micro-thinker, you're a Bee; if you're a micro-thinker who hides the clutter, you're a Ladybug; if you're a micro-thinker obsessed with organizing, you're a cricket; and if you're a visual macro-thinker with little to no care for detailed cleanness, you're a Butterfly.
| | |
| --- | --- |
| Clutterbug Type | Feature |
| Butterfly | Visual, Out-of-Sight |
| Ladybug | Hidden, Out-of-Sight |
| Bee | Visual, Detail-Oriented |
| Cricket | Hidden, Detail-Oriented |
What Are the Four Clutterbug Types
Cassandra Aarssen, the author of Real Life Organizing, believes that the four Clutterbug types are tied to four aspects of systematizing: Visualization, Hiding, Seeing the Big Picture, or Hyper-focusing on Details. Based on these axes, the Clutterbugs are either macro-thinking concealers, macro-thinking visualizers, micro-thinking concealers, or micro-thinking visualizers. (Also known as the Ladybugs, Bees, Butterflies, and Crickets.)
Ladybug
As a macro-thinker with concealing tendencies, Ladybugs prefer to keep things out of sight. People with this decluttering style benefit from closets, drawers, and other types of hidden storage where they can pile up their stuff—and hide the mess.
Bee
Known to be true hoarders, Bees are detail-oriented organizers. However, they prefer to keep things in sight, creating a tidied cluster of stuff—just like a beehive.
Butterfly
Spending the least amount of time on organizing, Butterflies are visual creatures who appreciate detail-free systems. They like to keep their stuff visible so they know where they are and avoid hiding them because it seems pointless.
Cricket
The most hyper-focused and detail-oriented organizers, Crickets hide things away but in the most organized way. They often use labeling, color coding, and other comparable techniques to categorize and sort things in logical systems. And they enjoy the entire process of neatening—no matter how extensive it is.
What's the Point of Knowing Your Clutterbug Type
The goal of identifying your Clutterbug Type is achieving the best organizing style in your home. Knowing your neatening preferences will help you create your ideal home décor style without feeling burned out.
Instead of fighting the urge to tidy your house in a specific way, embrace it. The Four Clutterbug Philosophy helps you build a cleaning and organizing strategy around your current style, excluding the limiting frameworks that stop you from being a super-neat person!
Are You a Bee, Butterfly, Cricket, or Ladybug? Let's Find Out
Hey, having a sort-out strategy for your home is not an OCD thing; everyone needs a neat neatening plan. And with the Clutterbug quiz on this page, you get to unleash and appreciate your preferred plans. Answer the following questions, and we will tell you which Clutterbug (Bee 🐝, Butterfly 🦋, Cricket 🦗, or Ladybug 🐞) you are—with unbelievable accuracy.
Disclaimer
Although the Clutterbug Quiz is inspired by Cassandra Aarssen's work, it does not include any copyrighted material, and QuizExpo does not intend any copyright infringement.
How to Play?
Playing personality quizzes is straightforward: Choose the option that's true about you—or you relate to—and select "Next." Unlike trivia quizzes, personality tests have no right or wrong answers. But the questions are in forced-choice format. The point is to push you to choose an option that makes the most sense, not the one that's 100% true. For the most accurate results, don't overthink your responses. Go with options that you "feel" are the best.
Questions of the quiz
1

What type of clutter gives you anxiety?

Clutter doesn't make me nervous

Unexpected clutter (often caused by others)

Surface clutter (I don't want to see the mess)

Hidden clutter (I fear the unknown)

2

When is the best time to clean up your room's mess?

On my free days

During the day, in short periods

On the weekend

Every other day or so

3

Which one better describes your organizing style?

Practical

Simple

Stylish

Detailed

4

What's your priority when decluttering a room?

Function

Accessibility

Visuals

Details

5

What's your goal with tidying your house?

Cleaning up my previous mess

It's all about hygiene

I want my house to look good

I do it to feel better

6

How much time do you spend on organizing your room?

An hour or so

2-3 hours

4-5 hours

6 hours or more

7

What do you do when you don't have enough time to clean up the whole house?

I just leave things be so I can come back and clean up

I take care of necessary things and leave the rest for later

I hide everything away so I can come back and tidy them

Those situations paralyze me

8

What's your strategy for organizing drawers?

Just put my stuff in them and let them be

I try to make the most of the space

I pile things I don't want to see in drawers

I like labeling and micro-organizing drawers

9

What's the key to having a clean house?

Having someone to help you clean up

Letting go of excess stuff and essentialism

Having large closets and big baskets to hide things away

Having a daily clean-up routine

10

What's the main reason for the clutter in your house?

My work

Others (family members, roommates, etc.)

Time management or overall energy

Perfectionism or OCD

11

Which interior design is your favorite?

Comfy

Minimalistic

Chic or traditional

Modern or luxurious

12

Where do you put things that you constantly need to use?

I keep them handy

I have a specific drawer/closet for them

I put them handy but somewhere out of the sight

Each one has a specific drawer or closet

13

What's the hardest part of decluttering for you?

Figuring out where to put things

Letting go of things I don't need

Storage space (I keep running out of space)

Labeling and grouping things perfectly

14

What's your quick cleaning strategy?

I don't think I have one

Clean the messiest part of the house, and you're good to go

Hide everything in a room or closer; you can clean it later

Make the messy parts look intentional and part of the design

15

Do you use to-do lists? How do you keep track of your tasks?

I have one next to my desk

I have one on my phone

I don't use them

I have multiple lists in different places

16

How big of a perfectionist are you?

Not at all

Meh, it depends

I might be slightly perfectionist

I'm a total perfectionist

17

What kind of decorative items do you use in your house?

Bold and eye-catching

Minimal and abstract

Cute and cozy

Luxurious and unique

18

What type of tools keeps you organized?

Whiteboards, bulletin boards, and colorful sticky notes

Productivity apps, calendar reminders, and digital note-taking

Big baskets, closets, and drawers

Color-coded labels, filing systems, and small containers

19

How detail-oriented are you when cleaning up?

Not at all

It depends

I'd say I'm more detail-oriented than others

I'm super detail-oriented

20

Final question: how often do you reorganize your stuff?

Rarely or never

When I feel the need

Every month or so

Weekly or biweekly