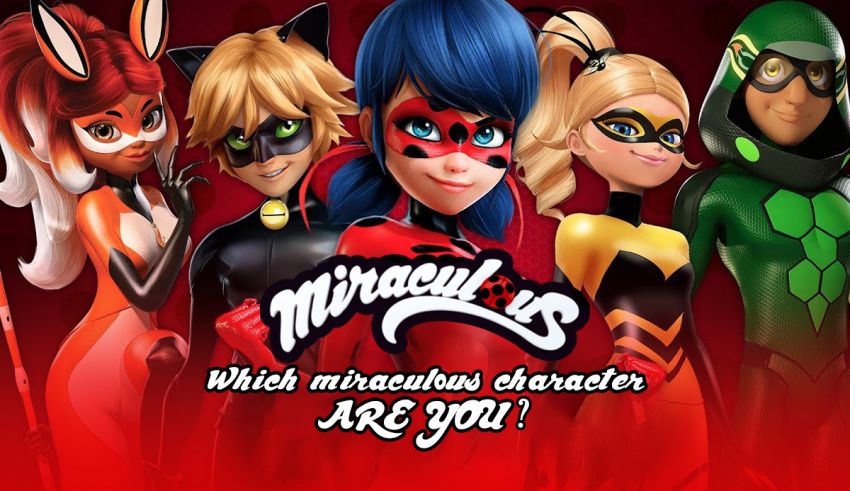 Which Miraculous Character Are You? You might be either Marinette, Adrien, Alya, Luka, or else. Take the ultimate Miraculous Ladybug Quiz to find out.
A Brief Explanation (for Beginners)
Miraculous: Tales of Ladybug & Cat Noir is a CGI series created by Thomas Astruc, a French animator. The show is about a teenage girl who gets to have superpowers thanks to her Kwami friend. Marinette and Adrien are the two main characters of the series. And they both try to fight back supervillains like Hawkmoth throughout the story.
The Miraculous Quiz Every Fan Needs to Take
The test on this page is a set of personality questions to reveal your Ladybug & Cat Noir character. It is designed for fans who encounter questions like, "Which Miraculous character are you?" Answering the said questions allows us to identify which student, superhero, or villain represents you.
Which Miraculous Character Are You?
Most personalities in the show are the students of Françoise Dupont High School. However, other supporting characters such as Wang Fu and Ladybug's parents influence the story. The good news is that our quiz compares your persona to all the individuals of Miraculous to find the perfect match.
| | |
| --- | --- |
| Marinette Dupain-Chang | Age: 14 |
| Adrien Agreste | Age: 14 |
| Alya Cesaire | Age: 15 |
| Lila Rossi | Age: 15 |
| Kagami Tsurugi | Age: 15 |
| Nino Lahiffe | Age: 15 |
| Chloé Bourgeois | Age: 15 |
| Luka Couffaine | Age: 16 |
| Juleka Couffaine | Age: 16 |
Note: the test includes the villains as well! So, no guarantee that you will match a hero.
Additional Information the Test Offers
The goal of the quiz is to discover which Miraculous character is similar to you. But you get additional info about yourself, too. Below is a list of things you learn about your character in the Ladybug & Cat Noir universe by participating in the test.
● Personality analysis
We can identify what kind of person you are by analyzing your answers. That is why you receive a FREE personality evaluation in your results.
● Your lucky charm
Superheroes in the Miraculous: Tales of Ladybug & Cat Noir use lucky charms to battle the bad guys. Marinette, for example, has used objects like a motorcycle helmet, remote control helicopter, boxing gloves, and even a tennis racket. The quiz on this page determines what your charm would be if you were a superhero like her.
● Your abilities
Each Miraculous character has unique powers and abilities. Even individuals with no superpowers have practical skills that help others out. Our test exposes your special aptitudes after analyzing your answers.
● Your appearance
Ladybug and Cat Noir, along with other Miraculous characters, transform into different animal-themed superheroes. And we can tell you which of their appearances matches your personality.
● Your crush
Marinette has a crush on Adrien while he is in love with Ladybug—who is Marinette's superhero form. So, things are complicated when it comes to romance in the show. However, by taking the Miraculous Ladybug Quiz, you have the chance to find out who your crush would be if you were a Françoise Dupont High School student.
A Guide to Ladybug and Cat Noir Main Characters
Miraculous: Tales of Ladybug & Cat Noir has 70+ minor and major characters. But the main heroes are listed below.
Marinette Dupain-Chang
Being the protagonist of the series, the Super-RedBug is a sweet, outgoing, joyful, and friendly girl. Marinette is a half-Chinese, half-French teenager who lives in Paris and attends a high school. Others describe her as honest, kind, and trustworthy. However, she struggles with a lack of self-confidence and self-esteem—like many of her peers.
People who take the Miraculous Ladybug Quiz and match Marinette are warmhearted and sympathetic.
Adrien Agreste
He is also known as Cat Noir (Written in French: Chat Noir). Adrien is a wealthy high school kid who is charismatic, supportive, and disciplined. He loves helping out others. And people usually describe him as an innocent boy.
Although he is a serious person, Adreian is an emotional kid. And he learns to express his feelings instead of hiding them throughout the show.
Alya Cesaire
She is one of the main characters in Miraculous: Tales of Ladybug & Cat Noir. Alya is a humble but highly energetic girl who supports her friends no matter what. Despite all, she is also amusing and cheers people up with her shining presence.
If your Miraculous character is Alya, you are a confident, down-to-earth, and smart person.
Nino Lahiffe
Nino is a fun-loving and agreeable person. He does everything for his friends. And he also puts his strong sense of right and wrong to good use no matter what. Nino is described as an enthusiastic, compassionate, and reliable friend. But he might also act stubbornly now and then—which is somewhat frustrating for others.
Chloé Bourgeois
Not many fans would like to say, "I'm Chloé," when asked, "Which Miraculous character are you?" That is because she is a bossy, arrogant, and toxically competitive teenager. Chloe is also known for being a short-tempered girl. However, she gradually learns to control her feelings and become a more agreeable person.
Disclaimer
QuizExpo does not own any of the images used in the Miraculous Ladybug Character Quiz. Zagtoon, Disney+, and the production companies of the show own the rights to the said pictures.
How to Play?
Playing personality quizzes is straightforward: Choose the option that's true about you—or you relate to—and select "Next." Unlike trivia quizzes, personality tests have no right or wrong answers. But the questions are in forced-choice format. The point is to push you to choose an option that makes the most sense, not the one that's 100% true. For the most accurate results, don't overthink your responses. Go with options that you "feel" are the best.
Questions of the quiz
1

What should be a hero's most iconic feature?

Responsibility

Kindness

Intelligence

Courage

Prestige

None

2

What would you do after you caught a bad guy?

Give them volunteer job

Imprison them

Interrogate them

Punish them

Humiliate them

Let them go

3

What kind of person attracts you the most?

Kind

Independent

Smart

Fun

Rich

No one attracts me

4

What type of weapon would you prefer to use against supervillains?

Practical

Stealthy

Long-range

Short-range

A big gun

A deadly gun

5

On a scale of 0 to 10, how quickly do you get mad at others? (10 means really quickly).

6

Choose your favorite color of the options below.

Red

Green

Black

Purple

Yellow

None

7

Which of the following animals do you love the most?

8

Fill in the blank. I would never ________ my friends.

Lie to

Stop supporting

Forget

Disappoint

Rely on

Love

9

What is the worst villain type?

Selfish

Cruel

Dumb

Boring

Poor

Villains are lovely

10

What should be the main goal of a hero?

Being responsible

Helping others

Learning new stuff

Enjoying life

Gaining more reputation

I don't know

11

If you could have a superpower, what would it be?

Invisibility

Flying

Reading minds

Super-speed

Unlimited money

Something deadly

12

What do you do after winning a competition?

Celebrate

Forget about it

Tell my friends/family

Meh

Make fun of the runner-up

Humiliate everyone else

13

How would you feel after losing a competition?

Sad

Fine

Disappointed

Meh

Broken

Angry

14

Which of the following words implies a deeper meaning?

Love

Friendship

Mindfulness

Energy

Revenge

Darkness

15

Choose a symbol that you think represents your personality better.

16

What is the most amazing thing about Miraculous: Tales of Ladybug & Cat Noir?

Romance

Plot

Characters

Action

I don't know

Nothing

17

Who is your favorite hero in the show?

Cat Noir

Ladybug

Carapace

Rena Rouge

Queen Bee

None

18

Which of the following events would disappoint you?

Heartbreak

End of a friendship

Career failure

Losing a game/match

Feeling poor

None

19

What is your priority in life?

Relationship

Family/Friends

Education

Fun

Money/Career

None

20

Final question; which of the following roles would you like to have?

Nurse

Coach

Scientist

Athlete

Actor

None