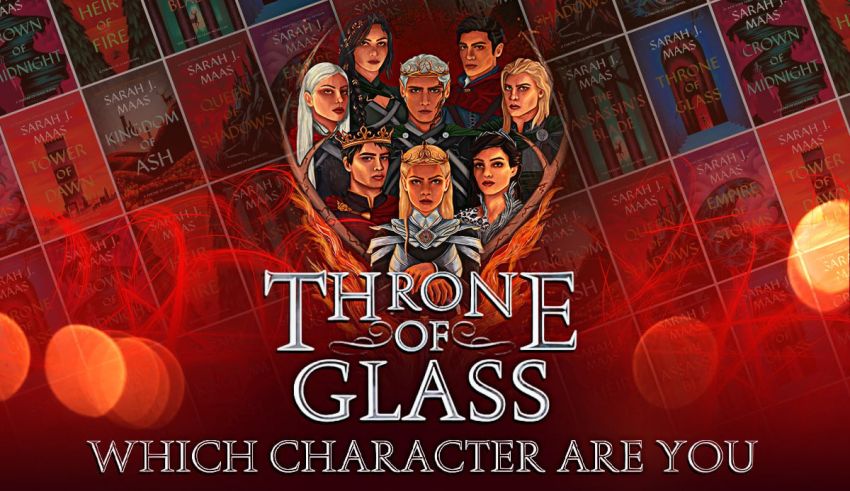 Take this Throne of Glass Quiz to see which character you are. Are you Celaena, Cain, Chaol, Manon, or someone else?
Now that I've finished reading all eight books, I feel ready to give back to the fandom with a Throne of Glass Quiz, a personality test to expose your character from the Kingdom of Adarlan.
What you find on this page is a series of 15 questions, all inspired by the lores and arcs of Sarah J. Mass's universe. I aspire to determine which of the main characters from her high fantasy novels matches your real-life personality.
Personally, I relate to Elide Lochan more than any other character. But that wouldn't guarantee her as my match. (I feel like people who know me would say I'm more like Aelin than Elide.)
As for the good news, you won't have to guess your ToG counterpart; I've created the following MBTI table to help you. If you don't know your personality type, I'd recommend taking the quiz instead. It's faster and much more accurate.
| | |
| --- | --- |
| Character | MBTI |
| Aelin Galathynius | ENTJ |
| Manon Blackbeak | INTJ |
| Dorian Havilliard | ENTP |
| Lysandra | ENFJ |
| Chaol Westfall | ISTJ |
| Elide Lochan | INFP |
Here are some of the novel's main characters that you might be:
Aelin Galathynius
Despite her vain and princess-ish attitudes, Aelin or Celaena is a kindhearted, caring, and righteous young lady. Those who match Aelin's vibes are bold, passionate, stylish people with a knack for all things art.
Chaol Westfall
A true gentleman, Chaol is protective, supportive, and wise. He treats everyone with respect and is known as a dutiful captain. Throne of Glass fans with Chaol's persona are charming, charismatic, and self-reliant. (He's like an older version of KotLC characters.)
Elide Lochan
Despite her cold and cunning façade, Elide is actually a loving person. She is intelligent, giving, and loyal, making her one of the fan-favorite characters in Thrones of Glass. If you match her, you are hard to understand but easy to love.
Manon Blackbeak
Known for her brutality and iciness, Manon is a cruel and heartless witch. However, she gradually becomes softer and starts valuing her emotions. Those who get Manon in their results are usually dealing with depression and anxiety and are haunted by childhood traumas.
With that being said, let's dive into the quiz and see which Throne of Glass character you are.
If you like fantasy books like Sarah J. Mass's best-seller, I recommend our Wings of Fire Test. It's a fun way to meet your Dragon-ish self.
Disclaimer
QuizExpo does not own some of the images in this test and intends no copyright infringement.
How to Play?
Playing personality quizzes is straightforward: Choose the option that's true about you—or you relate to—and select "Next." Unlike trivia quizzes, personality tests have no right or wrong answers. But the questions are in forced-choice format. The point is to push you to choose an option that makes the most sense, not the one that's 100% true. For the most accurate results, don't overthink your responses. Go with options that you "feel" are the best.
Questions of the quiz
1

How would you win The King's Champion Tournament?

Strategy

Training

Cheating

Brutality

2

What kind of warrior are you?

Nimble

Strong

Lazy

Aggressive

3

If you had magical powers, how would you use them?

I'd use them to help others

I'd use them to protect my loved ones

I'd use them to make money

I'd use them to conquer the kingdom

4

Which persona could be your love interest?

Confident, gentle, nice

Brave, charming, genuine

Supportive, agreeable, honest

Rich, famous, cool

5

What makes an assassin great?

Speed

Experience

Stealth

Ruthlessness

6

How would you solve a mystery?

I'd look for clues

I'd talk to witnesses

I'd create an investigation team

I would wait for the mystery to unfold

7

Which word better describes Throne of Glass's plot?

Underrated

Epic

Entertaining

Overrated

8

What could force you to work for the King of Adarlan?

Saving my loved ones

Serving a greater purpose

Money or food

Fame and power

9

What s the best strategy in a war?

Defense and counterattack

All-out attack

Stealthy attacks

Assassinations and deceptions

10

What archetype matches your friendship persona?

Older sibling

Daddy or mommy

Younger sibling

The bad influence

11

Pick a nickname for your warrior persona.

Death Angel

The Destroyer

The White Death

The Monster

12

Pick a weapon.

Arrow

Sword and shield

Throwing knives

Poisonous dagger

13

What style would you have if you lived in the Kingdom of Adarlan?

Chic or classy

Formal

Casual

Trendy or sexy

14

Would you want to be a prince or princess? Why?

Yes, I love that royal life of them

No, that s too much formality and ingenuity

Maybe, I m not sure

Yes, I want money, influence, and power

15

Final question: Which one are you passionate about?

Art

Sports

Philosophy or Literature

Fashion or makeup