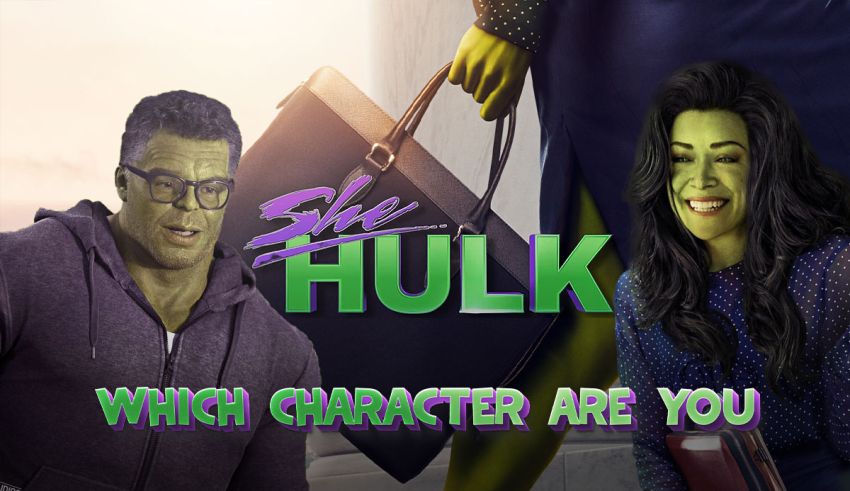 Hey, Marvel fans, which She-Hulk character are you? This superhero quiz reveals whether you're Jennifer Walters, Bruce Banner, or Wong.
The Personality Quiz That Exposes Your She-Hulk Character
The She-Hulk character quiz is a set of 20 MCU-inspired questions that determine which of the Attorney at Law personalities looks like you.
She-Hulk: Attorney at Law is a Disney+ show exploring the story of Jennifer Walters, Bruce Banner's cousin who turns into a green-hued giant after a car accident.
Compare Your MBTI Type to the Cast
A Myers-Briggs Type Indicator is the most accurate way to discover your matching Marvel character in She-Hulk.
But don't worry if you don't know your type. Our quiz unveils your MBTI before comparing it to that of the cast.
If you do know your MBTI type, use the following table to discover your soulmate.
| | |
| --- | --- |
| Character | MBTI |
| Jennifer Walters | ESTP |
| Nikki Ramos | ESFP |
| Bruce Banner | INTP |
| Titania | ESTP |
| Wong | ISTJ |
| Donny Blaze | ENTP |
How to Know Which She-Hulk Character You Are
Reading character descriptions is one way to find your match. And the following guides might help with that.
#1. Jennifer Walters.
Personality-wise, Jennifer is an independent, self-assured, and clever lawyer. However, her She-Hulk persona is a bit sarcastic and narcissistic at times.
#2. Bruce Banner.
One of the strongest Avenger characters, Bruce, is a mild-mannered, intelligent, and rational guy. He puts on a bit of a mentor role in She-Hulk and tries to teach his cousin, Jennifer, everything he knows about being a super-strong green giant.
#3. Wong.
Wong's personality in Attorney at Law is the same as in Doctor Strange in the Multiverse of Madness and Spider-Man No Way Home. He's a hardworking, wise, and strict master who's quite serious about his mission.
#4. Nikki Ramos.
Jennifer's best friend, Nikki, is a loyal, dependable, and supportive friend who's always there for her loved ones.
#5. Titania.
Titania is a total narcissist who's been using her superpowers to gain popularity on social media.
The She-Hulk Character Quiz Includes the Bad Guys too
It's pretty likely to match an antagonist.
The quiz has a database of all the bad guys introduced in the show's nine episodes. And your answers will determine whether any of them resembles you.
You know how it is with superhero shows: There's got to be a villain trying to destroy the planet. And Attorney at Law is no exception to that.
Anti-heroes like Abomination play a significant role in the story. They push Jennifer to her limits, making her use her superpowers despite her will.
We did not want to exclude one of the fun parts of MCU from the She-Hulk quiz. That's why we added a list of villains to spice up the test results.
Ready to Let Out Your Rage?
Inspired by the Disney+ show and Marvel comics, the quiz offers psychological questions to assess your behavior.
Are you easy to anger? Can you control your rage? How do you express your negative emotions? The answer to these questions will expose your She-Hulk match.
Click "Start Quiz" and meet your MCU self in less than 5 minutes.
By the way, if you're a comic book fanatic, we highly recommend you take our Marvel Trivia Quiz next. It's going to challenge everything you know about the superheroes' universe.
Disclaimer
Marvel and Disney+ own the rights to the She-Hulk Character Quiz images, and QuizExpo does not intend copyright infringement.
How to Play?
Playing personality quizzes is straightforward: Choose the option that's true about you—or you relate to—and select "Next." Unlike trivia quizzes, personality tests have no right or wrong answers. But the questions are in forced-choice format. The point is to push you to choose an option that makes the most sense, not the one that's 100% true. For the most accurate results, don't overthink your responses. Go with options that you "feel" are the best.
Questions of the quiz
1

What would you use it for if you had a superpower?

Saving innocent people.

Helping friends and family.

Fighting the bad guys.

Joining the Avengers.

Protecting my homeland.

Becoming famous.

Conquering the world.

Meh, I wouldn't do anything specific.

2

Why do you think She-Hulk is a unique character?

She's funny.

She's attractive.

She's relatable.

She's independent.

She's smart.

She's just overrated.

She's uniquely stupid and arrogant.

I don't know.

3

How would you react if someone talked down to you?

I'd ignore them.

I'd cut ties with them.

I'd confront them and ask for an apology.

I'd ask them to leave me alone.

I'd teach them a lesson.

I'd insult them back. Eye for an eye.

I'd plan my revenge and wait for the right moment.

I wouldn't do anything specific.

4

What do you do when you're angry?

I often hide my anger.

I usually try to talk about it calmly.

I try not to flip out. But I usually do.

I stay away from people until I'm calm.

I meditate or do something that calms me down.

I yell and do crazy stuff.

I pretend I'm fine and secretly plan my revenge.

I don't know. I rarely get mad.

5

What do you think should be a superhero's ultimate goal?

Making the world a better place.

Helping the poor.

Living life to its fullest like everyone else.

Saving lives.

Learning and practicing.

Earning more money.

Becoming invincible.

I have no idea.

6

How do you react when someone tries to boss you around?

I ask for a friend's help.

I mind my own business until they stop.

I show them who's the real boss.

I find a way to remove them from my life.

IDK. No one has ever done that to me.

Usually, it's me who bosses everyone around.

I make them regret bossing me around.

Whatever. I let them have their moment.

7

What do you like about She-Hulk Attorney at Law?

I like the characters.

I like the relationships.

I like the action.

I like the cameos.

I like the plot.

I like the styles.

I don't like anything about it.

I haven't watched it yet.

8

What would it be if you could change something about She-Hulk?

I'd add more romance to the show.

I'd dig deeper into the characters' personal lives.

I'd turn it into an action-packed show.

I'd add more plot twists.

I'd reduce the humor.

I'd add more sexy characters.

I'd scrap the whole thing and remake it.

I don't know. Who cares?

9

Which superpower would you like to have if you're options were limited to the following?

Healing.

Invisibility.

Flying.

Mind-reading.

Psychokinesis (moving objects with the mind).

Shapeshifting.

Immortality.

I don't want to have superpowers.

10

How would you deal with the bad guys if you were a Marvel character?

I'd exile them to an island.

I'd educate them, hoping they do better in the future.

I'd imprison them in a high-security prison.

I'd study them to figure out why they're evil.

I'd let the authorities decide what to do with them.

I'd get rid of all of them.

I'd recruit them and build my own army.

I don't know what I'd do.

11

On a scale of 0 to 10, how badly would you like to be a superhero? (10 means you want it so bad).

10

8-9

6-7

4-5

2-3

1

0

I'm not sure.

12

What's She-Hulk's weakness?

She's a bit arrogant.

She's a workaholic.

She's not self-confident.

She refuses to learn new things.

She's a bit childish.

She has terrible taste in fashion.

She's stupid.

I don't know her that well.

13

Which one irritates you the most?

Mean comments.

Ignorant coworkers.

Arrogant bosses.

Unintelligent people.

Disrespectful people.

Lame and tacky people.

All of the above.

None of the above.

14

How do you feel when a loved one is mad at you?

Nervous.

Regretful.

Disappointed.

Guilty.

Calm.

Indifferent.

Happy.

IDK. I've never thought about that.

15

Hulk aside, who's your favorite Avengers character?

Spider-Man

Hawkeye

Black Widow

Thor

Iron Man

Captain America

None of them.

I don't know any of them.

16

Choose one of the following statements about the law that you relate to.

"We all need to respect the law no matter what."

"Imperfect laws are better than perfect lawlessness."

"Without the law, humans are just wild animals."

"The problem with laws is that the outlaws create them."

"The perfect laws are the flexible ones."

"Rules and laws are made to be broken."

"The only law is that there's no law."

"Laws are boring AF."

17

Which one is your favorite Marvel villain?

Loki

Helmut Zemo

Wanda Maximoff

Ultron

Thanos

Winter Soldier

All of them.

I don't know any of them.

18

How would you rate She-Hulk Attorney at Law? (10 means it's perfect).

10

8-9

6-7

4-5

2-3

1

0

I haven't watched it yet.

19

Favorite phase-four Marvel movie?

Shang-Chi and the Legend of the Ten Rings.

No Way Home.

Black Widow.

Doctor Strange in the Multiverse of Madness.

Eternals

Love and Thunder.

None of them.

I haven't watched any.

20

Final question: How old are you?

16 or younger

17-20

21-25

26-28

29-35

I'd rather not say.

36-45

46 or older.