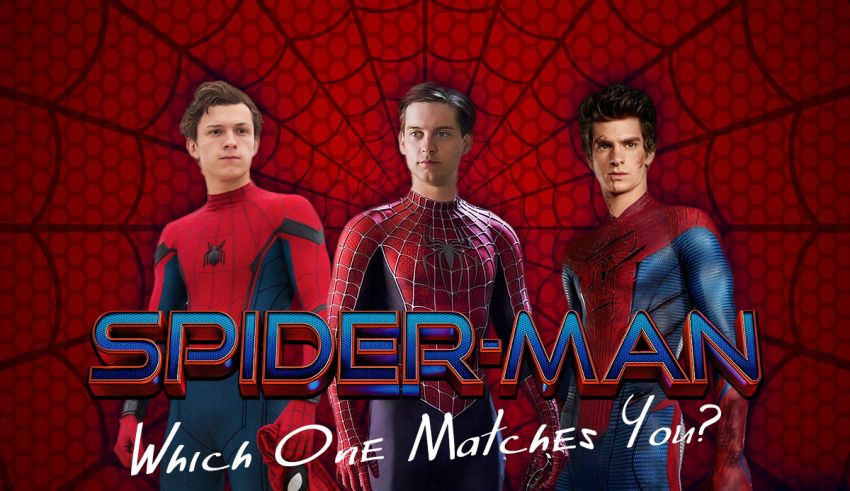 Do you want to know which Spider-Man matches you? This MCU quiz reveals if you're Tobey, Tom, or Andrew in no time. Answer 20 personality questions to find out.
An MCU Test to Reveal Which Spider-Man You Are
We've had three different actors playing the same Marvel superhero in the past decade. But the big question is, "Which one is similar to you?"
While they all played the same role, each actor brought something new to the universe. For example, Tom Holland introduced a more fun-loving, humorous, and teenage-ish Spider-Man. That's while Andrew Garfield's version was more confident and mature. And Tobey's character was the closest to the comical description of Peter Parker.
Are You Tobey, Andrew, or Tom?
The goal of the quiz is to expose which actor's Peter Parker version matches your personality. We created detailed profiles of all the boys, making it easier to discover your perfect counterpart. You'll also receive additional pieces of information on your results.
How the Spider-Man Quiz Works
You go through three different sets of questions, each examining a specific thing about your overall character. Your scores eventually help us reveal which Spider-Man you are and offer additional breakdowns. Here's what you need to know about each phase of the test.
Abilities and Skills
Despite all being Spider-Men, Andrew, Tom, and Tobey's characters have different abilities. The latest Peter Parker is technologically more advanced, while the other two seem better at 1v1 combats. To finetune the test results, we'll take a look at your skills, comparing them to the three actors' characters.
Behavior Analysis
Sense of humor, social interactions, and even your daily routines can affect the test results. We examine your traits carefully to decide which Spider-Man you are and why. For example, Andrew Garfield's Peter Parker confronted bullies in school—something Tobey's version would never do. Tom Holland's character was fascinated with Iron-Man and never hesitated to show his love—again, something the other two actors would never do.
Maturity Level Test
There's a hidden maturity test within the quiz. It's crucial to know how childish your actions are to decide which Spider-Man you are. Some of the questions indirectly evaluate your experience and wisdom level to finetune the results.
How to Know Which Spider-Man You Are?
Taking a test to answer questions like, "Which Spider-Man are you?" might not be your thing. And that's fine. You can still figure out which actor you resemble in real life with simple steps. Read the following descriptions and see which one you relate to the most. It's the easiest (but not so accurate) way of meeting your MCU match.
#1. Tobey Maguire
If you're a timid, shy, geeky, and introverted person, Tobey is your perfect match. He's the type of Spider-Man who struggles with everyday stuff and has difficulty dealing with social interactions. Tobey's Peter Parker is brave, selfless, and reliable as a superhero. But as a teenager, he's not that of a popular kid in school—and even at his workplace.
But he's super-intelligent and finds it easy to solve complicated scientific problems. Matching Tobey Maguire in the test also implies that you don't have a noticeable sense of humor—and you prefer to keep things serious and professional.
#2. Andrew Garfield
Many fans would say, "I'm the AMAZING Spider-Man" when asked, "Which Peter Parker are you?" Andrew Garfield portrayed a less introverted, more confident, and moderately charming superhero version. His character is the least similar to the comical description of Peter. But many fans loved him and accepted this new persona as the new web-shooting boy.
Matching Andrew in the quiz means that you're self-assured, charismatic, and sarcastic.
#3. Tom Holland
Tom Holland is currently a fan-favorite Marvel character as the youngest Spider-Man ever. He's not as geeky and shy as Tobey. But he's also not as confident and charming as Andrew. He's a perfect balance. And Stan Lee once even said that he envisioned someone like Tom Holland when first describing the character.
Nowadays, if you ask fans, "Which Spider-Man are you?" most of them would proudly say, "Tom Holland." He has portrayed a loveable, clumsy, funny, and somewhat annoying Spider-Man who is also emotional. His chemistry and relationship with Iron-Man are also why he's been so popular among MCU lovers.
| | |
| --- | --- |
| Spider-Man | Age |
| Tobey Maguire | 46 |
| Andrew Garfield | 38 |
| Tom Holland | 25 |
Which Spider-Man is the Best?
Not many other MCU superheroes have had multiple actors to portray them. So, Spider-Man's situation raises a big question about the elephant in the room, "Which one does the job better?" While the classic version of Peter Parker is beloved, the other newcomers have gained some fans.
But here's a quick analogy for you before taking the test.
Character-wise:
As a Marvel universe character, Peter Parker is described as a geeky boy struggling with financial issues and some relatable school-life challenges. With that in mind, Andrew Garfield's version is the least similar character to the original Spider-Man. And Tobey's Peter Parker is actually the most accurate one. (Tome Holland's version falls somewhere in between).
Ability-wise:
Again, the most comically accurate Spider-Man version is Tobey's version. But the most advanced and, according to fans, the coolest Peter Parker has been Tom Holland. Andrew's version is in between.
Popularity-wise:
The latest installment of the franchise, Spider-Man: No Way Home, has become one of IMDB's top 250 films ever (currently at the 16th spot). So, it's clear which version has been more popular. Looking at the box office and numbers, the least favorite Spider-Man is Andrew Garfield, and the top-selling and most popular one is Tom Holland.
Conclusion:
Overall, it seems like Tom's Peter Parker can beat the other two in most categories. But Tobey is still one of the most nostalgic superheroes ever.
Disclaimer
QuizExpo does not own any of the images on the 'Which Spider-Man Are You Quiz.' Sony Pictures Entertainment and Marvel Studios own all the said pictures.
How to Play?
Playing personality quizzes is straightforward: Choose the option that's true about you—or you relate to—and select "Next." Unlike trivia quizzes, personality tests have no right or wrong answers. But the questions are in forced-choice format. The point is to push you to choose an option that makes the most sense, not the one that's 100% true. For the most accurate results, don't overthink your responses. Go with options that you "feel" are the best.
How many questions does this quiz have?
20 questions
How long does it take to complete this quiz?
4 minutes
Questions of the quiz
Question 1

A train is moving towards a puppy. What's your reaction as the Spider-Man?

Jump in front of the train

Use my iron suit to stop the train

Create a web shield to stop the train

Question 2

How would you treat your enemies?

With respect

Poorly… that's for sure

I'd make them regret being bad

Question 3

Which one describes you as a student?

Question 4

What kind of humor is your favorite?

Dark humor

Silly humor

Sarcasm

Question 5

How easy is it for you to talk to your crush?

It's almost impossible

It depends on how hot they are

It's fairly easy. I'm a natural.

Question 6

Which one sounds like something you'd do to date Mary Jane Watson?

Buy her flowers

Tell her that I'm the Spider-Man

Kick her ex's ass to impress her

Question 7

If you were an actual Spider-Man, which one would be your battle style?

Strategic and slow

Fast and unpredictable

Aggressive and furious

Question 8

What would you do to a villain that you caught or surrendered?

Turn them in

Make a fun video of them for my YT channel

Kick their ass and give them an unforgettable lesson

Question 9

How guilty would you feel if you couldn't save an innocent person? (5 means you'd feel unbearably guilty).

Question 10

Of all Spider-Man actors, which one could be your best friend?

Andrew Garfield

Tom Holland

Tobey Maguire

Question 11

Which Avenger member do you love other than Spider-Man?

Captain America

Iron Man

Thor

Question 12

How would you feel if you attended school despite being the Spider-Man?

I'd feel fine

Bored

Depressed

Question 13

What type of person attracts you?

Question 14

What would you say if Mary Jane kissed you for the first time?

Question 15

What's the coolest part about being the Spider-Man?

Saving lives

Swinging in the cities

Being a part of crazy adventures

Question 16

Which of the following super-villain do you think is the toughest and most dangerous?

Doc Ock

Green Goblin

Electro

Question 17

Which one is the perfect death for a superhero?

Dying while saving the planet

Dying in the middle of a battle

Dying while saving a loved one

Question 18

Would you ever consider joining the Avengers as the Spider-Man?

Not really

Yes, sure

It depends

Question 19

What kind of Spider-Man suit would you like to wear?

Classic suit

A customized suit

Iron suit

Question 20

Final question, which period of life would you choose to live in forever?

Childhood

Teenagerhood

Adulthood