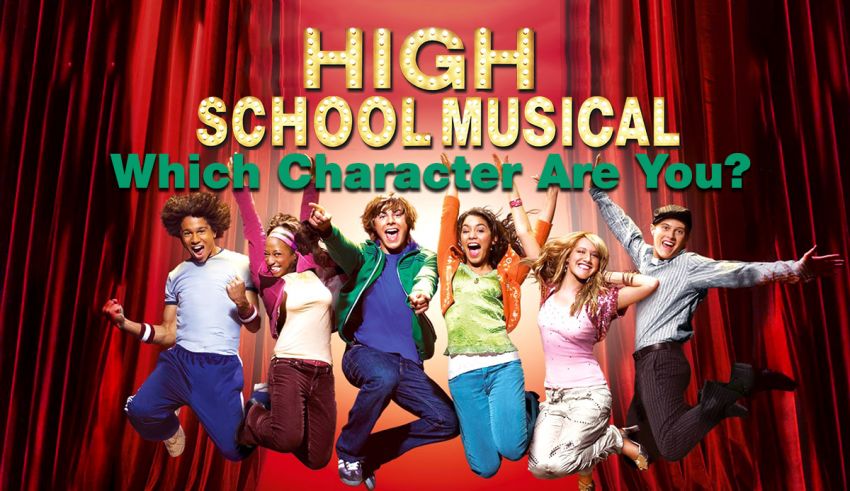 Hey, which HSMTMTS character are you? This 20-question quiz reveals a personality match. Are you Troy, Gabriella, Ricky, Nini, or else?
A Joyful HSM Character Quiz
The High School Musical was a 2006 hit Disney movie. But the new series has given the franchise a whole new vibe. And here, we want to know which of the show's old or new characters matches your personality.
We created a forced-choice test similar to our other musical quiz, 'Which Glee Character Are You?' It has twenty fun questions to expose what type of East High School student you would be.
But that is not all. Here is everything you learn by taking this quiz.
Discover which High School Musical character you are.
Both the movie and the series combined have more than 15 main characters. So, it might not be that easy to find your perfect match. The HSM Quiz helps with that, though. By answering all the twenty questions, you instantly discover which of the said students represents you. (It takes less than 5 minutes to complete the test).
Meet your high school sweetheart.
Love stories are an inseparable part of musicals. Troy has Gabriella, and Ricky tries to win Nini's heart back. No matter which spin-off or movie you watch, there will always be a catchy romance thing. So, we wanted to add that sparkle to the High School Musical Character Quiz as well.
By the end of the test, you find out who your love interest would be if you were an East High School student.
Find out what your song is.
The show is full of memorable performances and songs. But which one represents your soul or personality? That is a question the test answers. The results contain a list of HSM songs that explain who you are poetically and artistically.
How Does the High School Musical Quiz Works?
The goal of the test is to identify which HSM character is similar to you. To do so, it uses four key factors, your persona (obviously), aptitudes, friendship styles, and music test. See below for more info on that.
#1: Analyzing your personality.
The first few questions of the High School Musical Quiz are mostly psychological. The objective is to identify what type of person you are before introducing your match.
#2: Looking into your talents.
Whether it is acting, singing, or playing an instrument, almost all HSM characters are gifted. So, skills matter when it comes to questions like "Which High School Musical character are you?" Of course, you do not have to be a musician to take the test. But your artistic persona plays a significant role in the results.
#3: Challenging your friendship limits.
Friendships are a major part of the plot both in the original movies and the new series. So, it is crucial to know your friendship limits before deciding which HSM student you are. The test uses imaginary scenarios to evaluate your attachment style, matching it to one of the show's characters.
#4: Studying your music taste!
Well, it is a musical quiz. So, it would be nonsense to reveal your High School Musical match without considering your musical taste. Throughout the questionary, you face many questions that will depict what type of songs you are into. And that helps us identify which of the show's students is similar to you.
Match Characters from the Original HSM Movie and the New Series
The good thing about this test is that it includes all the main students. You got Troy, Gabriella, and Sharpy from the 2006 franchise. And you also got the new teen squad, Ricky, Nini, Gina, and even E.J.
It is fun because you find out if your character has a traditional or modern vibe to it.
Troy Bolton
Every high school girl was into him back in 2006. Troy was a kindhearted, brave, and friendly boy who was also very outgoing. He valued his friends and family above anything else. And he seemed to be ready to sacrifice his wellbeing for that of his loved ones. His friends would describe him as competitive, temperamental, and humble. But some would say he is a hyper-sensitive person as it was easy to upset him.
Gabriella Montez
She was a determined, kind, and caring person. During the first three movies, Gabriella is portrayed as a loyal, dedicated, and intelligent student. Her love story with Troy affected her character, making her a more confident and kindhearted girl. She was also a talented singer, making everyone fall in love with her voice right away.
Sharpay Evans
She started as an antagonist, developing into one of the beloved protagonists of the franchise. Sharpay is ambitious, daring, and goal-oriented. She is the only student in her school that genuinely wants to have a career in acting. Her bold goals lead her to be ruthless and somewhat selfish. But overall, Sharpay is a sweet and lovely HSM character.
Ricky Bowen
Despite being one of the good-looking students, Ricky is insecure. He is afraid of not being good at anything. But he does not want to let that stop him from winning back his ex-girlfriend, Nini. His snarky attitude is his attempt to hide his insecurities. But overall, he is a sweet and loveable boy.
Nini Salazar
She is the type of student every high school girl would easily resonate with. Nini is confused about her life, desperately trying to make the right decision. Her relationship conflicts and unfinished love story with Ricky hold her back. But she is determined to pursue her dreams of becoming a musical star.
| | |
| --- | --- |
| Character | Birthdate |
| Troy | 1990 |
| Gabriella | 1990 |
| Sharpay | 1990 |
| Ricky | 2003 |
| Nini | 2003 |
| Gina | 2004 |
| E.J. | 2003 |
High School Musical Character Quiz Disclaimer
QuizExpo does not own any of the images used in 'Which HSM Character Are You Test.' Disney owns all the said pictures.
How to Play?
Playing personality quizzes is straightforward: Choose the option that's true about you—or you relate to—and select "Next." Unlike trivia quizzes, personality tests have no right or wrong answers. But the questions are in forced-choice format. The point is to push you to choose an option that makes the most sense, not the one that's 100% true. For the most accurate results, don't overthink your responses. Go with options that you "feel" are the best.
Questions of the quiz
1

What type of person are you attracted to the most?

Caring

Daring

Good-looking

Considerate

Ambitious

2

Which of the following words describe you as a high school student?

Cool

Geeky

Famous

Depressed

Hard-working

3

How often would you cause trouble at school?

Rarely

Never

Often

Not sure

Always

4

On a scale of 0 to 10, how popular were you as a student? (10 means very popular).

5

What type of high school student annoys you?

Geeks

Bullies

Rich boys/girls

Simps

Cowards

6

What type of music do you listen to?

Casual

Rare

Trending

Energizing

Dark

7

What is your favorite genre?

Classic

Pop

Rock

Jazz

Hip-Hop

8

Which one describes you watching High School Musical?

Dancing along with the songs

Singing along the songs

Just watching

Moving with the rhythm now and then

Dancing and singing aloud

9

How many friends did you have in school?

10

What was/is your style like as a student?

Casual

Classy

Trendy

It's a mixed style

I have my unique style

11

Which of the following talents do you have?

Acting

Singing

Playing instruments

None of them

All of them

12

What is your priority in life?

Family and friends

Education

Career

Relationships

Success!

13

What would you do if your best friend threw a party and did not invite you?

No harsh feelings

It'd upset me

I'd end my friendship

I'd want to know why they did so

I don't have real friends anyway

14

What is your friendship style like?

Best friends forever

I'm always there for my friends

Friends and family are the same to me

I have good friends but no BFF

I don't have any friends

15

Fill in the blank. As a student, I was always into __________.

Having fun

Learning new stuff

Girls

Boys

Nothing

16

Which one sounds like your hobby?

Partying

Reading

Drinking

Netflixing

None

17

Which one is your favorite musical?

The Lion King

Hamilton

Wicked

Phantom of the Opera

None

18

Imagine you have to live as a high school student for the rest of your life. How would you feel?

Sounds cool

Sounds frustrating

I'd rather die

I don't know how to feel about it

I don't even care

19

How easy is it for you to learn to play a new instrument?

Easy

Difficult

It depends

Impossible

Extremely easy!

20

You won a ticket to a concert. And you get to pick the artist. Who do you choose?

Prince

Celine Dion

Eminem

One Direction

Metallica