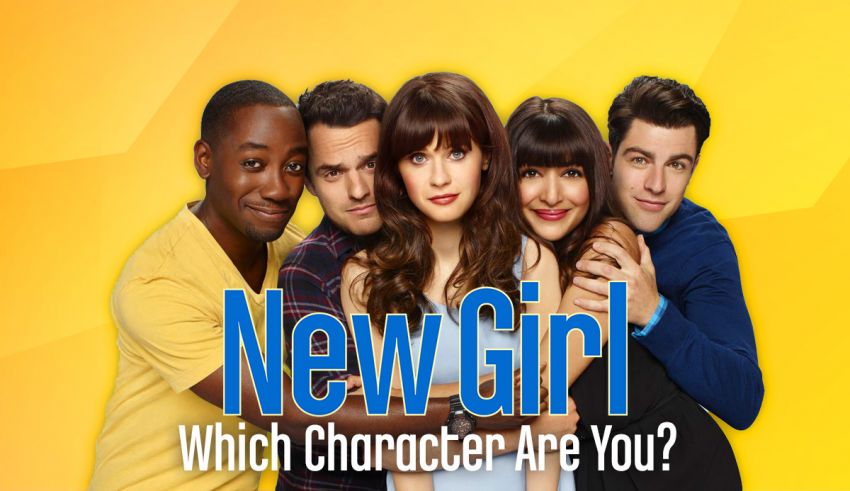 Which New Girl character are you? This New Girl Quiz discovers if you are Nick, Jess, Schmidt, CeCe, Coach, or Winston through 20 simple personality questions.
This New Quiz Knows Your New Girl Character
Ever since Jessica Day met the Gang at the Loft, fans have wanted more of the show. While the series ended in 2018, we created a 2021 updated New Girl quiz for the fans who still love the show to this day. So, "can we just take a minute to celebrate the Gang once more?"
Here is everything you need to know about the New Girl test on this page. (And more).
How Does the New Girl Quiz Work?
We created a personality test to answer the "which New Girl character are you?" type of questions. The premise of the questionary is simple. You answer a set of questions revolving around your interests, memories, relationships, etc. Then the algorithms match your character with one of the New Girl personalities with the highest similarity percentage. More detail on that below.
· Analyzing Your Past Relationships (Nothing Personal, Though)
The New Girl characters keep getting in and out of relationships throughout the show. That is why you should answer some relationship-related questions right off the bat. Of course, we will not dive deep into your past or look for anything specifically personal. It is only going to be a couple of curiosity-feeding questions.
If you think about it, the show's plot ignites with a breakup. Jessica finds out that her boyfriend has been cheating on her. And she leaves their shared apartment, ending up with the Gang at the Loft (4D). So, knowing your past relationships would help with answering "which New Girl character are you?"
· Inspecting Your Views on Love
Love is the center of the plot in NG. From the moment Jess and Nick start flirting to the very end of the show, love is all over the story. So, it would be a miss not to ask about your views on affection when finding your New Girl character match. Each personality in the show seems to perceive romance in their unique way. So, knowing your opinions and thoughts makes it easier to answer the "which New Girl character are you?" question.
· Reviewing Your Friendships
One of the significant parts of the NG story is the friendships. Almost all characters of the show have their specific friendship styles. And that sets them apart. So, when looking for an answer to "which New Girl character are you?" it is good to review your companionship style. The way you interact with your friends can reveal a lot about who you are.
· Exposing Your Characteristics
Uncovering your true personality is one of the primary functions of the New Girl quiz. There are many plot-related questions in the test that help us analyze your inner self.
Which New Girl Characters Are Included in the Test?
The LA Gang is here, baby! All the main characters of the New Girl show are included in this test. Below you see a list of them plus some extra information about their characteristics.
Jess
She is the protagonist of the show. While at times she seems clumsy and careless, Jess has a golden heart. Her girly sides make her a lovely personality regardless of the situation and time. But you cannot ignore her ambitious and determined sides no matter what.
Nick
He is an apathetic guy who makes us laugh through his sarcastic sense of humor. People who match with Nick in the Which New Girl Character Are You quiz are usually good at reading others' feelings. But it is relatively complex for most of them to express their own emotions.
CeCe
Being Jessica's best friend, CeCe is a supportive, reliable, and lovely person who is always there for her friend. People who match with her in the New Girl quiz are usually protective, lively, and bubby. Plus, they are a guru when it comes to relationship advice.
Schmidt
Charismatic, traumatic, and good-looking. Schmidt is one of those characters who you like and dislike at the same time. He seems to be a self-centered male-alpha type of man. But he is also an emotional boy with a somewhat sad background. People who end up matching Schmidt in the Which New Girl Character Are You quiz are usually confident and talented—with lots of time to think about how they look!
Coach
Unintentionally funny. Perhaps that is the most accurate way to describe Coach. He is an athletic and energetic personality who is not afraid of speaking his heart. (At least that is how he seems to be). Those who match Coach in the New Girl quiz are reliable, friendly, and masculine—not in a toxic way, though.
Winston
An unpredictable, lovely, and loud personality. That is Winston in three words. People whose soulmate is Winston are prank-lovers who love to be in the spotlight.
What Are the Results Like?
The test on this page does more than answering "which New Girl character are you?" We added some fun features to the results to make them more attractive to the fans. Here is what you get by finishing the questionary.
We analyze your personality.
A brief personality analysis based on your New Girl character is waiting for you. We will point out your characteristics and give you a rundown on how people might think about you.
We reveal your New Girl crush.
Shipping is a favorite part of engaging with a fanbase. So, by the end of the test, you will find out who your possible crush is regarding your choices.
We offer some fun stuff about your soulmate.
Discovering which New Girl character you are is a fun activity, especially when you have watched all the show's seven seasons. However, we think the results can be more than a simple answer. So, you will face some surprise items such as quotes, catchphrases, and trivia in your results, as well as the actual results.
Look Up the Sky and Ask, "Which New Girl Character Am I?"
A popular question among the fans is, "which New Girl character are you based on your Zodiac sign?" That is why we created the following table to provide you with the ultimate answer. Below you can see what each character's star sign is to match it with your own.
| | |
| --- | --- |
| Character | Star Sign |
| Jessica Day | Pisces |
| Nick Miller | Cancer |
| Schmidt | Sagittarius |
| Winston | Gemini |
| Coach | Aries |
| CeCe | Leo |
| Aly | Virgo |
| Robby | Taurus |
| Paul | Libra |
| Nadia | Aquarius |
| Reagan | Scorpio |
Disclaimer
QuizExpo does not own any of the images used in this test. The 20th Century Fox Television owns the photos used in the New Girl quiz.
Questions of the quiz
Question 1

What was the reason for your last breakup?

Cheating

Boredom

Constant fights

Lack of affection

Lies

Choosing separate paths

Question 2

Who would you side with without knowing the premise of the fight?

CeCe

Schmidt

Coach

Nick

Jess

Winston

Question 3

Which of the following characters would you dismiss to make the show better? (You have to!)

Winston

CeCe

Schmidt

Coach

Nick

Jess

Question 4

What is the worst thing a person could do in a relationship?

Lying

Leaving

Changing

Forgetting

Ignoring

Humiliating

Question 5

An ideal spouse is the one who _____________ with you.

Vibes

Gets along

Keeps up

Enjoys life

Always stays

Does naughty stuff

Question 6

I would never marry a person who is ______________.

Egoistic

Boring

Lazy

Serious

Cold

Ugly

Question 7

What is the saddest thing about a breakup?

Having tons of memories

Not being able to forget your past

Feeling like you've been deceived

Knowing your ex is going to do better than you

Having feelings for your ex

There is nothing sad about it

Question 8

Would you ever get back with your ex? Why?

No, because it's stupid

Yes, because people deserve a second chance

Maybe

I don't know

No, because what's done is done

Yes, because life is unpredictable

Question 9

Would you rather die single but have ten SUPER-loyal friends?

No

I'm not sure

Probably yes

It depends

That's stupid!

Definitely yes

Question 10

Which of the following things is your priority?

Relationship

Career

Appearance

Family

Marriage

Me!

Question 11

How much do you know your best friend?

Well

Fairly well

Not very well

It depends

I know everything about BF

Not at all

Question 12

How much does your best friend know YOU?

Very well

Not very well

I don't know

Fairly well

Enough

Not at all

Question 13

Which of the following characters could be your best friend?

CeCe

Winston

Coach

Nick

Jess

Schmidt

Question 14

Which of the following locations sounds like a nice place to do naughty stuff?

Bedroom

Living room

Gym

Pool

Backstage!

Anywhere

Question 15

The most fun part about being in a relationship is __________.

Having a best friend beside you

Sharing your life with someone

Having someone to support you

Feeling less pressured and stressed

Discovering true love

S.E.X

Question 16

I be ____________ when I'm horny.

Weird

Casual

Aggressive

Passive

Stressed

Confident

Question 17

Which of the following activities is your favorite?

Watching movies

Reading

Exercising

Doing puzzles

Cooking

Drinking games

Question 18

Which of the following scenarios sounds more traumatic?

Divorced parents

Toxic relationship

Being bullied

Losing a friend

Being cheated on

Being humiliated

Question 19

Which of the following New Girl quotes do you relate to the most?

I'm totaling my assets. It's really bleak

So many emotions

Jealous because I'm the True American

Are we eating, or are we not eating?

Please don't make me laugh at you

Schmidt happens

Question 20

Finally, who would you never want to kiss if you were a New Girl character?

Schmidt

CeCe

Jess

Coach

Winston

Nick