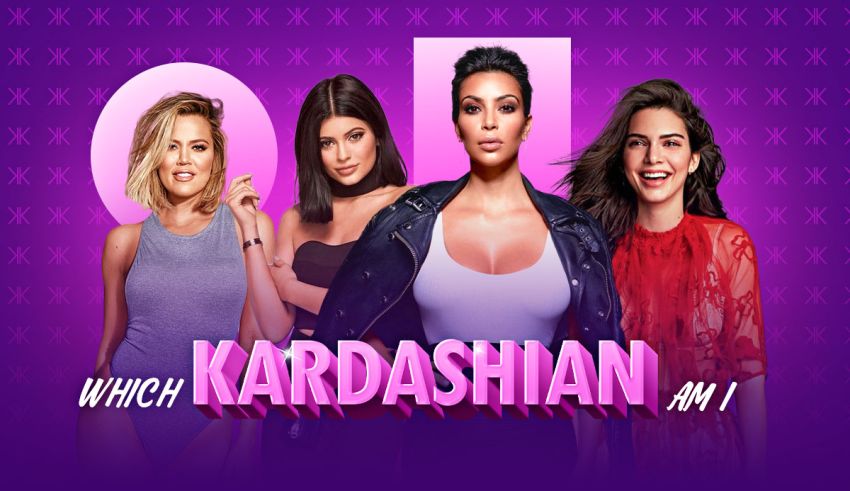 Are you low-key wondering, "Which Kardashian am I?" This celebrity finder quiz reveals if you're one of the Kardashians or Jenners with unbelievable accuracy.
The Kardashian-Jenner Quiz Explained
It's a series of lifestyle and personality questions to identify which of the Kardashians family member you represent in real life.
Unlike other TV & Movie quizzes, this one is focused on the real-life characteristics of the KUWTK celebrities. So, by the end, you find out if you are similar to Kim, Kylie, Kendall, Kris, Khloe, Kourtney, or else.
Find out which Kardashian you are.
Thousands of people google things like, "Which Kardashian am I?" every day. And they want a genuine answer. So, we created a personality test that compares your lifestyle and traits to that of the K family members to create an accurate match.
See if you are the richest.
With a staggering net worth of $1.8 billion, Kim Kardashian is the richest family member.
But what about you? How rich would you be if you lived in the luxurious world of KUWTK? The quiz has the answer. We analyze your answers to determine how business-focused you are and the chances of you becoming a millionaire—or maybe even a billionaire.
Get a free personality analysis for your celebrity self.
Fans wonder what kind of person each of the Kardashians is outside their reality-show life. So, we enriched our database with their personality type to help with that. We can tell you more about the K family member you matched and explain why you matched them.
The First MBTI-Based Kardashian Quiz
Other online alternatives are interest-match quizzes. So, they ask you boring questions like "what is your favorite food?" to come up with results. But that's not how we do it. You're about to take the first MBTI Kardashian quiz ever.
Our editorial team categorized all the K family members into proper Myers-Briggs Type Indicators so that the test results are 100% accurate.
| | |
| --- | --- |
| The Kardashians | MBTI Type |
| Kim | ISFJ |
| Kendall | ISFP |
| Khloe | ESFP |
| Kris | ESTJ |
| Kourtney | ISTP |
| Kylie | ESFP |
How to Know Which Kardashian or Jenner You Are
It's challenging to keep up with the Kardashians. But they've lived an on-camera life for, like, 20 years. So, you can find every detail about their personalities online. However, the thing is that finding your Kardashian match on your own could be pretty time-consuming.
Here's a quick guide on some of the family members' characteristics in case you want to find your "Kounterpart" the old-school way.
#1. Kim
She is a motherly figure, always protecting and nurturing her babies. But as an ISFJ, she's also kind, reliable, and trustworthy. Despite being a victim of brutal internet cyberbullying, she has never stopped being a giving and caring person in her personal life.
Most fans would pick her when asked, "Which Kardashian are you?" It's because she's one of the most successful daughters of the family, also known as the queen of Instagram.
#2. Kris
As a hardworking traditionalist, Kris Jenner is the core reason why the Kardashians succeeded in the celebrity game. She is eager to take charge, orderly, and obedient, making her the best person to manage the girls' extraordinary lives.
However, not many fans would be happy to see her in their test results as she's been rumored to be somewhat manipulative.
#3. Kourtney
Despite her glamorous celebrity life, Kourtney is somewhat introverted and shy. She's been open about her fear of public speaking and has been living a slightly more private life than her sisters. But as an ISTP, she's also observant, thinking, and prospecting.
#4. Kylie
Her personality is described as warm and friendly. But Kylie loves being the center of attention, and she's famously a party girl, using every chance she gets to celebrate life—in the most luxurious ways possible.
Ask young fans, which Kardashian are you?" and watch them talk about their love for Kylie for the rest of the day. You cannot judge them, though. She's the first woman to reach 300 million followers on IG while becoming a billionaire at 21.
Other K-J family members.
The Kardashian-Jenner family is an extended one. You might be a better match for the family boys rather than the daughters. Or you might be more similar to lesser-known siblings like Brody, Brandon, and Burt.
Inspired by the Keeping Up with the Kardashian Events
The KUWTK came to an end after 14 years and 20 seasons. And we couldn't ignore the Kardashians' personal stories and real-life drama during its run. So, we used some of the show's iconic moments to help us create this personality quiz and finetune its results.
Don't worry; you don't have to be a fan of the show to keep up with the quiz. (There are no right or wrong answers in the test).
Are You Team K or Team J? Let's Find Out
Your big question is, "Which Kardashian am I?" But what if you are a Jenner? Our quiz determines if you fall into a more modernist J-side of the family or the traditional K-side.
All you have to do is answer 20 Hollywood lifestyle-inspired to get a solid answer.
Disclaimer
QuizExpo does not own any of the images used in the Kardashian Quiz, and no copyright infringement is intended.
Questions of the quiz
Question 1

What would you worry about if you were the Kardashians' manager?

Their public appearances

Their outfits and style

Their relationships

Their kids

Their contracts

Their net worth

Question 2

You're invited to one of the Kardashian's birthday party. What gift would you get them without knowing whose b-day it is?

A life-changing or inspiring book

A fancy nightgown

Tickets to an artist's private concert

A $10K gift card

A luxurious makeup set

They wouldn't need my gift.

Question 3

What is the most interesting part of living like a celebrity?

Traveling a lot

Having millions of followers on social media

Having so many cool and famous friends

Becoming an influential person and helping others

Wearing designer pieces and having personal stylists

Being rich and buying expensive stuff

Question 4

What is the worst thing about it? What would bother you the most if you were a celeb?

Too many paparazzi around

A lot of drama in your personal life

Challenging relationships and love life.

Working hard and having a busy schedule.

Not being able to hang out with your friend like normal people.

None of the above. Being a celebrity is an easy job.

Question 5

What do you think of Keeping Up with the Kardashian show? Is it any good?

I didn't like it.

It was 'meh.'

I used to like it during the early seasons.

I started to like it towards the final seasons.

I've never actually watched the show.

I loved it.

Question 6

What kind of boyfriend/girlfriend would you like to have if you were famous?

Protective

Responsible

Loyal

Intelligent

Good-looking

Rich and successful

Question 7

Imagine you are a Kardashian, and the paparazzi are spying on you 24/7. How would you feel about that?

It'd damage my mental health.

I'd feel pissed off. But it wouldn't be a big deal.

I'd feel annoyed and would probably ask them to leave.

I'd feel famous and would probably pose for them.

I'd ignore them and live my life.

I'd give them some controversial shots to add to my fame.

Question 8

Are you open about your love life and relationships, or are you a private person?

No, I'm super-private

I'm slightly private

It depends. IDK.

I'm kind of open about my relationships.

I only share the details with my best friends.

I am super-open about every aspect of my life.

Question 9

Which one sounds like an unethical way of making money or getting rich?

Selling an online course without proper knowledge about the topic

Selling your "inappropriate" photos on OnlyFans.

Becoming rich off of selling illegal substances.

Using your kids' fame to make money.

Advertising a product that you don't believe in.

There's no such thing as an unethical way of making money.

Question 10

What kind of career would you pick if education, money, or time was not a concern?

Artist or writer

Super-model

TV show host or performer

Businessperson or entrepreneur

Designer or fashion critic

Stock market investor

Question 11

Which of the following celebrities do you admire or like better than others?

Billi Eilish

Jiji Hadid

Ariana Grande

Oprah Winfrey

Addison Rea

Cher

Question 12

If your life was a movie, what would its genre be?

Tragedy

Thriller

Comedy

Romance

Sci-Fi

Drama

Question 13

How would you spend the weekends if you were as rich as the Kardashians?

Traveling to exotic destinations

Working out or learning a new skill

Hanging out with my besties or going shopping

Spending quality time with my family

Throwing wild parties

Working on my business plans

Question 14

Which one makes a person stylish?

I don't know much about fashion and style.

It's about creativity.

It's actually about your personality.

It's about the brands that you're wearing.

You need to know what's trending and what's outdated.

You just need to hire a professional stylist.

Question 15

Which side has been more successful, the Kardashians or Jenners?

I don't really know

I'm team Jenners.

Both of them.

I'm team Kardashians

It depends on your metrics and standards.

None of them have achieved their full potential.

Question 16

How'd you react if you found out that your celebrity boyfriend/girlfriend had cheated on you?

I'd never be the same person again.

I'd never publicized it but would break up immediately.

I'd probably try couples therapy.

I'd publicize the issue after breaking up with them.

I'm not sure how I'd react to that.

I'd ruin my ex's career and make them regret it.

Question 17

Out of the following unusual baby names, which one sounds like a cool one?

Windy

Starlette

Charmayanne

Snowdrop

Vin'nyla

None of them. I like traditional names better.

Question 18

Choose a method that you'd like to become famous through.

Work of art.

Modeling.

Trading and investment.

Selling products.

Content creation and social media.

Marrying a rich person.

Question 19

Which price tag is reasonable for a pair of designer shoes?

$500

$5,000

$10,000

$20,000

$30,000

$50,000 or maybe even more

Question 20

Final question; how old were you when the Keeping Up with the Kardashian show ended? (It ended in 2021).

40 or older

18-25

26-30

31-39

17 or younger

I'd rather not say.