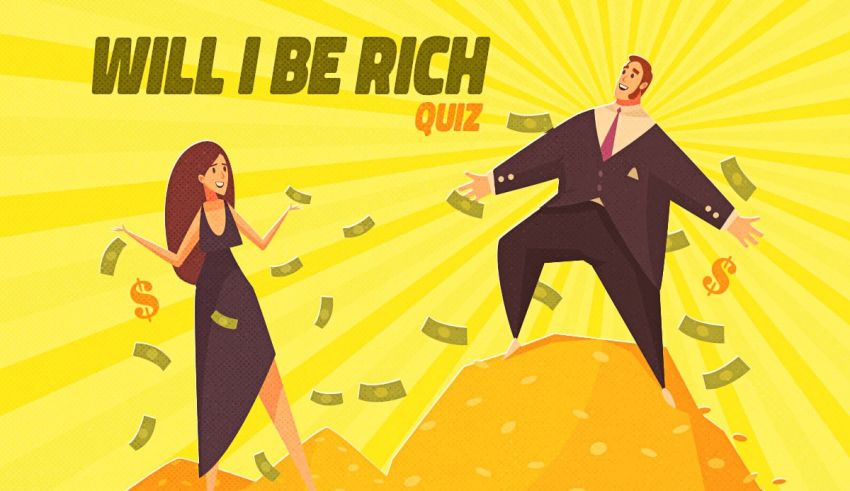 Do you ask yourself, "Will I be rich?" This wealth quiz identifies how likely you are to make it—in percentage!
Will You Be Rich? Signs You'll Make It
You will get rich if you start investing early, set realistic financial goals, budget your money, have an emergency fund, avoid high-interest debt, and replace procrastination with the right mindset.
How Likely Is It for You to Get Rich?
If you are an adult, 57 or younger, living in the US, there's an 8.8% chance that you'll become a millionaire in the next 10-20 years. However, the chances of earning $1,000,000 per year are as low as 0.071%.
But realistically, becoming wealthy depends on your financial background, education level, current job, age, and even sex.
Here are the top three ways people get rich in the US. (Source: FinMasters).
| | |
| --- | --- |
| Job or Event | The likeliness of Getting Rich |
| Inheriting money | 3% |
| Having a six-figure income | 37% |
| Owning real states | 40% |
If you believe in astrology, this one's for you: Virgo, Scorpio, Leo, Taurus, Capricorn, and Aries are the star signs with the highest chance of becoming rich.
5 Attitudes of a Person Who Will Be Rich in the Future
While it's challenging to predict one's financial future, having the following manners indicates you're on the path to becoming wealthy.
1.     Questioning the norms.
A person with the right mindset would be skeptical of the status quo in their society. Such a person would question what's right and wrong when it comes to financing, investment, and income—which in turn, would give him an extensive view of money.
2.    Taking risks.
No rich person has made it without taking risks.
Risk-taking is one of the primary features of a wealthy mindset. Playing safe rarely results in a significant win, especially regarding wealth.
3.    Being careful with money.
Although risk-takers, the rich are not reckless. They go all in only when they can afford failure. In other words, they play it smart, not careless.
4.   Initiating instead of procrastinating.
Letting your ideas lay on the table is not the way to go. Wealthy person has the outlook of an initiator—they step up, do the job, analyze the results, and repeat.
5.    Appreciating failure.
The business has no room for the snowflake, oversensitive people with fragile mentalities. It values those who learn from their mistakes and keep going regardless of the odds.
What Does Being Rich Mean in Today's World?
According to the Charles Schwab Modern Wealth Survey 2022, Americans define "rich" as a person with a minimum net worth of $2.2 million. Currently, having a net worth of $774,000 is merely considered "financial comfort," not wealthiness.
Take a Finance Quiz to See if You'll Be Wealthy
As with most people, you're probably overthinking, "Will I be rich or poor?" If that's the case, take the wealth prediction quiz.
With its 20 finance and personality questions, the test determines how probable it is for you to become rich and famous. And it's accurate.
Disclaimer
The quiz includes no financial advice. It's an educational and entertaining test to answer questions like "Will I be rich?"
How to Play?
Playing personality quizzes is straightforward: Choose the option that's true about you—or you relate to—and select "Next." Unlike trivia quizzes, personality tests have no right or wrong answers. But the questions are in forced-choice format. The point is to push you to choose an option that makes the most sense, not the one that's 100% true. For the most accurate results, don't overthink your responses. Go with options that you "feel" are the best.
Questions of the quiz
1

What's your priority for spending money?

Paying the bills.

Having fun.

Saving.

Investing.

2

Do you budget your money? How detailed is your budget?

No, I don't like budgeting.

No, I don't make enough money to budget it.

Yes, but it's not a detailed budget.

Yes, my budgeting is detailed.

3

Do you own any business equity?

No, I'm happy with my own career.

No, I don't have enough money to buy equity.

Yes, but I'm a beginner. My share is small.

Yes, I transform most of my money into equity.

4

What do you do with the money you save?

I take care of my family when necessary.

I usually reward myself with a vacation or something like that.

I put it by for a rainy day.

I invest it in the stock market or other lucrative sources.

5

How much do you earn per month?

$6,000 or less

$7,000-$10,000

$11,000-$15,000

$16,000 or more

6

What percentage of your income goes for monthly expenses?

60% or more

About 40-50%

20-30%

15% or less

7

Which one describes your parents' financial status?

Lower class

Middle class

Upper class

Rich

8

Why do you want to get rich?

Meh. It's not a priority in my life.

I want to improve my lifestyle and enjoy my life.

I want to help others.

I want to provide value and turn my ideas into reality.

9

Which one is a better definition of money?

A burden that makes life complicated.

A tool to solve most problems in life.

The wheel of the economy.

An exchange for the value you provide.

10

What type of business would you invest in?

I don't know much about investments.

A rapidly growing, lucrative business.

An innovative and future-proof business.

A business that's focused on solving problems.

11

Do you believe in overnight success?

I don't know. Maybe.

Yes, I believe in it.

I believe in luck. But overnight success is a misconception.

No, I only believe in hard work and strategy.

12

Why do you think you're not rich yet?

It's because I never wanted to be.

It's because I'm not lucky.

It's because I'm not knowledgeable enough.

It's because I'm a beginner. I'll get there in a few years.

13

How do you feel about student loans?

It's part of life. I don't see it as a problem.

I think it's a scam. I wish I didn't have to pay for it.

It's not a big deal if you get it intentionally.

It's pointless. You can always educate yourself for free.

14

How would you spend it if you made $50K per month?

I'd do a lot of charity stuff and help out others.

I'd have fun and live a luxurious life.

I'd spend most of it educating and bettering myself.

I'd put it back into the business and reinvest it.

15

How do you deal with failure?

I see failure as a humbling experience.

Failure usually lets me down. I can't handle it that well.

I see failure as a learning opportunity.

I fail fast to succeed faster.

16

What do you do with your business ideas?

I don't have many business ideas.

I don't do anything specific. I usually overthink them.

I share them with knowledgeable people and ask for their opinion.

I put them to the test as soon as possible.

17

How long would you work to become rich?

IDK. I don't want to waste my life chasing a dream.

2-3 years.

5-10 years.

Whatever it takes.

18

What's the best approach to earning more?

Working harder.

Working smarter.

Boosting your knowledge and expertise.

Diversifying your income sources.

19

Which quote do you agree with?

Life is too short to worry about money.

Money is key to living a happy life.

Learning is a never-ending process.

Work smarter, not harder.

20

Final question: How old are you?

50 or older

35-49

25-34

24 or younger