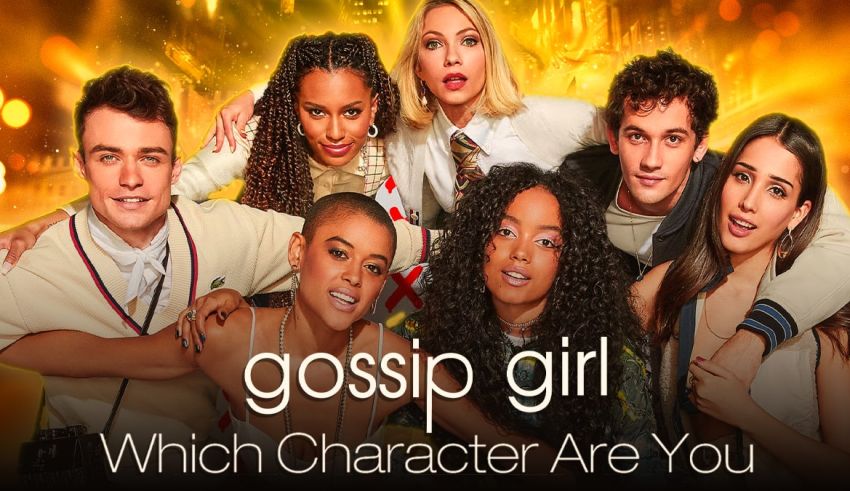 Don't you wonder which Gossip Girl character you are? This GG Personality Quiz reveals if you're Serena, Zoya, Julien, or someone else.
The Gossip Girl Personality Quiz Explained
With 15 personality questions, the Gossip Girl Quiz finds your perfect match in the franchise. Basically, it tells you if you're one of the original 2007 cast members or one of the newbies from the 2021 reboot.
Gossip Girl is a TV adaptation of the titular book series by Cecily von Ziegesar about a group of rich and spoiled teenagers who are exposed by an anonymous blogger called "The Gossip Girl." In both the original and reboot shows, the main characters have to deal with this mysterious blogger who shares their scandals with the world.
If you want to know which character shares the same personality as you, hit the start button now. The test will confirm your Constance person immediately—and let you know why you're that specific character.
Also, if you're into shows like Gossip Girl, consider taking our Pretty Little Liars Quiz next. It has the same teenage drama vibes that you're looking for.
Are You an OG or a Reboot Character?
A naughty teenager from 2007 or a Gen-Zer from the 2021 reboot? Our Gossip Girl Quiz flips the coin for you. Based on your traits and romantic background, we get to decide which clique you belong in.
The options include the good old Serena, Blair, Nate, Chuck, and Dan, along with the newbies like Julien, Zoya, Luna, and more!
Are You One of the Teachers or Students?
As the Gossip Girl reboot emphasizes the relationships between teachers and students, we decided to spice up the updated personality quiz by including some teachers in the results. That's correct! You might even be matched with one of the Constance tutors if you have a penchant for spreading rumors.
Find Your Character Based on MBTI
Finding your doppelganger in the Upper East Side of Manhattan, where the affluent students of Gossip Girl reside, is much more complicated than choosing your comfort character. You need substantial evidence to prove a specific student, parent, or teacher genuinely has similar traits to yours. That's why we present the MBTI matches: In this test, you'll only be paired with characters who closely align with your personality type.
Character
MBTI
Zoya Lott
ISFP
Julien Calloway

ENFJ
Audrey Hope
ESTJ
Max Wolfe
ESFP
Monet de Haan
ENTJ
Luna La
ESTP
Serena Celia Humphrey

 

ESFP
Chuck Bass
ESTP
Blair Waldorf
ESTJ
Love, Lust, Lie; Which One Decides Your Fate?
You never know if it's love, lust, or just a huge lie that's keeping those characters together. But what about your emotion-ships? Take this GG Test to figure that out. We put you in imaginary teen drama scenarios and encourage you to empathize with the show's characters without you even noticing. Later, we use that info against you and expose your Gossip Girl match.
Disclaimer
QuizExpo does not own the images used in this quiz and intends no copyright infringement. Warner Bros. Television owns the said pictures.
How to Play?
Playing personality quizzes is straightforward: Choose the option that's true about you—or you relate to—and select "Next." Unlike trivia quizzes, personality tests have no right or wrong answers. But the questions are in forced-choice format. The point is to push you to choose an option that makes the most sense, not the one that's 100% true. For the most accurate results, don't overthink your responses. Go with options that you "feel" are the best.
Questions of the quiz
1

How would you react if there was a rumor going around about you at school?

I'd ask for my teacher's help

I'd confront anyone spreading it

I'd plan my revenge

I would ignore the B.S.

I would probably feel super-nervous or depressed

2

What are your thoughts on gossiping?

I can't say I hate it

I actually hate it

I low-key love it (but it's a secret)

Meh, I think the fun is overrated

I can't live without gossiping

3

What kind of best friend are you?

Supportive

Protective

Agreeable

Cool or funny

Crazy or extra

4

How would you describe yourself as a student?

Somewhat nerdy

Top student, but not nerdy

Quiet and shy

Popular and naughty

Worst student ever

5

What's your favorite topic for deep conversations?

Relationships

Career stuff

Science or geeky stuff

Money, fame, or social media

Just silly random things

6

What's the most enjoyable part of teen drama shows?

Romantic tension

Relatable struggles

High school drama, TBH

Sexual stuff

All of them

7

Would you forgive your best friend if you discovered they lied to you?

Yes, why not

It depends on the lie

Yep, but I'd keep an eye on them

Nah, I'm fine

Yes, but only to plan my ultimate revenge

8

What's the worst thing about school?

Strict teachers

Unrelatable classmates

Bullies

Relationship dramas

Um, everything?

9

If you were as rich as the characters in Gossip Girl, what would you spend your money on?

Food

Fashion

Books

Travel

Probably drugs

10

What did you think of the show's 2021 reboot? Was it any good?

I loved it

Meh, it wasn't that bad

I can't say I'm a huge fan

I couldn't relate to it

I just hated everything about it

11

Which Gossip Girl book is your favorite?

You Know You Love Me

Because I'm Worth It

It Had to Be You

I Like It Like That

All I Want Is Everything

12

What type of boys/girls are you into?

Nice and respectful

Confident and smart

Protective and mysterious

Funny and cool

Rich and famous

13

What does success mean to you?

Peace of mind

Financial security

Being loved

Feeling content

Money

14

How would you handle a scandal?

I'd ask for a friend's help

I'd be open about it and express myself

I'd avoid addressing it at all costs

I'd ignore the whole thing

I would do anything to get out of that situation

15

Which social media app do you use the most?

Instagram

TikTok

Twitter

Snapchat

Facebook

16

Would you consider yourself popular in school?

Kind of, yes

I'm not sure

No, not at all

Yes, it was pretty obvious

It depends on how you define popular

17

Which of these 2000s TV shows would you rather watch?

The O.C.

One Tree Hill

90210

Pretty Little Liars

The Secret Life of the American Teenager

18

Describe your dream wedding.

Casual

Modern

Traditional

Wild

Luxurious

19

Which word best describes your ex?

Cruel

Confused

Stupid

Lame

D***head

20

Final question: What's your opinion on revenge?

I don't like the idea

I get it, but won't try it

I love the idea

Meh, whatever

Revenge is the best feeling ever