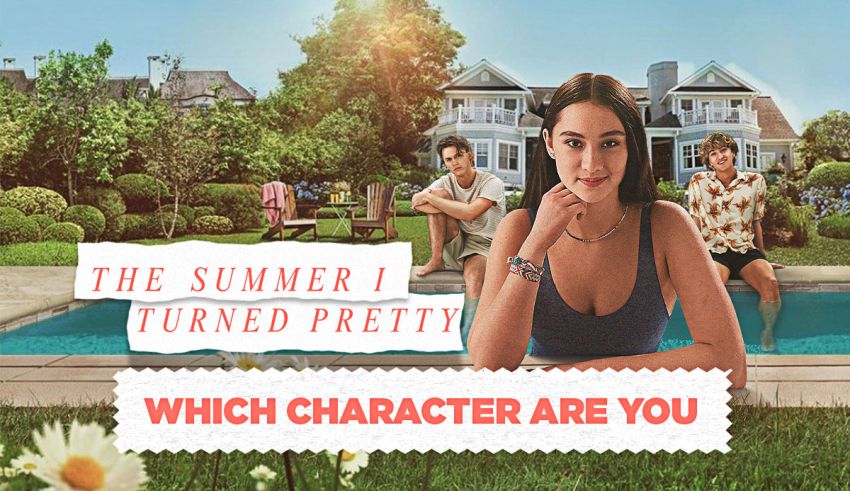 Hey, which the Summer I Turned Pretty character are you? Belly, Conrad, Jeremiah, or else? Take this personality quiz inspired by Jenny Hann's books to find out.
The Summer I Turned Pretty Quiz Explained
It's a series of personality, romance, and dating questions based on the Summer I Turned Pretty events to reveal which character you are in real life. By taking the quiz, you find out if your traits are similar to Belly, Conrad, Jeremiah, or others.
Although not as gloomy as Euphoria, the Summer I Turned Pretty was one of the 2022's trending young adult shows. And now, fans want to know which of the good-looking teenagers on the show they are.
The test on this page analyzes the type of person you are to discover your perfect match among the Summer I Turned Pretty cast.
Suggested: If you're into young adult romance, check out the Outer Banks Character Quiz.
Which Character Are You?
The Summer I Turned Pretty has three main and twelve supporting characters. But the big question is this: which one is similar to you?
By taking the personality quiz on this page, you get to know which teenager or adult in the show shares the same characteristics as you.
Who Is Your Summertime Crush?
Like other Jenny Hann stories, the Summer I Turned Pretty is about good-looking young girls and boys falling in love and dealing with heartbreaks. The story revolves around Belly's childhood crush on Conrad and their on-and-off relationship.
But hey, what if you lived in the same universe as Belly and Conrad? Who would YOUR crush be? That's the type of question the quiz answers.
What Is Your Personality Type?
The test's premise is to reveal which the Summer I Turned Pretty character you are. But it also exposes your true personality.
Your results include breakdowns, explaining why you matched a specific character, and what it says about your personality type.
The First MBTI Personality Quiz for the Summer I Turned Pretty
Despite being a young adult romance series, the Summer I Turned Pretty introduces several deep personalities. So, it deserves more than a casual, interest-based quiz. It deserves an in-depth MBTI-based test like the one on this page.
Our editors analyzed the Summer I Turned Pretty characters' MBTI type, creating an accurate database. So, you're guaranteed to get authentic and relatable results.
| | |
| --- | --- |
| Character | MBTI Type |
| Isabel "Belly" Conklin | ISFP |
| Conrad Fisher | ISTP |
| Jeremiah Fisher | ESFP |
| Taylor | ESTP |
| Cam | INFJ |
| Steven Conklin | ESTJ |
| Laurel Park | ISTJ |
| Shayla | ENFJ |
| Nicole | ESFP |
| Susannah "Beck" Fisher | ESFJ |
How to Know Which the Summer I Turned Pretty Character You Are
One way to find your perfect match is by reading the Summer I Turned Pretty's character descriptions. Since the show (and the book series) have only about fifteen characters, you'd not struggle to discover the one you represent in real life.
The following descriptions can help with choosing your counterpart character.
#1. Isabel "Belly" Conklin
Personality-wise, Belly is kind, friendly, and sensitive. She is craving the freedom of being an adult, lunging the days she can do whatever she wants. Although a bit impulsive, Belly is a sweet and kind girl who cares about her loved ones.
#2. Conrad Fisher
One of the core characters in the Summer I Turned Pretty, Conrad is a natural athlete and a good student. He's intelligent, considerate, and protective. But her mom's terminal illness has turned him into a cold, distant, and ignorant person.
#3. Jeremiah Fisher
A fun-loving teenager, Jeremiah's personality can be described as outgoing, spontaneous, and resourceful. He enjoys flirting with girls and being playful around them. But deep inside, he's a caring and supportive friend who only fears losing his loved ones.
#4. Taylor
A true best friend, Taylor is always there for Belly. But she's a 'boy crazy' girl who can't stop thinking about hot guys around her. As an ESTP, Taylor's personality is analytical, outgoing, and enthusiastic. But she is also become dramatic at times.
Other characters.
There are supporting characters with rather more interesting personalities that you might match, such as Nicole and Shayla. So, choosing your comfort character based on the core cast might not be a good idea.
For a broad analysis and unbiased result, take the quiz. It compares your traits to the show's characters, exposing the one that is indeed similar to you.
Ready to Meet Your Love-Crazy Self?
Admit it; you've had that cringy 'boy or girl crazy' period in your teenagerhood when you thirsted over embarrassingly weird people. But here's a chance to relive it from a whole new perspective.
The Summer I Turned Pretty quiz simulates a young adult romance story where you're the main character. And it analyzes your responses to decide which of the show's characters is similar to you.
It's a one-of-a-kind experience for the series' fans.
Disclaimer
QuizExpo does not own any of the images on the Summer I Turned Pretty quiz. Amazon Prime owns the said pictures and no copyright infringement is intended.
Questions of the quiz
Question 1

Which one describes a perfect summer vacation?

Meeting the love of your life.

Hooking up with a couple of hot baddies.

Shopping and hanging out with friends.

Being naughty and trying new things.

Fishing, surfing, or sailing on your own.

Partying and flirting with hotties.

Question 2

What makes a first date super-romantic?

Shyness

Desire

Location

IDK. I'm not a romantic person.

Tension

Playfulness

Question 3

What kind of people attract you?

Protective and caring.

Hot and good-looking.

Classy and successful.

Rich and respected.

Mysterious and intelligent.

It depends. I don't have a specific taste.

Question 4

How do you feel when recalling your first love?

I've never been in love.

I cringe.

I don't feel anything specific. I'm over my ex.

It turns me on.

I miss my ex.

I feel like I still need to get revenge on my ex.

Question 5

How would you describe your first kiss in one word?

I've never kissed anyone.

Hot.

Cool.

Cringy.

Romantic.

Stupid.

Question 6

What's something about Conrad in the Summer I Turned Pretty that you don't like?

He's too cold and distant.

Nothing. I think Conrad is perfect.

I don't like his style.

I think he's a coward for hiding his feeling.

I don't like his voice.

Everything. I think Conrad is overrated.

Question 7

Which one sounds like the way you'd approach your crush?

Writing a letter.

Sending a naughty message.

Starting a deep conversation.

Messing with them.

Taking an interest in them.

Ignoring them.

Question 8

What would be your priority if you had to spend the summer in a family friend's beach house?

Exploring the area or making new friends.

Finding a summertime boyfriend/girlfriend.

Taking beautiful images for my social media.

Looking for cool places to party and have fun.

Spending some time alone and reflecting on my life.

Doing crazy stuff and boosting my adrenalin.

Question 9

How would you react if your crush kissed another person in front of you?

I'd leave that place.

I'd plan my revenge.

I'd keep my cool and ignore them.

I'd kiss a random person right away.

I'd hide my emotions and smile.

I'd punch my crush in the nose.

Question 10

Which one describes you at a party?

Quiet and shy.

Sexy and wild.

Popular and respected.

Sassy and classy.

Lonely and awkward.

Freaky and loud.

Question 11

What would you do if you found out your best friend had lied to you?

I'd end my friendship with them.

I'd give them a lesson.

I'd confront them and ask why they did that.

I'd lie to them, too.

I'd pretend I don't know about it.

I'd punch them in the stomach.

Question 12

What part of summer vacations are your favorite?

Having free time to do whatever you want.

Going to the beach and checking out hot guys/girls.

Wearing summertime outfits and looking fabulous.

IDK. It depends on my mood.

Visiting friends and families.

Partying and drinking.

Question 13

Pick an outfit style.

Casual

Artsy

Chic

Sexy

Sporty

Gothic

Question 14

What kind of novels is your favorite?

Romantic

Drama

Thriller

Fantasy

Mystery

Erotica

Question 15

What's your definition of an ideal relationship?

Being with a person who truly wants you.

Being with a person that you're genuinely attracted to.

Being with a person who matches your social/financial status.

Being with an open-minded, good-looking, rich person.

Being with someone who loves you for who you are.

Being with a person who supports whatever you do in life.

Question 16

Choose a quote that you think is romantic.

"I can't live without you."

"I love every inch of your body."

"I think you are perfect."

"I like your vibe."

"I'd do anything to make you happy."

"Let's do it in the car."

Question 17

How many of The Summer I Turned Pretty trilogy books have you read?

All three of them.

2

1

I didn't know the show was based on a book series.

I've bought all of them but haven't read any.

None of them

Question 18

Which app do you use more often?

Instagram

Snapchat

Pinterest

Twitter

Facebook

Tinder

Question 19

What accessory would you choose for a summer outfit?

Hat.

Glasses.

Collar.

Giant earing.

No accessories.

Question 20

Final question; how old are you?

14 or younger

15-17

18-20

21-23

24 or older

I'd rather not say.