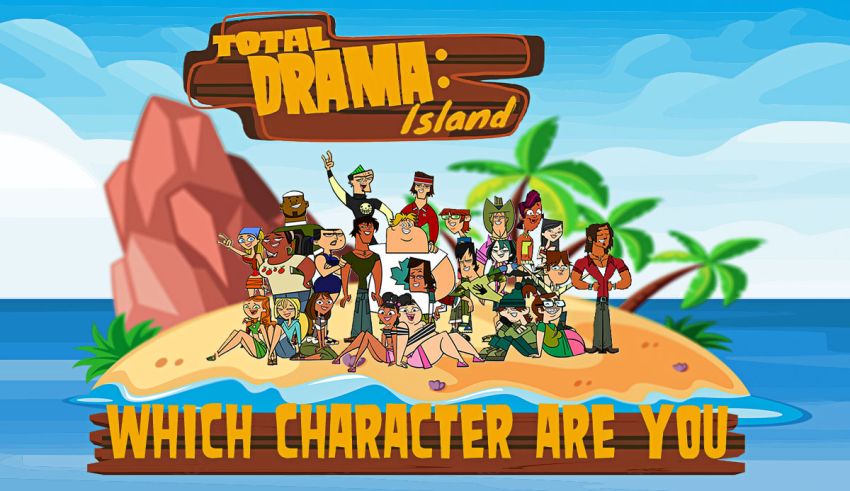 Do you wonder which Total Drama Island character you are? Take this TDI personality test to find out the answer. Are you Gwen, Owen, Duncan, or else?
TDI Character Quiz Explained
It's a 20-question test to reveal which Total Drama contestant is similar to you.
Total Drama is an animated parody of famous reality shows like Survivor. It follows the story of 22 teenage contestants competing to win the grand prize.
The quiz examines your persona, compares it to the show's characters, and suggests a perfect match.
Discover Your MBTI Match in Camp Wawanakwa
Similar to the Big Mouth Character Quiz, the TDI test uses your MBTI type to generate accurate results.
Responding to the questions allows us to identify your personality type and create your profile. We then go through our database to uncover the contestant with the highest similarity percentage.
The following table shows the MBTI type of the most popular characters. (Use it if you want to take matters into your own hands).
| | |
| --- | --- |
| Total Drama Character | MBTI |
| Duncan | ESTP |
| Gwen | ISFP |
| Owen | ESFP |
| Dawn | INFJ |
| Heather | ENTJ |
| Chris McLean | ENTP |
| Izzy | ENFP |
Are You Team Screaming Frog or Killer Bass?
Hardcore fans often root for one of the two competing teams in Total Drama Island: Screaming Gophers or Killer Bass.
But to add a bit of extra fun to the quiz, we will put you in one of the groups based on your responses.
So, not only will you find out who your Total Drama match is, but you'll also discover which team you'd compete in. How cool is that?
How to Know Which Total Drama Island Character You Are
TDI characters might not be as complicated as other animated shows like Adventure Time. Still, it's not that easy to analyze their personality and match them to your own.
If you're not a fan of online quizzes, the next best way to meet your Camp Wawanakwa soulmate is by reading the characters' descriptions.
The official Total Drama fandom offers dozens of personality breakdowns that come in handy. But here are brief analyses of the top five characters—in case you're too lazy to check theirs out.
#1. Gwen
Although gloomy and lonesome, Gwen is a kindhearted, considerate, and giving girl. A sharp Total Drama Island contestant, she's also quite artistic and passionate about astronomy.
#2. Owen
Personality-wise, Owen is cheerful, easygoing, and lovable. And many consider him the most popular character in Camp Wawanakwa. His iconic traits, though, are eating and, well, farting.
#3. Duncan
A stereotypical Hollywood bad boy, Duncan is sarcastic, despicable, and dark. But that's not his true persona. Despite his naughty-ish attitude, Duncan is a caring and protective guy.
#4. Chris McLean
Chris, Total Drama's host, is a narcissistic, selfish, and psychopathic character. He enjoys it when there's actual teenage drama going on in the camp and contestants fight.
#5. Heather
Despite being an intelligent young lady, Heather puts her genius into evil. She becomes a manipulator who cares about nothing but winning the competition. Still, she remains one of the most beloved TDI characters to this day.
True Island Experience: Compete, Vote, and Win
The TDI quiz is more than a tool to decide which character you are. It's a journey to revisit your memories of the show and put yourself in the contestants' shoes.
All the twenty questions are inspired by the Camp Wawanakwa events, including the contests, vote-offs, friendships, and relationships.
Tap the start button to see if you'd walk on the Duck of Shame early or you'd actually become a finalist and compete for the grand prize.
Disclaimer
QuizExpo does not own any images in the Total Drama Island quiz and intends no copyright infringement. Fresh TV, Elliott Animation, and Cake Entertainment own the said pictures.
Questions of the quiz
Question 1

How would you react if your bestie voted you off in Camp Wawanakwa?

I'd still love them

I'd forgive them

I'd confront them and ask why

I'd cut my ties with them

I'd pretend we're still good friends

I'd go crazy and do unbelievable stuff

I'd plan my revenge

I'd expose all their secrets and scandals

Question 2

What do you think was/is the biggest problem of Total Drama Island?

Nothing. It was the perfect show.

It was too short.

It was too silly and childish.

It could be funnier.

The voice acting was sloppy.

It was too predictable

It was poorly written/animated.

Everything about it sucks.

Question 3

What did you like TDI for?

Characters

Relationships

Looks and styles

Friendships

Competition

Plot twists

Meh, I just watched it for fun.

None. I've never liked it.

Question 4

How do you spend your free time?

I eat or sleep

I read or meditate

I binge-watch anime/TV shows

I work out

I crash at a friend's place

I don't want to talk about it.

It depends on my mood.

Nothing. I do absolutely nothing.

Question 5

What's your strategy to win the TDI challenges?

Nothing but fair play

Praying and doing my best

Practice and hard work

Ruthlessness

Cheating

It depends on my mood. I'm unpredictable.

I don't need a strategy. I'm perfect.

None. I'm a loser no matter what I do.

Question 6

How would you describe Total Drama to a non-fan in one word?

Must-watch

Cute

Funny

Cool

Average

Wild

Meh

Stupid

Question 7

Which of these characters could become your best friend?

Anne Maria

LeShawna

Courtney

Geoff

Ennui

Beth

None of them

I don't think any of them would like me.

Question 8

What do you think of the "Boat of Losers?"

It's scary.

I don't like its name

I think it adds to the fun

I like its name

I'd love to see my enemies on it.

I don't know what it is

I could come up with better names.

Meh.

Question 9

What kind of campers would you vote off first?

Cruel

Rude

Bossy

Coward

Mood-killer

Normie

Those who disagree with me

Those who don't flirt back

Question 10

What would be the biggest challenge of being a Total Drama Island contestant?

Hunger and lack of sleep

Missing your family

Competing with your friends

Staying strong all the time

Predicting your opponents' next move.

Being bored on a deserted island.

Having few hookup options

Living with twenty-one strangers

Question 11

What would you prioritize if you had to live in Camp Wawanakwa?

Making new friends

Caring for my mental health

Protecting my teammates

Staying strong no matter what

Winning every challenge.

Having fun

Leading my team

Surviving at all costs.

Question 12

What's your favorite type of vacation?

A trip abroad

A trip to the beach

A camping trip.

A road trip.

A cruise.

A solo trip to an exotic location.

A luxury vacation.

I don't like vacations.

Question 13

What kind of person makes a good leader?

Compassionate

Honest

Experienced

Confident

Determined

Creative

Perfect

I don't know

Question 14

What do you think of Chris McLean?

I hate him.

I don't like him.

He's cringey.

He's funny.

He's sexy.

He's husband material.

He's a generic character.

I look up to him.

Question 15

What's the best way of having fun?

Eating

Reading

Dancing

Driving

Drinking

Hiking

Shopping

None.

Question 16

What kind of people are you attracted to?

Protective and caring

Knowledgeable and experienced

Confident and responsible

Cool and funny

Successful and rich

Wild and unpredictable

Super-hot and submissive

IDK. I haven't thought about that.

Question 17

What's a huge turn-off?

Lying

Ignorance

Laziness

Niceness

Submissiveness

Lack of humor

Financial dependency

None of them

Question 18

Favorite Total Drama season?

Island

All-Stars

World Tour

Action

Revenge of the Island

Pahkitew Island

None of them

All of them

Question 19

How would you rate Total Drama on a scale of 0 to 10? (10 means it's perfect).

10

8-9

6-7

4-5

2-3

1

0

I've never watched it.

Question 20

Final question: how old were you when you watched TDI for the first time?

12 or younger

13

14

15

16

17

18 or older

I'd rather not say