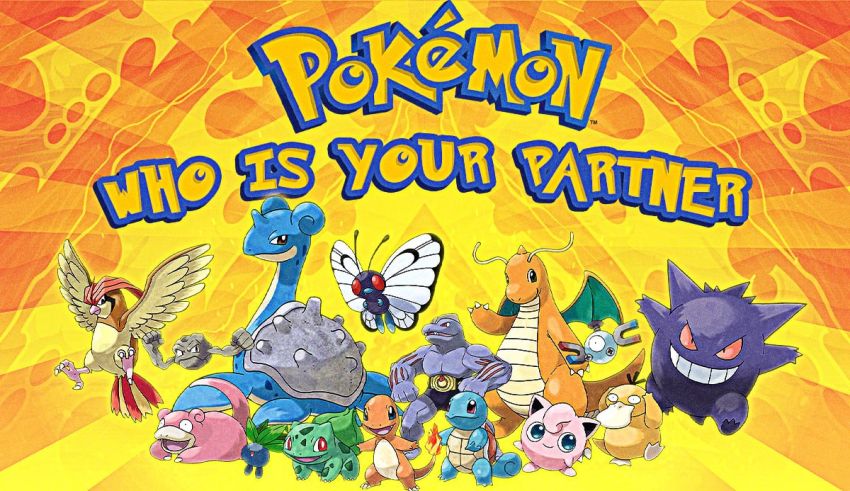 Take this Pokémon Partner Quiz to see which Pokémon is your companion based on your personality. It is 100% fun.
What Is the Pokémon Partner Quiz?
Designed for hardcore Trainers, the Pokémon Partner Quiz is a personality test that reveals which Pokémon character could be your starter or companion.
The test's premise is similar to that of The Pokémon Mystery Dungeon Personality Quiz. It analyzes your traits to expose your perfect partner.
Discover Your Pokémon Companion with MBTI
The Pokémon Partner Generator utilizes a database of the game's MBTI types. After thoroughly analyzing your behavior, it generates accurate results by reviewing your playstyle, in-game preferences, and Trainer experience.
If you already know your MBTI type, find your Pokémon partner in the following table.
| | |
| --- | --- |
| Pokémon | MBTI |
| Pikachu! | ENFP |
| Bulbasaur | ISFJ |
| Charmander | ESTP |
| Squirtle | ENFJ |
| Chikorita | ENFP |
| Cyndaquil | ISFP |
| Totodile | ESFP |
| Treecko | ISTP |
| Torchic | ISFJ |
| Mudkip | ISTP |
How to Know Which Pokémon Is Your Starter?
Generally, your starter Pokémon should be the one that matches your playstyle, has a reasonable CP, and is of a reliable Type. But it doesn't have to be a Legendary, Shiny, Shundo, or Hundo.
If you're confused about your partner, choose one of the most popular starter Pokémon. Currently, Charmander, Mudkip, Bulbasaur, and Squirtle have the highest pick rate among all other starters, which means they have stood the test of time.
Let Your Personality Decide Your Pokémon
Are you ready to find out who your Pokémon partner is? If yes, press the start button and let your personality reveal the answer.
Inspired by Pokémon games and anime, the Pokémon Partner Quiz asks you twenty relatable questions and exposes the lovely creature that could accompany you.
Trainers can use this test to get a personality breakdown. But most importantly, they can take it to find their actual in-game starter.
BTW, for a fun "Pocket Monsters" experience, check out the "Guess the Pokémon Quiz" next.
Now, let's catch your Pokémon companion.
How to Play?
Playing personality quizzes is straightforward: Choose the option that's true about you—or you relate to—and select "Next." Unlike trivia quizzes, personality tests have no right or wrong answers. But the questions are in forced-choice format. The point is to push you to choose an option that makes the most sense, not the one that's 100% true. For the most accurate results, don't overthink your responses. Go with options that you "feel" are the best.
Questions of the quiz
1

Favorite Pokémon type? (Yes, you're choices are limited.)

Fairy

Water

Psychic

Fighting

Fire

Dark

2

What's your priority when catching a new Pokémon?

Look

Abilities

Rarity

CP (stats)

Strategic use in battles

Aggressiveness

3

What do you think of Shundo Pokémon?

They look amazing.

I love them. But I don't have any.

I like that they're rare. It makes them precious.

They're my go-to option in difficult battles.

I think they are overrated.

I prefer shadow Pokémon.

4

Which Pokémon game do you like better?

New Pokémon Snap

Pokémon Go

Pokémon Sword and Shield

Pokémon Conquest

Arceus

Pokémon HeartGold and SoulSilver

5

What kind of starter Pokémon do you prefer?

Cute

Familiar

Rare

Tough

Quick

Aggressive

6

Which one describes your playstyle as a Trainer?

Friendly

Slow

Unique

Fast

Strategic

Brutal

7

What do you think of Shadow Pokémon?

I can't say I like them.

I'd rather purify them.

I like how they look.

I like their moves.

I think they're overrated.

I love everything about Shadow Pokémon.

8

How would you describe Pikachu to a non-fan?

Cutest creature ever.

A lovely anime character.

An iconic anime culture figure.

An underrated Pokémon with amazing moves.

A not-so-special Pokémon that's world-renowned.

An annoying and weak Pokémon.

9

What would it be if you could pick a nickname for your Pokémon partner?

Cutie

Bestie

Buddy

Soldier-C

Commander

Killer-K

10

Which one is your priority when picking a starter?

Looks

Story (anime background)

CP

Moves

Evolved forms

DPS

11

Which one is a cool Trainer name?

The Poki Mom/Dad

The Marshal

The Master

The Tamer

The Baller

The Hunter

12

On a scale of 0-5, how big of a competitive Pokémon player are you?

0 (Not competitive at all)

1

2

3

4

5 (Extremely competitive)

13

What is your go-to Pokémon activity?

Exploring the world.

Organizing my inventory.

Looking for shiny (rare) Pokémon

Battling with other Trainers.

Training or learning new stuff.

Competing in the Leagues.

14

Pick a color that you like or relate to.

Pink

Green

Black

Blue

White

Purple

15

Pick a trait for your Pokémon partner.

Funny

Loyal

Quiet

Hardworking

Intelligent

Ruthless

16

Choose a word that better describes your personality.

Cheerful

Calm

Confident

Courageous

Considerate

Cold

17

How do you usually spend your free time?

Social media (mindless scrolling)

Netflixing (Watching TV)

Shopping

Training (Working out)

Reading

None of them

18

What kind of anime do you often watch?

Funny or cute

Romantic or nostalgic

Unique and dark

Action-driven and exciting

Story-oriented and philosophical

Tragic and sad

19

How many hours do you spend in Pokémon games per day?

1 hour

2

3

4

5

6 hours or more

20

Final question: How old are you?

16 or younger

17-18

19-22

23-25

26 or older

I'd rather not say