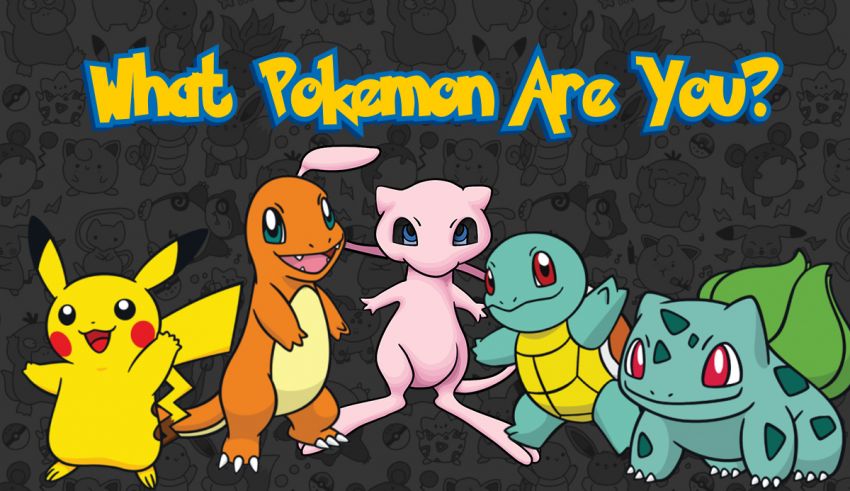 Have you ever wondered which Pokemon you are? This accurate quiz can discover your Pokemon just by 18 simple questions. Go on and find your personality.
What Pokémon Are you?
Hearing the name Pokémon would bring back many memories of your childhood. It was one of the most popular and amusing video games and TV series and still has a global audience.
Pokémon are small, funny imaginary creatures with unique abilities. Thus, these creatures have many fans, and children or adults think of themselves as one of these characters. If you are one of these fans, we can ask, What Pokémon Are you?
You may look for each character's personality to find the answer, but this is a bit difficult. But if you want to find a simple way to answer your question, read this article.
A Brief History of Pokemon
The series was first created by Satoshi Tajiri in 1995 and depicted fictional creatures named Pokémon. The name "Pokémon" is the abbreviation of "Pocket Monsters" (ポ ケ ッ ト モ ン ス タ ー Poketto Monsutā), the name of the series in Japan.
Game Freak released its game in 1996 as a role-playing game (RPG) for Game Boy. After Nintendo's Mario series, Pokémon is the most popular video game-based media product in the world. The first generation consisted of 151 Pokémon. Today there are 8 generations and 890 Pokémon on the official website.
Today, it appears as Anime, manga, card games, toys, books, and many more products in addition to TV series and games. As of 2020, Pokémon continues with 23 seasons and more than 1000 episodes of Anime, 22 feature films, nine short films, 31 games in 12 series, and more than 122 side games. The Pokémon world reflects Satoshi Tajiri's childhood insect collection hobby.
Pokémon Characters
How well do you know the characters? And what kind of Pokémon are you? Before answering these questions, you should know the characters and their personalities. For example, Pikachu and Mew are the most popular Pokémon characters you should know them.
The Mew, a pink creature, is an intelligent, funny, and devoted creature. One of its extraordinary abilities is making itself invisible and going from place to place.
Pikachu is the most famous character, and it is known as the signature of all Pokémon anime. It has some powers in the form of electricity, and a large group of them can make a storm of lightning. Pikachu is very kind and stands for all the goodness in Anime.
So, what Pokémon type are you? It was just a short description of two famous characters. The best and easiest way to know which character you look like is to play 'What Pokémon are you quiz.'
Online Quizzes
If you're searching for 'Which legendary Pokémon are you? 'You could find different online quizzes. These quizzes are viral among anime fans. Pokémon quizzes are exciting and enjoyable, and you can find out which character you look like by playing them. These quizzes ask personality-based questions, and you must answer them carefully and according to your interests. Here are some examples of these test questions and results:
If you wanted to have superhuman power, what would you want it to be?
How is your relationship with your friends?
You see people stealing from someone! What will your reaction be?
What bad traits of your friends bother you?
What is your personality weakness?
You are Mew. Like Mew, you are brilliant, and you quickly learn everything. You're more concerned about your buddies than your concerns and problems. Like Mew, you are very playful and kind, and you like to spend time with pure-hearted people. You can do anything, and it always helps you to succeed.
You are Pikachu. You are kind-hearted and never upset your friends. You're hot and usually like to be hugged or caressed. You are as playful as Pikachu, but you go wild if anyone tries to hurt you. You do not like loneliness at all, and you always want to spend time with your friends. If you have these characteristics, your personality type should be ESFP.
You are Eevee. You are a shy and quiet person. Like Eevee, you can not resist problems and prefer to run away from problems. You're kind to your friends, but occasionally you get rude and angry with them. If you have these characteristics, your personality type should be ENFP.
How to Play?
Playing personality quizzes is straightforward: Choose the option that's true about you—or you relate to—and select "Next." Unlike trivia quizzes, personality tests have no right or wrong answers. But the questions are in forced-choice format. The point is to push you to choose an option that makes the most sense, not the one that's 100% true. For the most accurate results, don't overthink your responses. Go with options that you "feel" are the best.
Questions of the quiz
1

What is your Zodiac sign?

Gemini

Aries

Libra

Leo

Taurus

None of them

2

If you wanted to have superhuman power, what would you choose?

Make myself invisible

Static electricity

Converting to various shapes

Flash Fire

Flying

3

Who is your favorite fictional character?

Wonder Woman

Thor

Wonder Man

Okoye from Black Panther

Blue Beetle

None of them

4

The symbol of happiness and life is...

Self-devotion

Goodness

Flexibility

Order

Diligence

5

What bad traits of your friends bother you?

Evil

Unkindness

lying

Not understanding

Laziness

6

Which of the following places would you like to go on vacation?

7

What is your personality weakness?

Doing useless work

To be stupid

To be shy

Blaming others

Uncontrollable when damaging the environment

None of them

8

What is your favorite eye color?

Blue

Dark Brown

Light Brown

Black

Grayish-Green

None of them

9

Which of the following animals is closest to your personality?

Cat

Mouse

Fox

Tiger

Dragon

None of them

10

How is your relationship with your friends?

I help them in all problems

I always make them happy

Sometimes good, sometimes bad

A cool relationship

I always understand them

11

How do your colleagues describe you?

Compatible

Strong

mixed-up personality

Brave

Smart

12

What do you value most?

Family

Friends

Knowledge

Order

All people

13

Which of the following elements is most appealing to you?

Water

Air

Fire

Earth

None of them

14

What is your MBTI personality type?

ENFJ (Extraverted, Intuitive, Feeling, and Judging)

ESFP (extraverted, sensing, feeling, perceiving)

ENFP ( Extravert, iNtuitive, Feeling, Perceiving )

ISTJ (Introvert, Sensing, Thinking, Judging)

INFP (introversion, intuition, feeling, perception)

I don't know

15

Which of the following Patterns catches your attention the most?

16

You see people stealing from someone! What will be your reaction?

I will attack them

I will try to stop them

I will run away

I will hit them with courage

It is not none of my business

17

What special ability do you want to travel with?

Underwater travel

Fast Running

Flying

Traveling with electricity

I don't know

18

What is your favorite job?

Teacher

Artist

Writer

Police

Translator

None of them