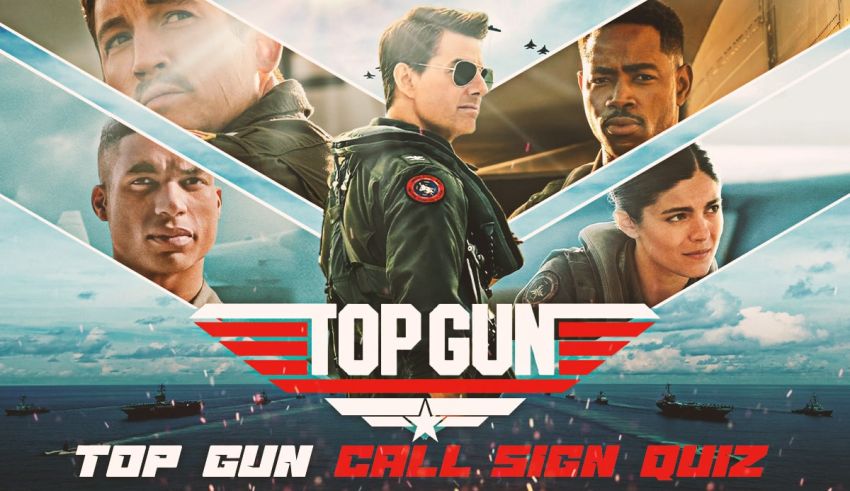 This Top Gun call sign quiz suggests the best military nickname based on your personality. Find out if you'd have a cool pilot name like Maverick or a basic one like Bob.
What Are Call Signs in the US Military?
According to Capt. Brian Ferguson, call signs (also spelled: Callsigns) are an informal social way that the US Navy Air Force pilots address each other and showcase the positive message of naval aviation. It's often a one-word nickname that replaces a pilot's actual name.
What Is the Top Gun Call Sign Quiz?
Inspired by the Top Gun: Maverick movie, the call sign quiz is a nickname generator that determines your navy pilot name based on your personality.
You must answer questions about aircraft, army operations, and services during the test. However, it will not be aviation trivia with right or wrong answers. The goal is to choose the options you relate to so we can examine your personality and come up with accurate names.
| | |
| --- | --- |
| Character | Call Sign |
| Pete Mitchell | Maverick |
| Bradley Bradshaw | Rooster |
| Natasha Trace | Phoenix |
| Reuben Fitch | Payback |
| Javy Machado | Coyote |
| Robert Floyd | Bob |
| Mickey Garcia | Fanboy |
| Jake Seresin | Hangman |
Note: If you are interested in quizzes like the Top Gun call sign, check out the Military Branch Test. It asks you 20 questions to reveal which US Army branch to join.
What Happened to the Original Top Gun Call Sign Quiz?
During the movie's premiere, you could go to WhatsMyCallSign.com to participate in an AR (Augmented Reality) experience to discover your pilot name. However, it was a limited-time event, and the original call sign quiz's website is currently unavailable because the servers were shut down.
For those unfamiliar, the original test asked you a few questions before generating a "bone dome," a flight helmet with your call sign.
How Do Pilots Get Their Nicknames or Call Signs?
Ryan "Neo" Bodenheimer, a Veteran-Fighter Pilot, explains how jet operators get their monikers. During a naming ceremony, the FNGs (f-ing new guys or girls) bribe the community by telling stories about their squadron or simply introducing themselves. Later, the community decides what call signs suit them based on their speech.
There are several unwritten rules, though:
– You cannot choose your own call sign.
– A call sign should not be embarrassing or humiliating (although, it doesn't have to be super-cool either).
– If you ask for a specific call sign, you'll most likely get the exact opposite.
Did Top Gun Actors Have Call Signs in Real Life?
Apparently, several cast members have had call-sign-like nicknames in real life.
During an interview with Mashable, some Top Gun: Maverick actors revealed their real-life callsigns.
Lewis Pullman, who plays Bob in Top Gun, claimed that his moniker is "Caballero." Bashir Salahuddin, Coleman in the movie, said most of his friends called him "Buzz" in college. And Jon Hamm, Cyclone, sarcastically said he used to be called "Awkward Pause."
Get Your Unique Call Sign with a Quick Quiz
Are you asking yourself, "What is my call sign?" Use this military pilot name generator for an accurate answer. It exposes the type of operator you'd be in the Top Gun's universe, suggesting cool monikers accordingly.
Disclaimer
QuizExpo does not own any of the images used in the Top Gun Call Sign Quiz and no copyright infringement is intended.
Questions of the quiz
Question 1

What kind of pilot would survive a real-life battle?

Calm

Enthusiastic

Experienced

Cautious

Confident

Fast

Smart

Ruthless

Question 2

What is a personality trait that any navy aviator commander should have?

Politeness

Kindness

Patience

I'm not sure

Watchfulness

Sureness

Strictness

Dominance

Question 3

How would you feel if you could operate an actual fighter jet?

I'd feel proud

I'd feel nervous

I'd feel content

I'd feel inadequate or insecure

I'd feel cool

I'd feel hyped

I'd feel prepared

I'd feel like I'm the best pilot ever.

Question 4

What do you think of challenging military programs like Top Gun pushing participants to their limits?

I don't like them

I think I would like them

I love programs that push me to my limit

I'm not sure about the answer

I think every soldier should go through such programs.

I only like programs that promote your military rank.

It depends. The harder a program is, the better I like it.

Nah, I think most military programs are super-easy and useless.

Question 5

How much do you know about navy aviation and fighter jets? (10 means you are an expert).

0-1

2-3

4-5

6

7

8

9

10 (I'm an aviation expert)

Question 6

What kind of call sign would you like to have?

Easy to pronounce

Cute

Memorable

Meh, IDK.

Cool

Unique

Scary

Slang-ish

Question 7

What is the most challenging part of being a navy pilot?

Lifestyle

Mentality

Responsibilities

I don't know

Financial aspects

The competition among the pilots

Following the orders

None of them

Question 8

How would you describe the Top Gun: Maverick film in one word?

Lovely

Inspiring

Captivating

Fun

Underrated

Overrated

Boring

I haven't watched it yet

Question 9

What US military branch would you like to join?

None of them

Coast Guard

Air Force

I don't know

Navy

Army

Marine Corps

Space Force

Question 10

How good are you at following the orders? (10 means you follow the orders with no question).

10

9

8

7

5-6

3-4

1-2

0 (I hate following the orders).

Question 11

Should you be a military training instructor, what kind of approach would you take to train the soldiers?

Customized training

Reward-based training

Hands-on training

I'm not sure

Technology-oriented training

Competition-oriented training

Traditional training

Strict, ruthless training

Question 12

What kind of call sign would you give your best friend if you were in the same squadron?

Casual

Cute

Cool

I don't know

Silly

Embarrassing

Scary or badass

Slang-like

Question 13

How would you treat the young pilots if you were a veteran?

I'd be kind to them

I'd be supportive

I'd treat them like my younger siblings

I'm not sure. It depends.

I'd keep my distance.

I'd mess with them.

I'd mind my own business and ignore them.

I'd show them who's the boss.

Question 14

Which of the following traits do you have?

Agreeableness

Extraversion

Conscientiousness

Neuroticism (Sensitiveness and anxiety)

Openness to experience

Nimbleness

Introversion

All or most of them

Question 15

Which of the Seven Core Army Values is the most important?

Selfless Service

Loyalty

Duty

Respect

Honor

Integrity.

Personal Courage

None of them

Question 16

Who is NOT one of your favorite characters in Top Gun: Maverick?

Payback

Phoenix

Hangman

Coyote

Bob

Rooster

Fanboy

Maverick

Question 17

Which of the military aviators' duties sounds more challenging?

Conducting enemy surveillance

Taking part in search and rescue operations

Defending a fleet

Providing logistical support

Attacking a fleet

Maintaining aircraft systems

Receiving advanced training

None of them

Question 18

What are you most proud of?

My relationship/marriage

My friendships

My career

I don't know

My style or look

My achievements

My robustness

All of them. I'm proud of everything I've ever done.

Question 19

What's the best strategy to bribe the community in order to get a cool call sign?

Be yourself.

Be nice.

Be respectful.

Be cautious with what you say.

Be confident and bold.

Be unapologetic.

Be harsh, and don't back away.

Be a good liar

Question 20

Final question; how old are you?

15 or younger

16-18

19-22

23-25

26-30

31-35

36 or older

I'd rather not say.