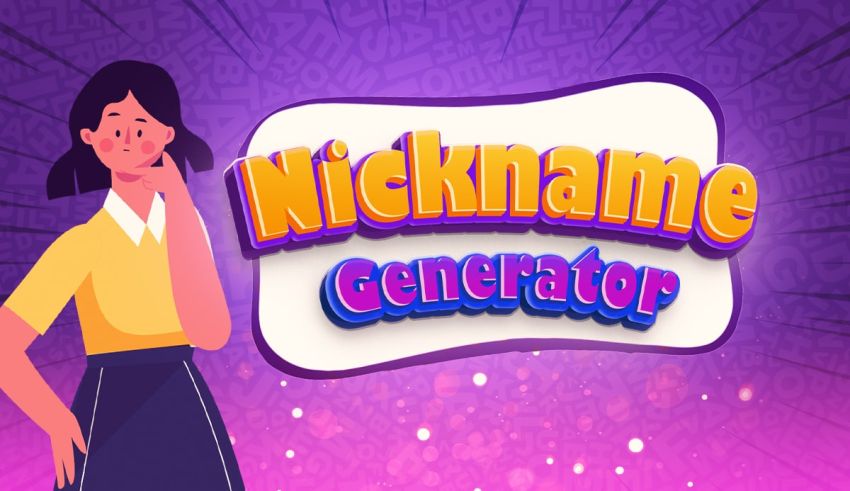 Are you asking, "What is my moniker?" This nickname generator suggests dozens of ideas based on your personality. Names for gamers, artists, streamers, and more.
What Is a Nickname Generator?
Usually a form or questionnaire, a nickname generator is an online tool that suggests one or multiple alternative names based on a person's characteristics or interests.
Here are five examples of nickname generators with different themes:
Note: This generator might suggest slang nicknames based on your preferences. Please, contact us if you find any of them inappropriate.
How to Find a Nickname for Yourself?
To find a nickname that suits you, first, identify the purpose. Then, create a list of adjectives and nouns that match it. Use a thesaurus to find the alternative spellings and synonyms of the words on your list. And finally, combine them in creative ways to create your nickname.
You could also use a nickname generator to skip the hard work and find your dream moniker in seconds.
What Are the 3 Characteristics of a Perfect Nickname?
A good nickname is one that sticks to the hearer's mind, is easy to pronounce, as well as easy to write and read.
Memorability
A perfect nickname is memorable. It reminds you of familiar concepts in creative ways. In other words, it's unique, not unfamiliar.
Example: Eminem is a creative way of spelling M&M (the initials of Marsha Matters). While it's a made-up name, it reminds you of a familiar concept and is easy to remember.
Pronounceability
The perfect nickname doesn't require a pronunciation guide. It follows the phonetical patterns of your language, excluding letters or sounds that are unpronounceable.
Example: Elon Musk's child's name is X Æ A-Xii. Can you pronounce it? Probably not. Will you recall it? Definitely not.
Readability
You are not always there to teach others how to pronounce your nickname. A good moniker, social media handle, or stage name speaks for itself, one that is at least readable.
Again, take Elon Musk's child's name (X Æ A-Xii) as an example. An average person unfamiliar with characters like X, Æ (pronounced Ash), and Xii would never be able to read it out loud.
Fun Facts About Nicknames and Social Media Handles
A recent case study by MyNickname.com revealed that:
– Most nicknames begin with the letter M and D. (8.4%).
– After M and D, A is the second most popular letter in nicknames. (7.6%).
– 71% of nicknames consist of one word, and only 1% have four or more.
– Most people use nicknames in games.
– 26% of people use their social media handles as their nicknames in real life.
– Men are 77% more likely than women to have a nickname.
This Quiz Knows What Your Nickname Is
Ready to discover your alternative cool name? The nickname generator on this page reviews your personality, physical features, and interests to suggest a customized list of top-tier names and handles.
All you have to do is answer 20 fun questions. Let's go.
Questions of the quiz
Question 1

What makes a nickname epic?

Meaning

Spelling

Pronunciation

Uniqueness

Characters/letters

Story

Question 2

What kind of words do you often use when nicknaming your friends?

Abbreviated words

Cute words

Silly words

Cool words

Tending words

Slang words

Question 3

Which one is one of your iconic features?

My personality

My style

My jokes

My skills

My lifestyle

None of the above.

Question 4

What do you want your nickname to make people feel?

I don't want them to feel anything specific.

I want them to adore my name.

I want them to laugh at it and have fun.

I want others to feel like I'm a cool person.

I want them to feel good about my personality.

I want them to feel scared.

Question 5

What kind of nicknames do you dislike?

Funny

Slang

Serious

Predictable

Traditional

Cute

Question 6

Fill in the blank. Most nickname generators are ____________.

Helpful

Fun

Silly

Useless

Interesting

Ghetto

Question 7

Fill in the blank. I'd like to use my nickname __________.

In real life

In my relationship.

In my friends' group.

In my gaming/streaming account.

On my social media.

In my hood.

Question 8

On a scale of 0 to 5, how comfortable are you using your real name on social media? (5 means you are okay with that).

Question 9

What do you think of people who use derogatory words as their nicknames?

I don't like the idea

I hate it

I think it's funny

I think they might get banned

I'm not sure if that's a good idea.

I love the idea.

Question 10

How many words should be in your nickname?

1

2

3

4

5

6 or even more. Who cares?

Question 11

Choose your nickname's starting letter.

A, B, C, or D

E, F, or G

H, I, J, K, or L,

M, N, O, or P

Q, R, S, T, or U,

V, W, X, Y, or Z

Question 12

Choose a word that you relate to.

Loos

Love

Laugh

Live

Leave

Lack

Question 13

Choose a place that sounds cozy and safe.

My own home

My significant other's home

My bestie's home

My room

Outdoors

My hood

Question 14

Here's a random question: what do you do in your free time?

Read

Talk to my bestie or S.O.

Watch anime or movie

Play video games

Spend some time on social media

Hang out with my homies.

Question 15

Describe your personality in one word.

Calm

Shy

Unconventional

Introverted

Extroverted

Unpredictable

Question 16

Choose a word that describes your best friends.

Reliable

Lovely

Stupid

Respectable

Mysterious

A total MF

Question 17

On a scale of 0 to 5, how much do you laugh when hanging out with your friends? (5 means you laugh a lot).

Question 18

How should a nickname sound?

Familiar

Adorable

Funny

Interesting

Special

Scary

Question 19

Do you want a meaningful nickname?

Yes

Kind of

Not really

I don't know

It depends

No

Question 20

Final question; how old are you?

18-20

14 or younger

22-24

15-17

25 or older

I'd rather not say