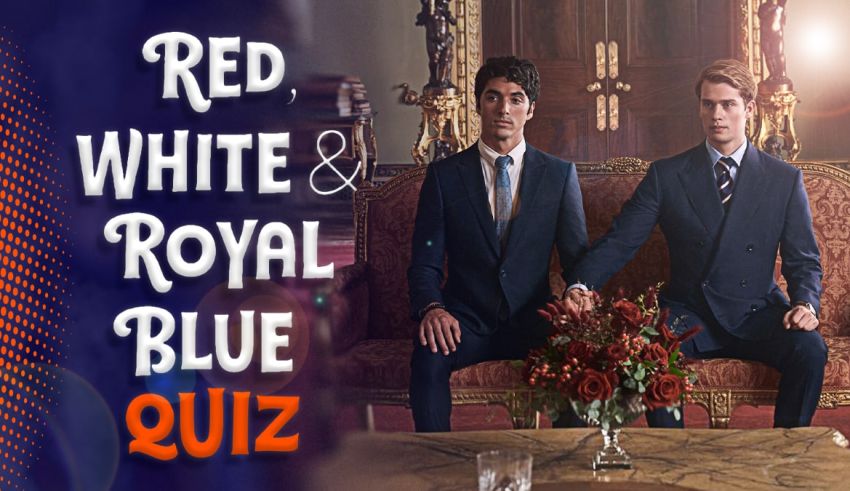 This 'Red White And Royal Blue Quiz' reveals if you're Alex, Henry, Nora, or another character from the film and the novel.
The First MBTI-Based RWRB Quiz!
With 20 romance questions, the Red, White & Royal Blue quiz determines which character from the book or movie adaptation you are.
Written by Casey McQuiston, Red, White & Royal Blue is a queer love novel. The story revolves around Alex and Henry, two young men of royal descent who develop a romantic relationship despite their rocky past. Additionally, the book has been adapted into a movie by Prime Video, featuring a cast including Nicholas Galitzine, Taylor Zakhar Perez, and Rachel Naomi Hilson.
The RWRB Personality Quiz compares your MBTI with those of the book and movie characters to identify the most similar one.
| Red, White & Royal Blue Character | MBTI |
| --- | --- |
| Alex Claremont-Diaz | ENTP |
| Henry of Wales | INFJ |
| Elen Claremont | ENTJ |
| Nora Holleran | ESFP |
| Princess Bea | ISFP |
| The King | ESTJ |
Side note: You could also try our "Heartstopper Character Quiz" if you're into LGBTQ+ love stories.
Discover Your Red, White & Royal Blue Character
What kind of personality would you have if you lived as a prince or the first son/daughter of your nation? Well, the RWRB Quiz has the answer. By finding your soulmate or counterpart in the movie and book, you get a glimpse of your royal persona—and your possible love interest.
If you can't wait to see the test results, find your Red, White & Royal Blue match using the following descriptions.
Alex Claremont-Diaz
If you're known for your charm, righteousness, and confidence, you're a perfect match for Alex from Red, White & Royal Blue. Personality-wise, Alex is a bold, ambitious, and political young man with an altruistic attitude.
Prince Henry
You're a match for Henry of Wales if you're gentle, kindhearted, and introverted. Known for his contemplative character, Henry is a rather reserved royal family member who values deep relationships and true love above all else.
Nora Holleran
Those RWRB fans with an energetic, supportive, and loyal persona would match Nora. Nora is Alex's BFF and one of the key characters in the story. She's impulsive, fierce, and non-confirming, making her rather a role model for conservative characters like Henry.
Including Excluded Characters from the Book
After watching the movie, Red, White & Royal Blue readers couldn't help but notice the omission of some main characters, such as Princess Catherine. But the good news is that the RWRB Quiz includes all the OG—as well as new characters like Miguel Ramos from the Prime adaptation.
Meet Your Royal Doppelganger Now
By answering the rom-com-themed questions on this page, you get to see which Red, White & Royal Blue character matches your personality. Do you want to see which romantic lover—Alex or Henry—looks like you? You're on the right page!
By the way, if you're going through some stuff about your sexuality, maybe you should also take the XO Kitty Quiz. It would help you self-reflect and better understand your emotions.
Now, let's discover which royal or political figure you would be if you were a part of the Red, White & Royal Blue universe.
Disclaimer
QuizExpo does not own any of the images on the Red, White & Royal Blue Personality Quiz. Prime Video owns all the said pictures.
How to Play?
Playing personality quizzes is straightforward: Choose the option that's true about you—or you relate to—and select "Next." Unlike trivia quizzes, personality tests have no right or wrong answers. But the questions are in forced-choice format. The point is to push you to choose an option that makes the most sense, not the one that's 100% true. For the most accurate results, don't overthink your responses. Go with options that you "feel" are the best.
Questions of the quiz
1

Which one would be the most memorable first kiss?

Kissing under the rain

An unplanned New Year's kiss

An anticipated kiss after a long time

A hot and intense kiss after a couple of shots

A risky kiss with an attractive stranger

2

What if your parents didn't approve of your relationship?

I'd be anxious all the time

I'd try to gain back their support

I'd probably hide my relationship

I'd ask them to respect my decision

I'd move in with my partner so they can't bother me

3

How would you react if your crush confessed their love to you?

I'd be scared

I would kiss them right away

I would probably cry or something like that

I would hide my excitement and act cool

I'd tease them a bit

4

How do you usually deal with heartbreak?

I hide my feelings and let the time heal my pain

I hang out with friends and try to keep myself busy

I talk to my mom or dad and stick around them for a while

I try to have fun and party just so that I can forget my ex

I would like to start a new journey or go on a trip

5

What kind of bestie are you? (Be honest)

Agreeable

Protective

Responsible

Funny

Crazy

6

What first impression do you leave on people?

Gentle

Loud

Quiet

Untrustworthy

Weird

7

Which is the key element for a great LGBTQ+ love story?

Backstories

Humor

Character development

Steamy scenes

Making a statement

8

What would you want to change about Red, White & Royal Blue?

More queer characters

Less drama, more comedy

Extra complexity and plot twists

More attractive characters

I'd change so many things about it

9

What's your honest review of the RWRB book?

One of the best love stories ever

Fun and captivating (but not the best)

Thought-provoking, inspiring, and relatable

Nostalgic, intriguing, and underrated

Slightly overrated

10

What lover archetype do you have?

Giver

Protector

Healer

Warrior

Adventurer

11

Which one better describes your favorite romance?

Soft

Comical

Traditional

Intense

Modern

12

What's your type? What kind of people attract you?

Confident and good-looking

Non-confirming and unique

Old-school, hardworking, and committed

Nice, shy, and cute

Weird, mysterious, or baddie

13

What's your style like?

Formal or chic

Sexy or bold

Traditional or classic

Casual

Slightly gothic

14

What would it be if you had to describe your social life in one word?

Limited

Extra

Peaceful

Unpredictable

Risky

15

Which one sounds like your toxic side?

I'm afraid of showing my true emotions

I might be overprotective or jealous

I might put others' needs before me and feel bad about it

I have minor anger issues

I might be careless and selfish at times

16

What helps you overcome indecision?

Love

Friends

Family

Logic

Luck

17

Choose a first-date plan.

Netflixing and ordering food

Dinner at a fancy restaurant

A cute and humble date at a park

Partying, drinking, and dancing all night

Hiking or camping

18

RWRB aside, which Casey McQuiston book have you read?

All of them

I Kissed Shara Wheeler

One Last Stop

They're both on my wish list

None of them

19

Choose the title you relate to.

Gentleman

Lady

Fairy

Knight

Explorer

20

Final question: Which royal color would be your favorite?

Blue

Gold

Purple

Red

None of them