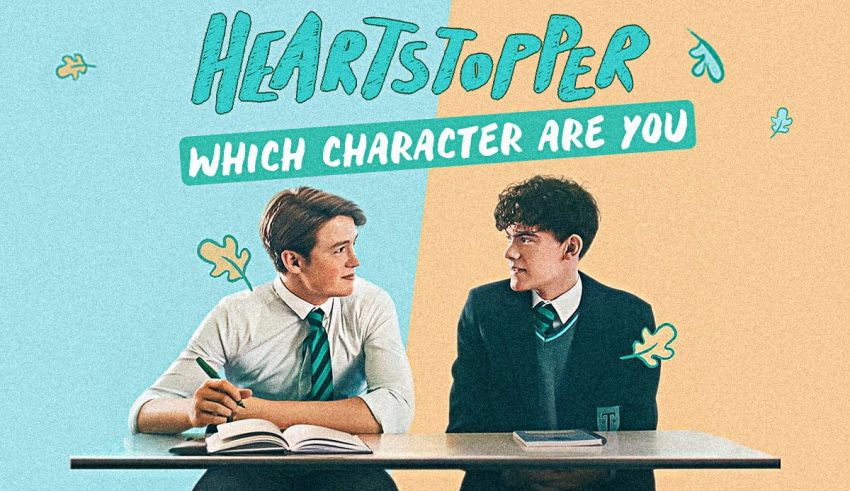 Hey, which Heartstopper character are you? This romantic quiz reveals whether you are Charlie Spring, Nicholas Nelson, or others.
This Quiz Reveals Your Heartstopper Character.
With its 20 heart-melting, adorable questions, the Heartstopper character quiz discovers which of the Paris Squad members you resemble in real life.
The Paris Squad in Heartstopper is a group of Truham Grammar High School students exploring romance during their coming of age.
An accurate personality analyzer, the current test identifies the student you could've been had you lived in the same universe.
If you enjoy teen love stories, check out The Summer I Turned Pretty Quiz next.
It Is the First MBTI-Based Heartstopper Test.
Thanks to the detailed descriptions of Alice Oseman's webcomic, we know the MBTI types of all main characters. And to finetune the results, the quiz compares yours to theirs.
In other words, you are the Heartstopper character who shares the same—or the closest—personality type with you.
Use the following table to find your match if you don't have time for a fun quiz.
| | |
| --- | --- |
| Character | MBTI |
| Charlie Spring | ISFP |
| Nicholas Nelson | ESFJ |
| Elle Argent | ENFJ |
| Tao Xu | ISTJ |
| Darcy Olsson | ESFP |
| Aled Last | INFJ |
Webcomic and Netflix Adaptation Characters Included.
Netflix's Heartstopper adaptation has two non-canon characters: Isaac and Imogen, replacing Aled Last and Sahar Zahid. However, the good news is that the current quiz covers both canon and non-canon characters.
You might end up matching one of the OG members of the Paris Squad in the webtoons. Or you might discover you're one of the newly introduced Truham Grammar high students.
Here's How to Discover Your Matching Personality.
Taking the Heartstopper personality quiz is the most convenient way of meeting your counterpart (obviously). But there are other alternatives as well.
One substitute for the test is reading the main characters' descriptions. It takes more time, but it's a straightforward process: You are the character who gives off the same vibes as you.
The following guides could help you find your match.
#1. Charlie Spring.
A true ISFP, Charlie is a kind-hearted, caring young boy with a sensitive soul—and an apologetic attitude. Although romantic, he holds his emotions back in everyone's best interest.
#2. Nicholas Nelson.
Nick, a tough-looking rugby player, is actually a tender-hearted, loyal, and protective guy. Although confused about his sexuality, Nick knows he's in love with Charlie, appreciating every moment he spends with him as any true lover would.
#3. Elle Argent.
As with most ENFJs, Elle's personality can be described as sweet, organized, and creative. Despite her rather big-headed attitude and competitive nature, she's a reliable friend who's always there for you.
#4. Isaac Henderson.
A confirmed Aroace (Aromantic-Asexual), Isaac is a wise, level-headed, and insightful young man. Whether you see him as the squad's guru or go-to, he's the one who calms you down, shows you the way, and soothes your pain with words.
#5. Tao Xu
MBTI-wise, Tao is the Logistician: introverted, sensing, thinking, and judging. As a friend, though, he's a protective, supportive, and loyal boy with a heart of gold.
Other Heartstopper characters.
The Paris Squad aside, Heartstopper has many more memorable characters. (David, Sai, Christian, Otis, Jane and Julio Spring, and Sahar Zahid come to mind).
By taking the quiz, you're likely to find your counterpart among them—if it's not one of the OGs.
Ready to Join the Paris Squad? Take the Quiz Now.
Let's face it; Heartstopper is so romantic that it made many straight people secretly wonder if they're gay—probably while holding back tears.
But now—on the verge of binge-watching season 2—you have one more way to relate to its super-relatable characters: Discovering your matching Heartstopper personality.
A love letter to Alice Oseman's love story, the quiz takes you on a romance-fueled ride, a journey to discover who you are in the Heartstopper's universe.
Disclaimer
Netflix and Alice Oseman own the images in the Heartstopper character quiz, and QuizExpo intends no copyright infringement.
How to Play?
Playing personality quizzes is straightforward: Choose the option that's true about you—or you relate to—and select "Next." Unlike trivia quizzes, personality tests have no right or wrong answers. But the questions are in forced-choice format. The point is to push you to choose an option that makes the most sense, not the one that's 100% true. For the most accurate results, don't overthink your responses. Go with options that you "feel" are the best.
How many questions does this quiz have?
20 questions
How long does it take to complete this quiz?
8 minutes
Questions of the quiz
Question 1

How would you describe your first kiss?

Stressful

Memorable

Hot

Awkward

Funny

Soft

Awful

I've never kissed anyone before

Question 2

Charlie and Nicholas aside, what's the second-best ship in Heartstopper?

Elle and Tao

Tara and Darcy

Isaac and Tao

Darcy and Elle

Tori and Tao

Tara and Tori

I don't like any of them.

I root for all of them.

Question 3

What would it be if you had to describe Heartstopper in two words?

Tearjerker romance

True love

Real friendships

Nostalgic drama

Adorable story

Inspiring relationships

Sad story

Eye-opening story

Question 4

Do you like any of Alice Oseman's other webcomics?

I love all of her books.

I Was Born for This

Solitaire

The Winter

I haven't read any of them.

Radio Silence

None of them

Loveless

Question 5

You see a classmate crying alone. What do you do?

I hug them

I ask them how I could help

I sit there and listen to them

I let one of their friends know

I crack jokes to make them laugh

I don't do anything specific and let them cry it out.

I ask them to be strong and stop crying.

I offer them some pieces of advice.

Question 6

Choose another title for the Paris Squad.

The Lovely Gang

La Familia

The Sassy Squad

The BFF Band

The Silly-Slaphappy Squad

The Secretly Sexy Squad

The Sad Supportive Soldiers

The Sage

Question 7

What type of people attract you?

Generous

Cute

Confident

Honest

Funny

Patient

Intelligent

None of them

Question 8

On a scale of 0 to 10, how romantic are you?

10 (Super-romantic)

9

5-6

7-8

3

2

1

0 (Not romantic at all)

Question 9

What's the perfect first date like?

Unpredictable

Short, unplanned, but memorable

Planned

Long and intimate

Exciting

Peaceful

Awkward

I don't know.

Question 10

It's a beautiful Sunday. How do you spend your day?

I go on a date

I work out or go for a walk

I hang out with my friends

I try to hang out with my crush

I play video games or do something fun

I listen to music/podcasts or watch movies

It depends on my mood. But I usually just sleep.

I read books.

Question 11

Which one could break your heart?

Ignorance

Dishonesty

Disrespect

Rejection

Degradation

Pushiness

All of them

None of them

Question 12

What's the first thing you do when someone gets mad at you?

I apologize

I ask them to calm down

I ignore them for a while

I get them gifts

I crack jokes to soothe them a bit.

I give them some time and then talk to them.

It depends. But I usually let them know I don't care.

I don't push them to calm down. I just listen.

Question 13

Which of these characters do you dislike? (You must pick one).

Imogen Heaney

Tara Jones

Yan Xu

Otis Smith

Jane Spring

Mr. Lange

Julio Spring

Mr. Ajayi

Question 14

How would you describe your best friends?

Adorable

Reliable

Rare

Precious

Silly

Smart

Cool

Spontaneous

Question 15

What is the most challenging type of social interaction?

Dating

Making friends

Living with siblings

Dealing with parents

Interacting with relatives

All of them

Most of them

None of them

Question 16

Choose your favorite activity.

Walking or hiking

Working out or bicycling

Shopping or partying

Playing video games or watching movies

Eating

Yoga or meditation

Sleeping

Reading

Question 17

Which one's a topic you'd like to have a deep convo about?

Relationships

Future (goals)

Past (memories)

Abstract topics

Silly topics

Fiction, movies, literature (art)

Politics, finance, or things like that.

Philosophy

Question 18

What's your first reaction to a friend dating a hot person?

I get super-excited for them

I don't overreact and congratulate them

I might get a bit jealous

I feel a bit insecure

I tease them

I respect their privacy and avoid asking too many questions.

Meh, I get a bit disappointed.

I don't know. It depends on lots of factors.

Question 19

What would you do if your bestie upset your partner?

I apologize on behalf of them

I ask my bestie to apologize

I cut ties with my best friend

I ask both to talk it out

I give my bestie an unforgettable lesson.

I don't know what I'd do. It's a challenging situation.

I don't do anything specific.

It depends. But I'd try to remain objective.

Question 20

Final question: How old are you?

14 or younger

15-16

17-18

19-20

21-22

23-25

26-29

30 or older