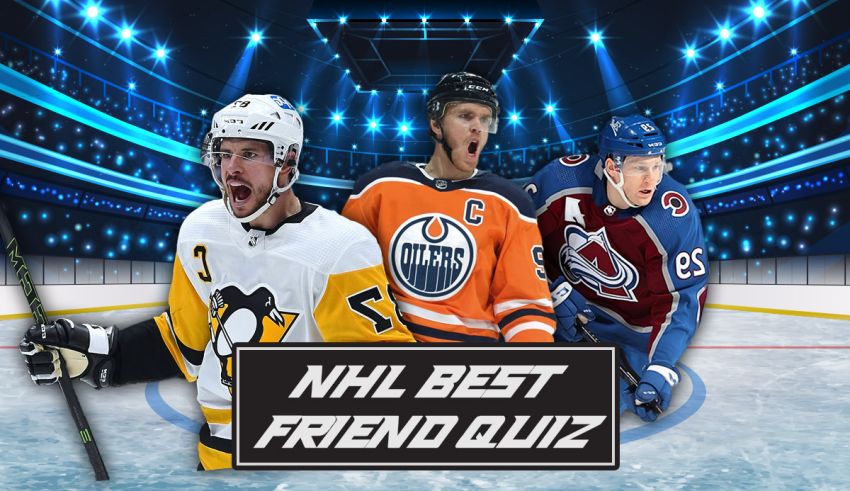 The NHL Best Friend Quiz is a personality analyzer to reveal your hockey player bestie. See which National Hockey League star would vibe with you.
What's the Deal?
The NHL Best Friend Quiz consists of 15 questions inspired by the National Hockey League. It identifies which player would be your bestie by comparing your personality traits with those of the top athletes. Think of it as a friendship test, except you're paired with NFL stars.
You might be asking, "How does the test work?" It's an MBTI-based process. We've compiled a list of hockey players' personality types that serves as the quiz's database. Your responses will, therefore, trigger this database, exposing your respective pal.
Here's a sample of the NHL MBTI database we use:
| | |
| --- | --- |
| NHL Player | MBTI |
| Connor McDavid | ISTJ |
| Wayne Gretzky | ISTP |
| Steven Stamkos | ESTP |
| Evgeni Malkin | ISFJ |
| Cale Maker | INFJ |
If you're a sports enthusiast, we'd also encourage you to try the NBA Player Quiz. It reveals which pro basketball star shares the same personality as you.
Who's in the Test?
We have included players from the 2023 Stanley Cup Playoffs along with those in the top-performing skaters. However, to spice up the results, the NHL Best Friend Quiz also contains names from the Fantasy Hockey Top 200 list.
Basically, all the cool ones are here. By taking the test, you get a chance of befriending world-known athletes. And better yet, you find out why you two make a good duo.
Why Bother to Take this NHL Quiz?
It's one thing to root for a hockey player, it's a whole other story to have a hockey player best friend. The chances of finding an NHL pal in real life might be close to zero. But hey, you can still see which player would vibe with you. All you need to do is let this test analyze your personality.
By the way, our quiz is totally free (no personal info required). Press start, answer questions, get results. That's all.
Ready to Meet Your NHL Besite?
Looking to know which National Hockey League player could be your best friend? You're on the right page. The following questions compare your traits with actual hockey stars, revealing the ones who would surely get along with you.
Next stop? The NFL Quiz. (It'll prove you don't know much about this sport.)
Disclaimer
QuizExpo does not own any of the images in this test and intends no copyright infringement.
How to Play?
Playing personality quizzes is straightforward: Choose the option that's true about you—or you relate to—and select "Next." Unlike trivia quizzes, personality tests have no right or wrong answers. But the questions are in forced-choice format. The point is to push you to choose an option that makes the most sense, not the one that's 100% true. For the most accurate results, don't overthink your responses. Go with options that you "feel" are the best.
Questions of the quiz
1

What makes hockey a great sport?

Skill

Spirit

Intensity

Aggression

2

How do you spend your free time?

I do relaxing stuff like reading or watching TV

I work out or go for a walk or something

I hang out with friends

I attend to my personal projects/goals

3

Which mindset is closer to yours?

Slowly but steadily

Work hard; postpone gratification

Keep your chin up!

No pain, no gain

4

What makes a person a winner?

Mindset

Practice

Luck

Motivation

5

What would make someone a loser?

Distractions

Laziness

Negativity

Cowardice

6

Which iconic hockey player do you admire?

Gordie Howe

Bobby Hull The Golden Jet

Doug Harvey

Wayne Gretzky

7

How would you lead a team? What would you focus on?

Strategy

Personal training

Vibe, energy, and mindset

Individual goals of players

8

What's the best defense strategy?

Counterattack-oriented defense

Specialized defense

Dynamic counterplay (a changing strategy)

Attack is the best defense

9

What type of anger do you have?

Passive

Controlled

Impulsive (but mild)

Explosive

10

What kind of athlete are you (or would you be)?

Tactical (I'd prioritize technique)

Traditional (I'd focus on training)

Modern (I'd use scientific methods)

Go-getter (I'd only want to win)

11

What type of NHL players are your favorite?

Intelligent

Humble

Funny

Aggressive

12

How would you describe your best friend?

Supportive

Inspiring

Hilarious

Reliable

13

Which best describes you when watching your favorite NHL team in the finals?

Calm and concentrated

Slightly buzzed, enjoying the game

Loud AF and excited

Aggressive, impulsive, and overly nervous

14

If you were a hockey player, what position would you play in?

Center

Winger

Defenseman

Goalie

15

Final question: how would your bestie(s) describe you?

Weird or boring

Trustworthy

Funny

Hardworking