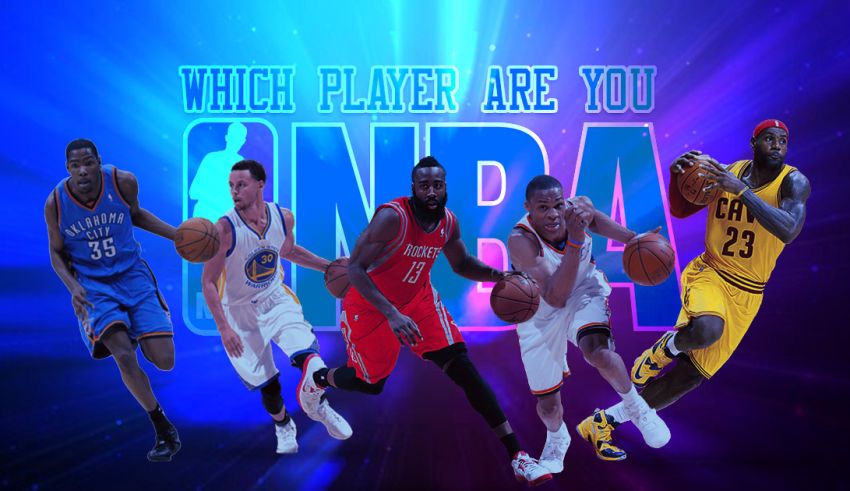 Would you like to know which NBA player you are? This sports quiz discovers your pro player match in no time. Are you Kobe, LeBron, Stephen Curry, or else?
Match Your Personality to a Top NBA Player
The quiz helps you find out which National Basketball Association athlete is similar to you. It analyzes your characteristics, comparing them to the top player's profile to reveal your perfect match.
Unlike our other viral test, the Amazing NBA Trivia, this one does not include any right-or-wrong answers. So, the goal is NOT to assess your knowledge.
Here is everything you learn by participating in the questionary.
See which player is similar to you.
The premise of the quiz is to answer questions like, "Which NBA player am I?" So, that is the first thing you get in your instant results. We handpicked some of the best players of 2021 and beyond, creating a desirable list for any fan.
Find out how likely it is for you to become an NBA star.
Some participants have other questions like, "Will I be an NBA player?" The quiz answers that, too, by evaluating your ambition, hard work level, and dedication.
The results include a section where you learn what the odds of becoming a pro athlete are. And it is divided into three alternatives: Low, Medium, High.
Get an estimated salary.
It is not just about which NBA player you are. The test also analyzes your characteristics as a potential pro sportsperson to predict your value. It lets you know how much your salary and net worth could be.
Let us predict how many awards you would win.
Which of the following awards could your NBA player persona win?
– Most Valuable Player
– Most Improved Player
– Defensive Player of the Year
– Rookie of the Year
– Sportsmanship Awards
The quiz estimates the probability of you winning one or more of these titles by analyzing your personality.
Good News; WNBA Players Are Included in the Quiz
Do you want to know which WNBA player you are? This is the proper test to take. We included some of the world-class woman athletes of the past few years in the results. So, you might match players like Breanna Stewart, A'Ja, or else.
How to Know Which NBA Player You Are?
You can find creative ways to uncover your NBA persona. It could be as simple as age-, playstyle-, or even first name-matching. But none of them would be as accurate as a personality match. You can either take a quiz (like the one on this page) or research your favorite players' characteristics to see which one you resemble.
| | |
| --- | --- |
| NBA Player | Age |
| LeBron James | 36 |
| Stephen Curry | 33 |
| Kevin Durant | 33 |
| James Harden | 32 |
| Damian Lillard | 31 |
| Breanna Stewart | 27 |
| A'Ja Wilson | 25 |
#1: LeBron James
If you ask NBA fans, "Which player are you?" many would not hesitate to say, "I'm LeBron." He is one of the most famous living legends of the league. His friends describe LeBron as "a good dude who cares about his teammates, always hitting a group chat even when they are not playing."
Matching the King says so many things about your personality. You are a humble, hardworking, inspirational, and understanding person. Plus, you make an excellent leader.
#2: Stephon Curry
The Golden Boy is now an undeniably remarkable basketball player. His personality is often described as respectful, analytical, and insightful. Curry puts others in front of himself, doing everything he can to protect his loved ones.
If you ask a person, "Which NBA player you are?" and they are like, "I guess I'm Steph," you can probably trust them instantly. The Baby-Faced Assassin is a determined athlete who enjoys strategic plays and mind games.
#3: Kevin Durant
KD has been on the rise. And he is now an A-level player by all means. He is a kind, generous, humble, and authentic person. Plus, Kevin's work ethics are so strong that people think they have become a part of his personality. Fun fact, he is also a very emotional man.
You might not find many people who would say I'm KD when asked, "Which NBA player are you?" But that is about to change. Even the statistics show that Durantula has been gaining more and more fans.
#4: Breanna Stewart
Bean is on the list of best WNBA players of 2021. But she has a pretty amusing character besides her astonishing playstyle. Her friends believe that she is goofy, playing jokes all the time. Being a fan-favorite is in her blood, and she never shies away when under the spotlight. Breanna is also quite humble, determined, and honest.
Matching her means you are an energetic, funny, and quick-thinking individual who is sociable as well.
Take the NBA Personality Test for an Accurate Match
The big question remains unanswered, "Which NBA player are you?" The best method to find out the answer is by taking our 20-question quiz. It has a reliable database of the athletes' profiles to finetune the results and discover your perfect match.
What Is the Point of Knowing Which NBA Star You Are?
It is both fun and insightful. Our quiz lets you know WHY you matched a particular NBA pro. So, you can have some sort of self-assessment both character- and playstyle-wise (if you play basketball).
Disclaimer
QuizExpo does not own any of the images used in the NBA Player-Match Personality Quiz. Please, contact us if you own any of them and you want them to be removed.
How to Play?
Playing personality quizzes is straightforward: Choose the option that's true about you—or you relate to—and select "Next." Unlike trivia quizzes, personality tests have no right or wrong answers. But the questions are in forced-choice format. The point is to push you to choose an option that makes the most sense, not the one that's 100% true. For the most accurate results, don't overthink your responses. Go with options that you "feel" are the best.
Questions of the quiz
1

You are about to play in the finals for your team. How do you feel about it?

Excited

Confident

Anticipating

Relaxed

Prepared

Casual

Ambitious

2

What if you lost the finals? How would you feel then?

Calm

Sad

Disappointed

Indifferent

Mad

Casual

Furious

3

What makes an NBA player great?

Reputation

Respect

Playstyle

Talent

Hard work

Personality

Dynamics

4

What kind of NBA coach would you be?

Kind and caring

Respectful and professional

Experimental and modern

Calm and cool

Strict and hardworking

Fun and tolerant

Harsh and unforgiving

5

What is your relationship with your friends like?

Like siblings

Mature and reliable

Interesting and unpredictable

Chill and casual

Professional

Goofy

Formal

6

What's your favorite thing to do when hanging out with friends?

Talk about our lives

Talk about our plans/future

Go on a trip

Grab a drink and chill

Practice or work out together

Pull pranks on each other

Go to a fancy restaurant or something

7

What is the coolest thing about NBA?

The competition in general

The skills

The unexpected results

The relationships between players

The players' journeys

The intensity of the matches

The rivalry between the teams

8

How much training is sufficient to become a pro player?

Training never ends

At least two years

3-4 years

5-6 years

6-10 years

I don't know

10+ years

9

Would you always listen to what your coach says?

Yes

I'd try to

I think so

I'm not sure

It depends

Not really

No

10

What is your standard to evaluate NBA players?

Reputation

Strategies they use

Playstyle

Background

Scores

Character

Physical features

11

How many points should a player score on a match to be called a pro?

It's not about points

2-3

4-5

6-7

8-10

11-12

13+

12

What would be your priority as an NBA player?

Learn something new every day

Treat my name as a brand

Enjoy the ride

Don't stress me over small things

Work hard, get better, no stop

Keep my high school energy no matter what

Be the best player ever or go home

13

What do you think about the sports paparazzi?

They're doing their job

I don't have any problems with them

I think their job is boring

I like having them around

I don't want to have them around

They're stupid

They're necessary for an athlete's career

14

How many tattoos would you like to have as an NBA player?

1-2

3-4

5

6-7

8-9

I don't know

No tattoos

15

What is the most crucial feature of a team?

Strong ties

Professionalism

Strong will

Having the right mindset

Strict rules

Being friends

Ambition

16

Pick a role you'd like to have if you were not an NBA player.

Teacher/coach

Businessperson

Traveler

Politician

Bodybuilder

Actor

Singer

17

You have to teach basketball to some newbies. But you get to choose the students' age range. Which of the following groups would you prefer to train?

6-8

9-12

13-16

17-20

21-22

23-25

25+

18

What's the best time to quit NBA?

When you are ready

When you are done

When you have no other options

When you are tired of it

When you are too old to move

When you feel like to

I haven't thought about that

19

Pick a color that you feel connected to.

White

Gray

Yellow

Brown

Red

Orange

Black

20

Final question; on a scale of 0 to 10, how important is it for you to be the team's captain? (10 means it's very important).