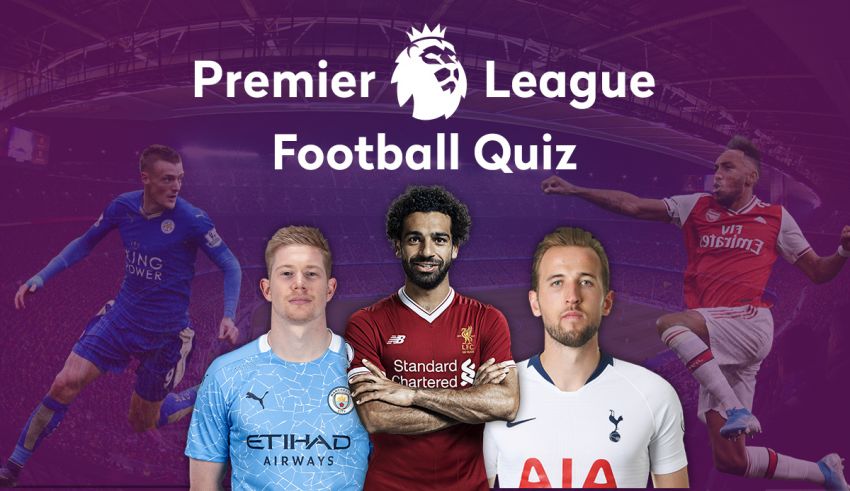 This is the Ultimate Football Quiz about the Premier League. It has different multiple-choice questions about teams, players, logos, and the league's history.
Welcome to an exciting quiz about the world's most popular sport. This is a football quiz about the English Premier League, which is known as one of the most exciting leagues in the world. In all English football games, you can see a fascinating and stressful match even if the two teams have very different places in Standings.
Today, if you ask people around the world to talk about the English Premier League, everyone is talking about the brilliance of Liverpool and Manchester City, or about the ups and downs of Manchester United and Arsenal, or about the past years in which teams Like Leicester City, they were terrific.
Another issue that makes the English Premier League attractive is the intense competition between London teams such as Chelsea, Arsenal, Tottenham, West Ham, and other teams. The fans of these teams do not have a good relationship with each other, but in the meantime, a team like Liverpool has never walked alone between the greats.
Premier League Quiz, Just for Premier League Fans
English football, also known as the Premier League, is always top-rated all over the world. The English Premier League still had strange scenes, from Manchester City's first championship to the unexpected championship of a Leicester City and the breaking of consecutive records by Liverpool.
These are all events that make us all more determined to follow the Premier League. Which of the weird Premier League scenes do you have in mind? Remember Steven Gerrard slipping at the worst possible time? How about Suarez biting Branislav Ivanovic? If we go back a little, Do you remember Paolo Di Canio's struggle with the referee and his suspension for eleven sessions? If all of you remember these memorable events, you are undoubtedly ready to answer the Premier League quiz.
UK football quiz
Which team do you think is the proudest English team? What are the champions of the previous seasons of the English Premier League? True UK football fans certainly know the answers to all these questions.
For example, let's practice a little. A tough question: Someone who is an expert in the Premier League needs to know which players in a single Premier League game had been scored, assisted an own goal. You were right; Wayne Rooney, Gareth Bale, and Kevin Davies are the only players to score, assist, and score an own goal in a single Premier League game.
About the goalkeepers, Did you know In the Premier League, former England goalkeeper Paul Robinson has scored, assisted, and won a penalty; He also has more assists in the Premier League than any other keeper (five). And facts about tireless players; Cesar Azpilicueta (2016/17), Wes Morgan (2015/16), John Terry (2014/15), and Gary Pallister (1992/93) are the only outfield players to play for a Premier League title-winning side at every minute of the season.
You can win a football quiz game just with your knowledge
You are definitely a fan of one of the Premier League teams. Whether you are a Liverpool fan or a Crystal Palace fan, you are a football expert so that you can challenge yourself.
Here are some examples of questions that can challenge every person:
Which striker begged referee Gerald Ashby not to give a penalty on Arsenal in 1997, saying he'd tripped instead of being fouled?
Who became the oldest Premier League player ever in 1995 at 43 years and 162 days-a a record that still stands?
Which former Man City, Arsenal, and Spurs player has been caught offside more than any other player in the PL's history?
What was unusual about Darren Bent's 17 October 2009 goal against Liverpool?
It's time for you to challenge yourself, And by answering the football quiz questions, you can both have fun and learn the information you may have forgotten. If you have just joined the Premier League fans, it is still recommended that you do a premier league quiz. Then you get acquainted with the strange and exciting events of this lovely football league. Football fans across the UK; The football quiz is a place to entertain and challenge you. Send this quiz to your friends and have fun while watching football.
How to Play?
A trivia quiz comes with right and wrong answers. You receive one point for each correct response—but no negatives for the incorrect ones. Take your time and read the questions carefully because some might be trick questions. Choose an option and lock it in by tapping "Next." Lucky for you, the trivia quizzes have instant results. You see if your response was correct immediately. (Green is good, red is bad.) Even better, you can learn more about the topics with the "answer reveals," the fun-fact snippets that appear after each question.
Questions of the quiz
1

Let's start with an easy one; the 2019-2020 Premier League season was the ….. season of this league since its establishment.

2

Which team hadn't won in the last nine Premier League matches when the 2019/20 season stopped?

Aston Villa

Burnley

Brighton

Arsenal

3

Which team scored 16 goals in a row, all of which were scored by English players?

Sheffield United

Tottenham

Newcastle United

Manchester United

4

If you are a fan of the Wolves team, you should know who the Wolves' top scorer of all time is?

Jonny

Steve Bull

Derek Parkin

Oskar Buur

5

When was Chelsea's biggest defeat ever in the Premier League, and against which team?

February 2019, Manchester city

February 2018, Manchester United

February 2019, Arsenal

February 2018, Arsenal

6

Which team lost all 10 of their London derby games in the 2018-19 season?

Burnley

Fulham

Huddersfield

Newcastle United

7

What is Kevin de Bruyne 's nationality?

German

French

English

Belgian

8

Which club does Sadio Mané play for?

Arsenal

Crystal Palace

Liverpool

Everton

9

Which team allowed under-21 players to play just seven minutes this season (2019-2020)?

Liverpool

Crystal Palace

Leicester City

Norwich City

10

Which team has won all of its home games against Manchester United in Premier League history?

Brighton

Sheffield United

Southampton

Tottenham

11

What's the Premier League's oldest club?

Man city

Man United

Fulham

Watford

12

Who were the top scorers in the 2018-19 Premier League season?

Jamie Vardy and Mohamed Salah

Sergio Aguero, Sadio Mane, and Kevin De Bruyne

Mohamed Salah, Sadio Mane, and Pierre-Emerick Aubameyang

Mohamed Salah, Jamie Vardy, and Sadio Mane

13

Who is he, and what team does he play for? ( see picture)

Michail Antonio, West Ham United

Callum Wilson, Newcastle United

N'Golo Kanté, Chelsea

Paul Pogba, Manchester United

14

Who was Manchester United No-7 in the 2007-08 season?

Michael Owen

Luis Antonio Valencia

Cristiano Ronaldo

Ángel Di Maria

15

What is Juan Mata's position in Man United?

Midfielder

Centre back

Right-back

Forward

16

Who was the champion of the Premier League 2015-16 season?

Chelsea

Leicester City

Everton

Man City

17

Which team has the most fans in the Premier League?

Man City

Liverpool

Man United

Everton

18

What is the nickname of the Leicester City club?

The Clarets

The Foxes

The Eagles

The Magpies