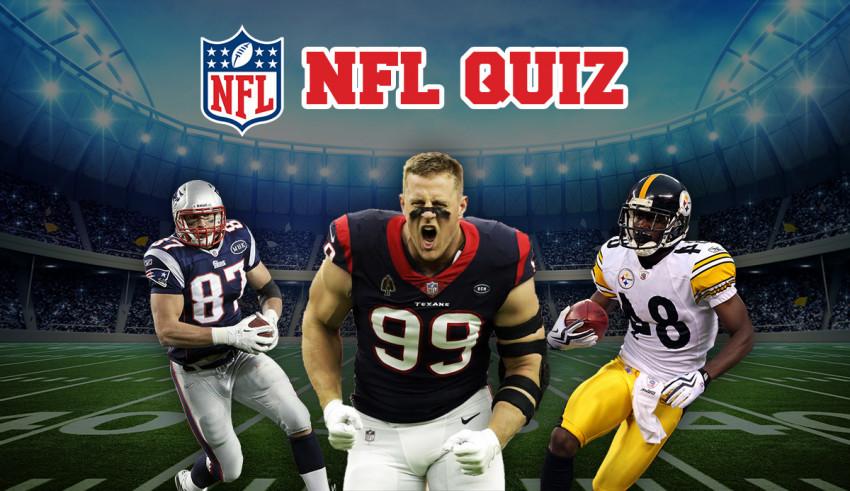 This is the Ultimate NFL Quiz with different level trivia questions (Hard & Easy) about teams, players, and logos. Just real fans can score more than 80%.
If you ask people in the US what their favorite sport is, you will probably hear the name of football a lot. People in some states live with football and their heartbeats for their favorite team. For example, football is one of the most important things in Notre Dame. Everyone in Notre Dame knows about the famous football team, Fighting Irish, and so far made some films about Notre Dame football. Nowadays, watching sports is one of the hubbies that amuse people around the world. Playing this NFL quiz can be amazing, too. Invite your friends and challenge them to this quiz.
NFL quiz
Some people have been following NFL consistently for many years and people who don't miss anything in this league. Or, if you claim to be an NFL expert, it is recommended for you to do the NFL quiz. No matter which team you support, this is a way just for challenging your information. So if you want to increase your knowledge about the "National Football League (NFL)," beside an exciting entertainment, play the NFL quiz. You can share your quiz results on social media to show your friends how much information you have about the NFL.
The American Professional Football Federation (APFA) was founded in 1920, and in 1922 its name was changed to the National Football League. American football is played at various levels in the United States, most notably the College League (Universities) and the Professional Football League (NFL). It has many fans all over the world. It has the highest average attendance (approximately 67,591) compared to other sports around the globe. The NFL Championships are held each year periodically at two meetings of the American Football Conference (AFC) and the National Football Conference (NFC) and each in four regions of the US. Thirty-two teams currently run it. American NFL teams even compete at Wembley Stadium in London.
History
National Football League (NFL), a major U.S. professional football gridiron league, founded as the American Professional Football Association in 1920 in Canton, Ohio. The first president was Jim Thorpe, a distinguished American athlete who was also a league member. The current name was established in the year 1922. The NFL faced years of instability and pressure from rival organizations to become the largest professional football league in the United States.
NFL Teams
The AFC and the NFC each have 16 teams in each conference. The main difference between AFC and NFC is that AFC only reflects the clubs and teams that formed part of AFL (American Football League ) before 1970, while NFC includes clubs and teams that formed part of NFL from the start
National Football Conference (NFC) teams:
East region consists of Dallas Cowboys, New York Giants, Philadelphia Eagles, Washington Redskins.
West teams are, Arizona Cardinals, Los Angeles Rams, San Francisco 49ers, Seattle Seahawks
North region includes Chicago Bears, Detroit Lions, Green Bay Packers, Minnesota Vikings
South region teams are, Atlanta Falcons, Carolina Panthers, New Orleans Saints, Tampa Bay Buccaneers
American Football Conference (AFC) teams:
East teams include Buffalo Bills, Miami Dolphins, New England Patriots, New York Jets
North teams consist of, Baltimore Ravens, Cleveland Browns, Cincinnati Bengals, Pittsburgh Steelers
South region teams are, Houston Texans, Indianapolis Colts, Jacksonville Jaguars, Tennessee Titans
West region teams include Denver Broncos, Kansas City Chiefs, Los Angeles Chargers, Oakland Raiders
Notable teams, players and events
One of the most successful NFL teams we can mention is the "Pittsburgh Steelers." They have won the highest number of Super Bowl titles. They won Super Bowl 8 times and won the championship six times. Another team is the "New England Patriots." They have won Super Bowl 11 times, more than any other team. Tom Brady and Colin Kaepernick are two of the most popular NFL players.
One of the strange events that happened in NFL history is during world war II. Most players went to the military. For that reason, the Philadelphia Eagles and Pittsburgh Steelers teams had to combine to form the Steagles team in 1943, due to the lack of players. Chuck Hughes, one of the stars of NFL, death on the field was also a rare occurrence, that was in everyone's mind. Statistics show that bankruptcy is the fate of most NFL players after retirement within three years.
How to Play?
A trivia quiz comes with right and wrong answers. You receive one point for each correct response—but no negatives for the incorrect ones. Take your time and read the questions carefully because some might be trick questions. Choose an option and lock it in by tapping "Next." Lucky for you, the trivia quizzes have instant results. You see if your response was correct immediately. (Green is good, red is bad.) Even better, you can learn more about the topics with the "answer reveals," the fun-fact snippets that appear after each question.
Questions of the quiz
1

Can you recognize this player?

Tony Romo

Matthew Stafford

Drew Brees

Steve McNair

2

Guess the player

Riley Reiff

Ameer Abdullah

Matthew Stafford

Anthony Harris

3

Which team has never reached the Super Bowl?

Falcons

The Bengals

Texans

Cardinals

4

Which player has the most Super Bowl rings?

Tom Brady

Charles Haley

Ted Hendricks

Adam Vinatieri

5

Which one of these teams is Not in the American Football Conference (AFC )?

Pittsburgh Steelers

Detroit Lions

New York Jets

Miami Dolphins

6

Guess the team by this logo

New England Patriots

Denver Broncos

Atlanta Falcons

Tennessee Titans

7

Who is the only NFL quarterback that complete a touchdown pass to himself?

Peyton Manning

Tom Brady

Brad Johnson

Drew Brees

8

Who did score the quickest touchdown in NFL history?

Randal Williams

Jerry Rice

Randy Moss

Terrell Owens

9

Which state doesn't have any team in the NFL?

Illinois

Missouri

Indiana

Alabama

10

All of these players attended the same high school, except one of them. Can you guess that one?

Travin Howard

Pete Robertson

Matthew Stafford

Trent Williams

11

Which one have only played with one NFL team during his career?

Ben Roethlisberger

Tom Brady

Peyton Manning

Khalil Mack