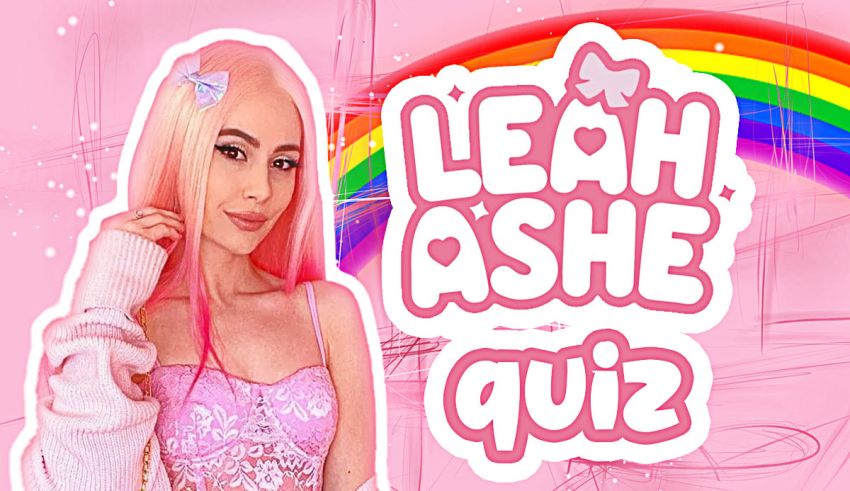 The Leah Ashe quiz has 20 interesting (but fairly head-scratching) questions about the pink-loving American gaming and Vlogging YouTuber.
The Leah Ashe Quiz Explained
It's a trivia test about Leah Ashe, the world-known Adopt Me!, Roblox, and Royale High YouTuber. The higher you score, the better you know her.
You have to choose the options carefully as only one is true. And unlike the YouTuber quiz, your personality doesn't affect the results.
If you're into Roblox content, you can also take our Roblox Trivia Quiz. It's definitely as challenging as the Leah Ashe test and will make you question your knowledge about the game.
See How Well You Know Your Favorite YouTuber
You may love Leah Ashe and watch all of her YT videos. But do you really know her? What do you know about her personality and personal life off the camera?
Most fans fail to beat the Leah Ashe quiz because they don't know her that well. Of course, it's totally fine to love an internet personality just for their content, not knowing much about their personal life. But hey, you are literarily taking a trivia test to prove you're a super-fan.
Is This the HARDEST Leah Ashe Quiz?
Fun fact, in one of her 2021 videos, Leah created a trivia quiz called "Leah Ashe HARDEST Quiz" to test her fans' loyalty. It had twelve questions about her favorite colors and drinks as well as some personal stuff about her past. But to be honest, the quiz didn't live up to its name.
Even the newbie fans could beat it with no problem because the questions were overly simple and general.
But the Leah Ashe quiz on this page is determined to be the hardest. We have questions that would baffle the oldest hardcore fans and make them Google some stuff.
What the Results Mean
The Leah Ashe quiz has a unique scoring system. So, your results will actually reveal what type of fan you are.
0-5 points: Fake fan!
The first few questions of the Leah Ashe quiz are quite basic. So, failing to answer them is a sign you're either a newbie or a fake fan. (Sorry).
6-10 points: Welcome to the club
Having six to ten correct answers indicates that you're not a hardcore fan—but you're on your way to becoming one.
11-15 points: Leah Ashe's army soldier.
A score between eleven and fifteen means you're a real-deal Leah Ashe lover. She'd definitely be proud of you if she could see your results.
16-20 points: Pink Pals forever.
Any score above sixteen is rare. But it certifies you as a Leah Ashe super-fan. She'd probably be surprised to know someone knows her that well.
Guaranteed No Disrespectful Questions
Unfortunately, some Leah Ashe quizzes out there are disrespectful towards her. They have questions about her health, relationship, income, and other sensitive topics like her family. However, the current quiz includes only the topics that Leah has been open about on her channel and would not feel offended when asked about.
Some examples of disrespectful questions on other tests are:
Is Leah Ashe Alive?
During the pandemic, some people created fake news about her death because of the COVID-19. Leah talked about how horrible it feels to see others talking about your passing while you're still around. And she also mentioned that several health-related topics give her anxiety.
Who is or was Leah Ashe's boyfriend?
No matter how famous a person is, you should still respect their privacy. But some Leah Ashe quizzes are filled with overly personal questions about her love life and marital status, which is absolutely not cool.
Even Leah Ashe Herself Might Fail This One
Okay, are you ready to put your knowledge to the test? The Leah Ashe quiz is so hard that even Leah herself would probably fail to beat it. But who knows, maybe you know absolutely everything about her.
Give it a try. No one's going to see the results except you. And don't worry; Leah won't get mad at you if you don't score high.
Disclaimer
QuizExpo does not own any of the images of the Leah Ashe quiz, and no copyright infringement is intended. Please, contact us if you own any and want them removed.
Questions of the quiz
Question 1

Let's start with Leah's appearance. How tall do you think she is?

Question 2

What's the real reason she wears pink wigs?

She just likes pink

It's part of her YT persona.

She used to wear wigs because of a medical condition

Question 3

Which ingredients can be found in Leah Ashe's favorite Boba drink?

Strawberry Pearls

Oreo Slushie

Jasmine Milk Tea

None of them

Question 4

Leah Ash actually created a trivia quiz about herself and asked her fans to take it. True or false?

Question 5

Leah loves all her Roblox pets. But of the following options, which one do you think is her least favorite pet?

Bunny Reborn

Flamingo

Dalmatian

Pink Cat

Question 6

Hey, quick question, what's Leah Ash's Star Code? C'mon, she repeats in every video.

ASHELEAH

LEAHASHE

LEAH_ASHE

LEAHASHELY

Question 7

Leah Ashe used to create GTA content on her YT channel before playing Adopt Me! Is that true?

No, she's never played GTA.

Yes, she used to create GTA-related gaming content

Question 8

What was her beauty brand name called?

Leah Ashe

Leah Ashe Makeup

Leah Ashe Beauty

Ashe Army

Question 9

How many channels are featured on Leah Ashe's main YouTube channel?

Question 10

Fill in the blank. Leah Ashe has never lived in _____________.

Oregon

California

LA

Huston

San Francisco

Question 11

Leah Ashe was actually a member of a YT Minecraft group called Proper Dummies.

Yep, she was.

Nope, you're making that up.

Actually, she was the founder of that group.

Question 12

Which one is Leah's favorite Disney princess?

Ariel

Snow White

Sleeping Beauty

None of them

Question 13

Leah Ashe's YT channel's About Page says that she joined YouTube on _______ 2, 2016.

Question 14

How many views do you think she has on her main channel?

About 200 million views

400-500 million views

900 million views

More than a billion views

Question 15

Everyone thinks Leah's actual hair color is dark brown. But she thinks it's not accurate, and her hair is _________.

Question 16

Amber, Leah's younger sister, is _______ younger than her.

Question 17

Leah Ashe had an iconic cosplay of an Overwatch character. Which one was it?

D.Va

Lena Oxton

Widowmaker

Sombra

Question 18

When they were young, Leah didn't want Amber to watch her playing games. What was the reason?

They didn't get along well when they were younger

Amber used to distract and make fun of Leah.

Leah believed that Amber was bad luck to her.

Question 19

How old was she when starting her first YouTube channel?

Question 20

Final question; pink aside, which one is NOT one of Leah Ashe's favorite colors?

Pink

Pastel purple

Pastel yellow

Black