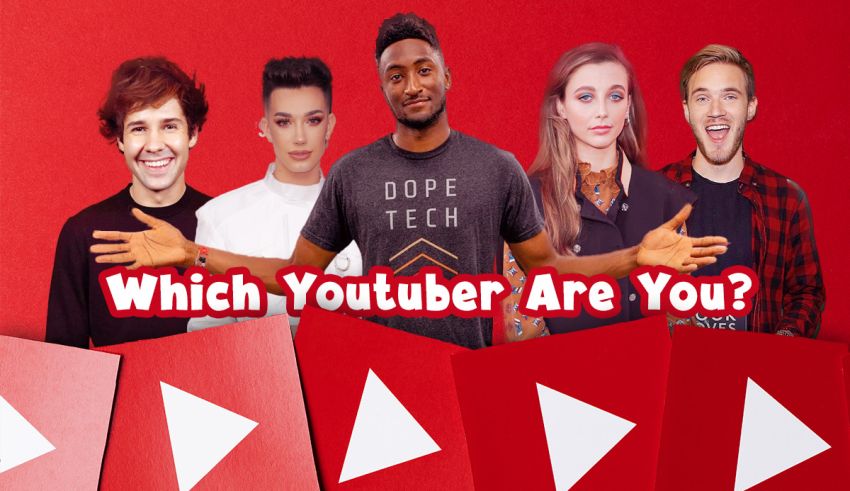 Hey, which YouTuber are you? This 20-question viral quiz reveals your YouTube personality accurately. Are you PewDiePie, MrBeast, Logan Paul, Addison Rae, or?
The Ultimate YouTuber Persona Quiz!
Here is a set of creators- and influencers-related questions to discover the YouTuber similar to you. It includes all the top names in the app, matching you to them with 90.9% accuracy.
It is nothing like a niche-specific test. So, do not expect it to have anything in common with our other trending quizzes. By participating in this one, you compare your characteristics to the world's top YouTubers, finding your perfect counterpart in no time.
Discover Which Famous YouTuber You Are
You spent hundreds (if not thousands) of hours watching your favorite streamer, fashion vlogger, makeup artist, or productivity influencer on YT. And now you are like, "Which YouTuber am I?" The good news is that you are about to find out because our quiz analyzes your personality to determine which world-known creator on the platform looks like you—persona-wise.
Get Cool Additional Info About Your YouTube Career
The test does more than reveal your YT character. It provides you with fun pieces of information about your imaginary channel. Here is everything you learn by taking the questionary.
We analyzed over 15 popular and profitable YouTube niches, creating a list of dominant characters in each category. So, your results will include the topics we think you could go viral in—based on your characteristics. See the list of the niches below:
Finance & Investing, Educational Videos, Tech, Lifestyle, Fashion, Entertainment, Cooking, Reactions, Fitness, and Video Games.
You wonder which YouTuber you are, but here is another fun question: how many subscribers would you have? The quiz can estimate the extent of your community by evaluating your mindset.
You are not a profitable YouTuber if you do not pull off millions of views per month. So, besides revealing your online personality, we let you know how successful you could be as a creator.
What would your Ad revenue be if you were, say, MrBeast or Shane Dawson? The YouTube character test predicts how much money you could make online if you were that particular person. (And hey, all numbers are going to be legit).
After revealing your YouTuber match, we will also reveal how likely you are to win awards. Could you bring home a Kid's Choice or Streamy Awards? That is something you will never know unless you take the quiz.
Everyone Is Included in the YouTube Personality Quiz
Unlike other tests, our YouTuber persona quiz has the platform's biggest names on the list. You might come up with the craziest matches possible.
But if you do not have enough time, here are other ways of knowing which YouTuber you are.
Age match:
A stupid (but also) fun method is to find your matching YT personality by birthday. The table below might come in handy to do so.
| | |
| --- | --- |
| YouTuber | Birthday |
| PewDiePie | October 24 |
| MrBeast | May 7 |
| Corpse Husband | August 8 |
| Charlie D'Amelio | May 1 |
| Emma Chamberlain | May 22 |
| David Dobrik | July 23 |
| Logan Paul | April 1 |
| James Charles | May 23 |
| MKBHD | December 3 |
Personality match:
Another less stupid method is to read the description of each YouTuber's personality, figuring out which one you relate to the most.
#1: MrBeast
Jimmy Donaldson is the giveaway monster of YT. He has given away millions of dollars, helping charities, people in need, and just random people. If MrBeast is your YouTuber match, you are a philanthropist with crazy ideas.
#2: PewDiePie
AKA king of YouTube. Felix Arvid Ulf Kjellberg is the only single person (not a company or Indian music label) with 100,000,000+ subscribers. He is a funny, sarcastic, and vivid YouTuber who is already in his 30s—and still domineering the YT trends. If you are PewDiePie, you are a reaction master who can make a potato meme the world's most interesting topic. Plus, you are good at torturing yourself by playing silly games.
#3: David Dobrik
Despite all the 2019-2020 controversies, David remained a top YT vlogger. He is a witty, easygoing, loud-laughing, party-loving boy who hangs out with his Vlog Squad, recording every interesting moment they have. If your YouTube character is David, you are a Hollywood boy/girl who loves the lavish lifestyle of celebrities and enjoys spending time with them.
#4: Logan Paul
The older Paul brother, Logan, is an ex-controversial YouTuber—or at least that is how he introduces himself. Now a professional boxer, Logan has always been on the trending side of YT for not-so-family-friendly reasons. He is an ambitious, confident, and bold person who speaks his mind no matter what.
If someone asked, "Which YouTuber are you?" and you were like, "I'm Logan," you are a goal-oriented, motivated, and tough individual. It also indicates you do not care for what people think of you or say behind your back.
#5: Charlie/Dixie D'Amelio
The D'Amelio family has been dominating the entertainment side of YT for the past few years. And now, Charlie is even nominated for the Streamy Awards in 2021. If the YouTuber within you is one of the D'Amelio sisters, you love being in the spotlight and having all the attention.
#6: James Charles
Being the second most subbed makeup content creator, James is a beloved YouTube personality. He has a cute and loveable persona and speaks openly about his emotions and opinions to his subscribers. If someone asked, "Which YouTuber are you?" and you wanted to say, "I'm James Charles," something is for sure, you love makeup. Plus, you are quirky and sassy at the same time.
#7: MKBHD
Marques Brownlee is the tech review guru of YT. He has been around since he was a kid, recording on a basic webcam. If you took the YouTuber character match test and you matched him, here are things to know: 1) You are a super geeky and (probably) nerdy person. 2) You are extremely analytical to the point where 90% of your analysis turns out to be accurate, and 3) You are an innovative person.
Other YouTubers!
The list goes on. There are dozens of more YouTube personalities you could match if you took the test. So, press the green button on top of the page and don't forget to like and subscribe to our channel, I mean, website. 😉
Disclaimer
QuizExpo does not own any of the images used in the YouTuber Match Quiz. Please, contact us if you own any, and you want them to be removed.
How to Play?
Playing personality quizzes is straightforward: Choose the option that's true about you—or you relate to—and select "Next." Unlike trivia quizzes, personality tests have no right or wrong answers. But the questions are in forced-choice format. The point is to push you to choose an option that makes the most sense, not the one that's 100% true. For the most accurate results, don't overthink your responses. Go with options that you "feel" are the best.
How many questions does this quiz have?
20 questions
How long does it take to complete this quiz?
9 minutes
Questions of the quiz
Question 1

How would you like your viewers to feel when watching your YouTube videos?

Relaxed

Sassy

Cool

Excited

Safe

Stunned

Entertained

Scared

Happy

Mixed feelings

Question 2

How much money would you like to put in producing each of your videos?

Less than $100

About $500

About $1,000

$3,000-$5,000

About $6,000 to $7,000

Millions of dollars!

About $10,000

About $12,000

About $15,000

Nothing

Question 3

YouTube is a platform where you can ______________.

Connect to people

Show your skills

Become a world-class model

Have fun and make money

Teach people what you already learned

Make the best videos possible and enjoy it

Play games and make money (somehow)

Be a free-spirited artist

Try cool stuff and make money off it

Be famous and show the middle finger to haters

Question 4

What would you like to be the media's main focus about you?

My thoughts and ideas

My art

My style

My lifestyle

My knowledge

My production skills

My jokes

My voice

My random skills

My gossips

Question 5

Of the following options, which one has the lifestyle you wish you had?

A talk show host

A makeup artist

A fashion blogger

A Hollywood actor

A tech company owner

A famous film producer

A top-ranked gamer

A beloved singer/rapper

A world-class athlete

The Kardashians!

Question 6

How much time would you spend to produce each video?

Less than an hour

An hour or so

Two or three hours

24 hours

2-3 days

2-3 WEEKS

I don't really know

I prefer streaming

1-2 months

Whatever it takes

Question 7

What type of content do you usually consume?

Interviews

Tutorials

Dance

Vlogs

Reviews

Random cool stuff

Gaming

Music

Sports

Breaking news

Question 8

Pick a nickname for your YouTuber persona.

She-Talk

Da Real Fairy

SEXORCIST

The Vlog Banger

Geeky101

The Boss

The King

The VOICE

TeamkillerGang

Da Boy with No Hoodie

Question 9

Which of these YouTubers would become your best friend?

Dixie D'Amelio

Yuya

Emma Chamberlain

Jake Paul

MrWhoseTheBoss

PewDiePie

MrBeast

Sykkuno

Dupree Trickshots

NELK boys

Question 10

How would you spend the money you earn on YouTube?

Save it

Buy new makeup

Buy new clothes

Party and have fun

Buy new gadgets

Hire more people

Buy new gaming stuff

Buy instruments

Buy more cameras

Buy expensive watches

Question 11

You need to hire your first crew member. Which one would you hire first?

A therapist! (Or life coach)

A makeup artist

A dance teacher

A stripper

A writer

A producer

An assistant

A musician

A cameraman

A driver

Question 12

Choose the YouTube section that you like the most?

My feed (Home)

Explore

Library

Shorts

Subscriptions

Creator on the Rise

Gaming

Music

Sports

News and Live

Question 13

What would be the average age of your viewers?

14-16

18-20

10-13

20-23

24-28

0-99

I have no idea

Teenagers, I guess

It depends

Hopefully adults!

Question 14

What would be your #1 goal as a YouTuber?

Be me

Be my best

Become the most famous YouTuber

Make millions while having fun with friends

Learn something new every day

Create the best videos possible

Create a community of people like me

Show my art to the world

Try crazy stuff all the time

Top the news headlines all the time

Question 15

What is the best strategy to get the most viewers possible?

Don't be extra and fake

Look hot and attractive

I have no idea

Live life as if it's a sitcom

Enrich your videos with more and more info

Make the best videos possible or go home

Forget about the views and have fun

Don't show your face and keep things mysterious

Do things no one has ever done before

Be controversial. That's it.

Question 16

If you had to describe your ideal lifestyle in one word, what would it be?

Stress-free

Lavish

Adventurous

Luxurious

Humble

Unpredictable

Buzz-free

Isolated

Active

Celebrity-like

Question 17

What do you love about creating content the most?

Talking to people

Being in the spotlight

Being famous

Making easy money

Teaching and learning

Trying to be the best in the world

Who cares?

Sharing my stuff with others

Trying new things and experimenting

Giving people what they want

Question 18

How much time do you spend watching YT videos per week?

1-2 hours

About 3 hours

About 5 hours

About 6 hours

Less than 30 minutes

About 7 hours

About 8 hours

About 9 hours

10+ hours

Less than 15 minutes

Question 19

If your life was a movie, what would its genre be?

Drama

Tragedy

Romance

Sitcom/Comedy

Si-fi

Action

Western

Horror

Epic

Documentary

Question 20

Final question; which one is an activity that you'd enjoy doing on the weekends?

Reading

Trying new makeups

Shopping

Grabbing a drink or two

Watching a documentary

Working on new videos

Chillax and game

Listen to music

Play sports

Watch a boxing or WWE match