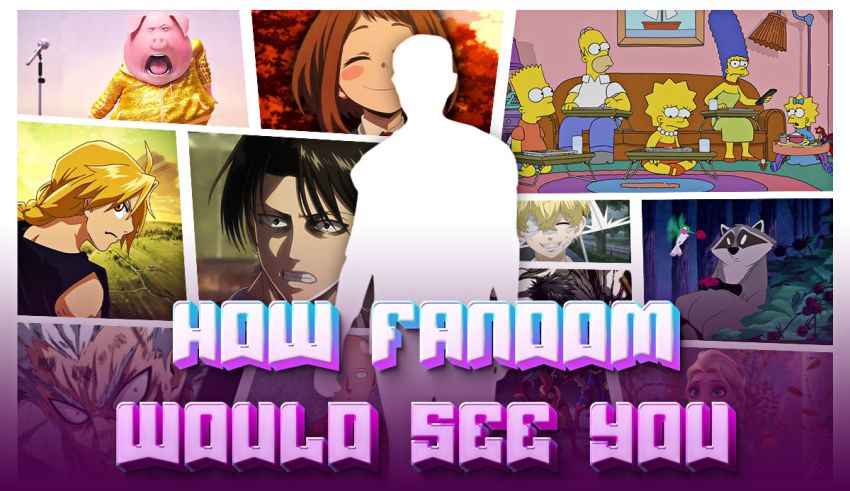 Want to know how fandom would see you if you were a fictional character? This fanfiction quiz reveals what type of OC you'd be and how fans would describe you.
What's the Quiz's Deal?
"How fandom would see you" is a personality quiz to describe your persona from a fictional fanbase's point of view.
Unlike the 5000 character quiz, your results don't include a list of OCs similar to you. Instead, the goal is to create a character description that matches you in real life and fiction.
How Fandom Would See You on TikTok
On TikTok, "how fandom would see you" has been trending because users share their quiz results as greenscreens. And as with other TT trends, more people want to know how to do the same.
It's pretty simple, though. You are already doing it! Tap or click the start quiz button, answer twenty questions, and share a screenshot of the result on your TikTok account.
Fandom Could See You as One of These Character Types
Fiction fans are familiar with reoccurring personality types in comics, novels, and movies. There's often a bad guy who wants to destroy the world, a hero who tries to save the world, and a bunch of supporting characters who push the events forward.
Based on the stereotypes of fanfictions and character development principles, a fandom would most likely categorize you into one of these groups.
Protagonist
The hero. The savior. The chosen one. The protagonist is the basis of all stories; they start a journey that leads to the climax.
Interestingly, few people would like their fandom to see them as a hero because it's a boring and cliché-ish character type.
Antagonist
Contrary to villains, antagonists are not necessarily bad guys. But they oppose the hero's actions for various reasons—often for moral or religious beliefs.
If fandom sees you as an antagonist, you're a free-spirited, bold, and confident person who's not afraid of speaking up.
Sidekick
A key factor in superhero stories, sidekicks are the loyal and supportive friends of heroes or anti-heroes. Think Robin in Batman or Chewbacca in Star Wars.
When someone asks, "How would fandom see me?" A sidekick is the last thing they want to hear. It's because few sidekicks have unique narratives and are usually defined by their counterparts, the hero or the villain.
Mentor
Often an elderly person with long, white hair, mentors are the voice of reason, guiding the hero through the hardships.
If fandom sees you as a mentor, you're reliable, experienced, and wise.
Comic relief
Comic relief is a humorous character to break the ice, cool down the intensity of events, and let the story breathe in-between the actions.
Fandom seeing you as comic relief is verification for you being funny, charming, and relatable.
Villain
Traumatized by a horrific backstory or motivated by an ambitious goal, villains are the true bad guys. They not only want to hurt the protagonists but also want chaos or destruction on a much larger scale.
Despite their dark nature, villains have always been fan favorites, and many would actually feel thrilled if their fandom saw them as anti-heroes.
Discover the Life You Could Have as a Fictional Character
Still, wondering how fandom would see you? Take our OC quiz to find out the answer. The following questions examine your IRL personality to reveal your persona as a fictional character.
Disclaimer
QuizExpo does not own some of the images in the "How Fandom Would See You Quiz." Please get in touch with us if you own any and want them removed
How to Play?
Playing personality quizzes is straightforward: Choose the option that's true about you—or you relate to—and select "Next." Unlike trivia quizzes, personality tests have no right or wrong answers. But the questions are in forced-choice format. The point is to push you to choose an option that makes the most sense, not the one that's 100% true. For the most accurate results, don't overthink your responses. Go with options that you "feel" are the best.
Questions of the quiz
1

What type of fandom do you relate to?

Friendly

Supportive

Informative

Silly

Weird

Dark

2

What kind of first impression do you give when people see you for the first time?

Polite or shy

Friendly or kind

Mature or quiet

Sociable or energetic

Unique or independent

Aggressive or cold

3

What do you think of superheroes?

I relate to them

I love them

They're too childish for me

I don't like their silly latex costumes.

I think being a superhero is super-turn-off

I hate all superheroes

4

What about villains? What do you think of them?

I can't relate to them.

I'm empathetic towards most of them.

I think most villains are just childish.

Villains are just funny. That's all I can say.

I think most villains are hot.

I'm usually on the side of bad guys and relate to them.

5

What kind of backstory would you give to a character if you could create one?

Inspiring

Dramatic

Deep

Funny

Erotic

Tragic

6

What type of fans would you like to have in your fanbase?

Sympathetic

Loyal

Smart

Wild

Bold

Weird

7

What would it be if you had to pick a motto for your fandom?

"We won't leave anyone behind."

"All for one and one for all."

"You matter."

"STFU and have fun."

"We're the underdog."

I don't like any of these mottoes.

8

BTS's fandom is known as "Army." What would you name your own?

BFFs

Family

Comrades

Homies

Jagabans

Vexers

9

What makes a fictional character memorable?

Actions

Relationships

Ideologies

Sense of humor

Look or style

Backstory

10

Which one sounds like something that could motivate you?

Becoming a better person.

Helping people in need

Learning something new

Exploring a new territory

Proving a point

None of them. It takes a lot to motivate me.

11

How would you end a story?

I like happy endings.

I'd ensure the hero defeats the villain.

I'd end the story in an inspiring and educational way.

I'd end it in a shocking and silly way.

I'd give it a tragic ending.

I'd ensure everyone dies at the end.

12

Fill in the blank. Most fanfictions are __________.

Interesting

Underrated

Impressing

Cool

Boring

Stupid or overrated

13

It's __________ to know how fandom would see you.

Exciting

Unique

Weird

Fun

Anti-climactic

Childish

14

What's your favorite movie genre?

Sci-Fi or fantasy

Drama or romance

Documentary

Comedy or action

Dark, noir, or experimental

Horror or thriller

15

How often do you cry when watching a movie or reading a novel?

Often

All the time

Rarely.

Never.

It depends on my mood.

I don't want to answer the question.

16

Choose your character an outfit or costume.

A magical armor made of intergalactic material.

A handmade costume that means a lot to you.

A nice black suit.

A unique, colorful, and strange outfit.

A sexy, tight, black outfit.

A bionic costume that gives you lethal strength.

17

Give your fictional self a nickname.

The Chosen One.

The Last Hope.

The Leading Light

The Final Shot.

The Bored Monkey.

The Last Face You See.

18

What fictional race would you like to have if you lived in a magical universe?

Elf

Hobbit

Sorcerer

Gnome

Dragon

Vampire

19

What's your favorite superpower?

Flying

Superhuman speed

Mind control

Invisibility

Shapeshifting

Invincibility

20

Final question; how old are you?

14 or younger

15-17

18-20

21-25

26 or older

I'd rather not say.