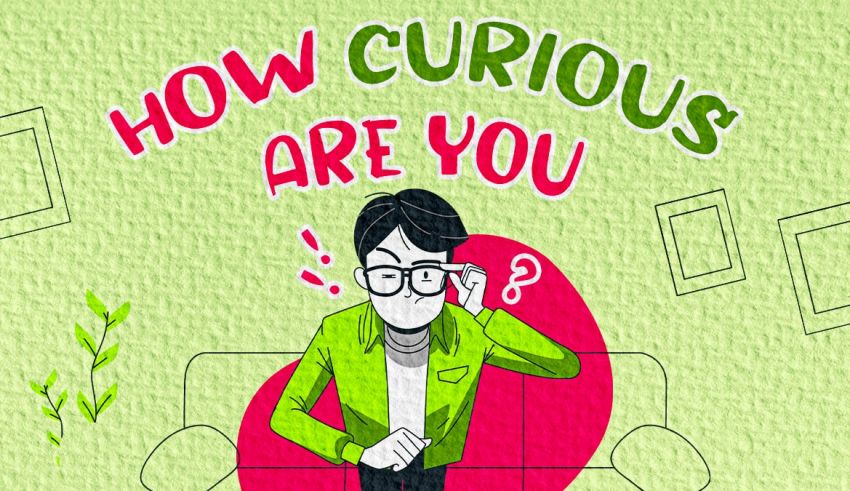 This Curiosity Quiz reveals how curious you are based on your learning style and imagination capabilities. Just answer 20 simple questions honestly to find out.
What Is Curiosity Anyway?
At its basis, curiosity is a cognitive stimulus that induces learning. On a deeper level, however, it is a conscious perspective of looking anew, as if you never saw it before. According to Litman's 'Curiosity-Interest Model,' curiosity is caused by deprivation and interest: Deprivation is a gap in knowledge, and interest is an innate desire to fill this gap.
Philosophically speaking, curiosity is being brave enough to delve into the unknown. It is the will to face the darkness, trying to ignite the wick in the candle of knowledge.
What Does the Curiosity Test Do?
With 20 intriguing questions, the Curiosity Quiz identifies how inquisitive you are. Even better, it reveals what type of curiosity you have so that you know how to satisfy it.
Premise-wise, the goal of the Curiosity Quiz is simple: It determines how curious you are. But its results come with additional insights into your interests and even your style of learning that could help improve your learning experience.
Does Curiosity Have Levels and Types?
According to Berlyne (1960), curiosity is of two types: diverse and epistemic. With diverse curiosity, the urge to try out new things roots in a preference for novelty and variety. However, with epistemic curiosity, the ultimate motivation is to acquire knowledge and understand different concepts.
How to Know If You're Curious?
Curiosity is a will to try novel experiences or acquire new knowledge. If you enjoy learning and strive for fresh occurrences in life, you are a curious person.
Here are five signs you have high levels of curiosity:
You question every thought or piece of information.
You are an active learner, not a passive student.
Your daydreaming and imagination inspire you.
The lack of resources only encourages you to dig deeper for information.
You have a knack for asking questions from various perspectives.
Is Too Much Curiosity a Bad Thing?
The old saying "curiosity killed the cat" has proven to be misleading throughout human history. We're standing on the shoulders of giants—curious giants who were brave enough to question everything we know and all that we don't. So, no. Curiosity is not a bad thing; it's fuel to learn, to grow, and to progress.
Too much curiosity can only be toxic when it's aimed in the wrong direction. For instance, being curious about others' personal lives would only do more harm than good.
How to Recover Curiosity?
Inquisitiveness spurts out of interest and dies in the lack of it. To revive your curiosity, spend quality time doing activities you genuinely enjoy, not those you think are good for you—or your future dream job. Get a hobby. Avoid excessive recreational time-fillers. And more importantly, ask more questions.
Here's How Curious You Are (Based on 20 Factors)
For those curious to know how curious they are, this quiz has an intriguing way of distinguishing the nosy from the apathetic. Answer the following questions to discover how big of a learning enthusiast you are and how willing you are to let new things into your life.
If you enjoyed this one, you should definitely give our Humility Quiz a go. It uses a similar process to reveal how humble you are.
Okay, now let's see how curious you are in your everyday life. 🦝🤔💭
How to Play?
Playing personality quizzes is straightforward: Choose the option that's true about you—or you relate to—and select "Next." Unlike trivia quizzes, personality tests have no right or wrong answers. But the questions are in forced-choice format. The point is to push you to choose an option that makes the most sense, not the one that's 100% true. For the most accurate results, don't overthink your responses. Go with options that you "feel" are the best.
Questions of the quiz
1

What kind of new experiences are your favorite?

Productive

Unpredictable

Emotional

Fun

I'm not a fan of new experiences

2

How often do you question the information you receive?

All the time

Usually, when I don't trust the source

Only when I'm feeling creative

Only when I'm bored

I rarely do that

3

Which topic could intrigue you?

Space

General knowledge

Art

Entertainment

None of them

4

How courageous of a thinker are you?

5 (I question everything)

4

3

1-2

0 (I don't question anything)

5

Do you ever spend time exploring or understanding your emotions?

I'm working on that

Yes, I do that a lot

I've been trying to do that through therapy

Not really; I'm an easygoing person

Not at all. I think that's a waste of time

6

How do you feel about gossip?

I don't like it at all

I might find it interesting (it depends)

I admit; I like celebrity gossip

I love it! Gossips are my guilty pleasure

Meh, whatever (I usually pretend that I care)

7

Pick a quote about curiosity that you relate to.

The important thing is not to stop questioning. Curiosity has its own reason for existing.

The world is full of magic things, patiently waiting for our senses to grow sharper.

The most beautiful experience we can have is the mysterious.

The biggest adventure you can take is to live the life of your dreams.

Curiosity killed the cat. ¯_(ツ)_/¯

8

Which one better describes your parents?

Encouraging

Brave

Artistic

Easygoing

Absent or unavailable

9

What kind of educational system were you a part of?

Modern

Catholic

I went to an art school

Traditional

Strict

10

What motivates you to be curious?

Learning

Adrenaline

Inspiration

Fun

None of them

11

Which word can be used interchangeably with curiosity?

Knowledge

Problem-solving

Creation

Exploration

Meh, I don't know

12

What do you do when you're curious about something?

I study that subject

I delve into it (hands-on experience)

I get hypothetical and analyze it

I ask around to find out more about it

I don't do anything specific

13

What would you like to do in your free time?

Study or read books

Watch TV or play video games

Do something artistic or start a DIY project

Go out and have someone

Stay in bed, eat, and sleep

14

What occupation would you want to have if you lived in a parallel universe?

Teacher

Explorer

Painter

Musician

Rich and famous

15

How do you react to problems?

I analyze all possible solutions

I start trial and error to solve it right away

I try to think outside the box

I ask for help

I give it some time and don't overreact

16

Which one sounds like a productive way of having fun?

Learning a new skill

Going to a new place

Visiting a new museum

Making new friends

None of them sounds fun

17

What kind of curiosity do you have about your job?

I want to learn skills that improve my performance

I want to try out different aspects of my career

I want to focus on one aspect and become an expert

I would like to experiment with my job and have fun doing it

I'm not curious about my job at all

18

Do you use your curiosity like fuel? If so, how come?

Yes, I use it as fuel for my learning engine

Yes, it helps me get out of my comfort zone

Yes, it inspires me to do more and be better

Yes, it's my way of finding fun things to do

No, not really. I can't say curiosity is that important in my life

19

How would you describe your imagination?

Analytical

Diverse

Artistic or philosophical

Unpredictable

Predictable

20

Choose an archetype that could match your inquisitive side.

Inventor

Traveler

Creator

Entertainer

I don't relate to any of those