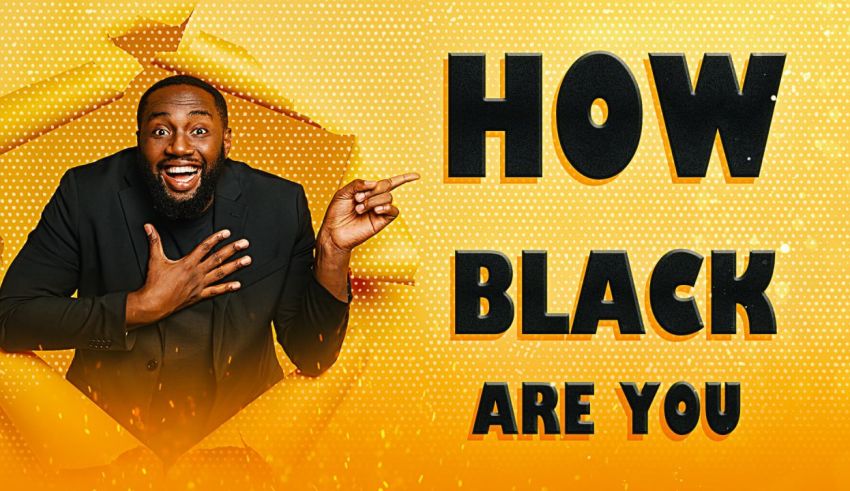 Do you wonder how black you are? This cultural quiz exposes your familiarity with black history and determines if you know enough about this society.
A Respectful Quiz to Celebrate Black Culture
The Black Culture Quiz is an educational trivia test determining how well you know black history, art, music, and literature. While it's not a race test, it determines how black you are based on your correct answers. Basically, the quiz measures your bond with black culture, revealing how well-informed you are.
Unlike other comparable online tests, our 20-question quiz focuses on celebrating black people's rich and beautiful traditions. And it's designed to be educational and informative.
Measure Your Knowledge of Black History
How well do you know black people and their extraordinary culture? It's to figure that out with our fun and enlightening quiz. With the following questions, you can figure out how close you are to this culture and how much you know about its history.
No Stereotypes and Insensitive Questions
Unfortunately, other online quizzes disrespect black people by asking stereotypical and marginalized questions. But that's not how we do it at QuizExpo! Our "How Black Are You Quiz" emboldens the iconic features of African-American heritage with questions about black music, cuisine, art, fashion, and public figures.
Let This Trivia Reveal "How Black Are You"
Do you still ask yourself, "How black am I?" Good. Our quiz exposes your cultural values, historical knowledge, and societal experiences to determine how black you are. Measure your awareness of the precious way of life of black people and see how strong your bond is with them.
Disclaimer
We would like to invite you to take part in the "How Black Are You Quiz," a test that aims to celebrate African-American heritage in an entertaining and educational way. We want to assure you that this quiz has no intention of disrespecting any race or discriminating against any particular group of people with stereotypical or marginalized questions. However, if you find any of the questions or results inappropriate or disrespectful, please do not hesitate to contact us. We value your feedback and will do our best to address any concerns you may have.
How to Play?
Playing personality quizzes is straightforward: Choose the option that's true about you—or you relate to—and select "Next." Unlike trivia quizzes, personality tests have no right or wrong answers. But the questions are in forced-choice format. The point is to push you to choose an option that makes the most sense, not the one that's 100% true. For the most accurate results, don't overthink your responses. Go with options that you "feel" are the best.
Questions of the quiz
1

Which statement better describes the Harlem Hellfighters?

A jazz band from Harlem

A group of African American soldiers in WWI

The 369th Infantry Regiment

2

How would you describe Kwanzaa?

A three-day holiday celebrated in Asia

A one-day holiday to celebrate African-American heritage

Kwanzaa is a seven-day celebration of African-American heritage

3

Who won the first Olympic gold medal for black people?

I do not know

Jesse Owen

George Poage

4

What Is Gumbo?

I do not know what Gumbo is

Gumbo is a rice dish from Louisiana

A stew-like dish with vegetables, meat, or seafood, and a roux

5

What is jollof rice?

I do not know what jollofrice is

Jollof rice is a popular East African dish

Jollof rice is a one-pot rice dish popular in West Africa

6

Name the black chef that invented potato chips.

Edna Lewis

James Hemings

George Crum

7

What is dashiki?

A black and white dress

A type of shirt that originated in East Africa

A colorful garment originated in West Africa

8

What was the "Black Dandy" movement about?

A civil rights movement

An art movement

A fashion movement

9

Who designed the iconic "wrap dress?"

Zelda Wynn Valdes

Paul Revere Williams

Diane von Furstenberg

10

What is the "Motown sound?"

A subgenre of jazz music

A type of gospel music

A style of soul music

11

Which black singer is known as the "King of Pop?"

Otis Ray Redding Jr.

Prince

Michael Jackson

12

Which city is known as the capital of Hip Hop music?

Atlanta

Los Angeles

New York City

13

Which one is a prominent feature of AAVE, African-American Vernacular English?

Saying nah instead of no

The word "y'all" as in "You all"

Double negatives, such as "I ain't got none"

14

Who was Zora Neale Hurston?

A fashion designer

A civil rights activist

An African-American writer and anthropologist

15

What is the "Harlem Shake?"

A TikTok trend

A type of dance originating in New Orlean

A type of dance originating in New Orleans

16

Who is Alvin Ailey?

An actor

A professional basketball player

An African-American dance

17

What is stepping in African-American fraternities and sororities?

A type of martial arts

A type of live performance involving music and dance

A form of synchronized percussive dance

18

Who were the Freedom Riders?

A group of black activists who had a jazz band

A group of black activists bike riders

A group of civil rights activists who rode interstate buses

19

What was the significance of the Montgomery Bus Boycott?

A protest against the Vietnam War

A protest against racist laws in busses

A protest against segregation laws and policies

20

What does this sentence mean, "She BIN had dat han'-made dress?"

"She bought the dress from a store"

"She has had the handmade dress"

"She has had the handmade dress for a long time"