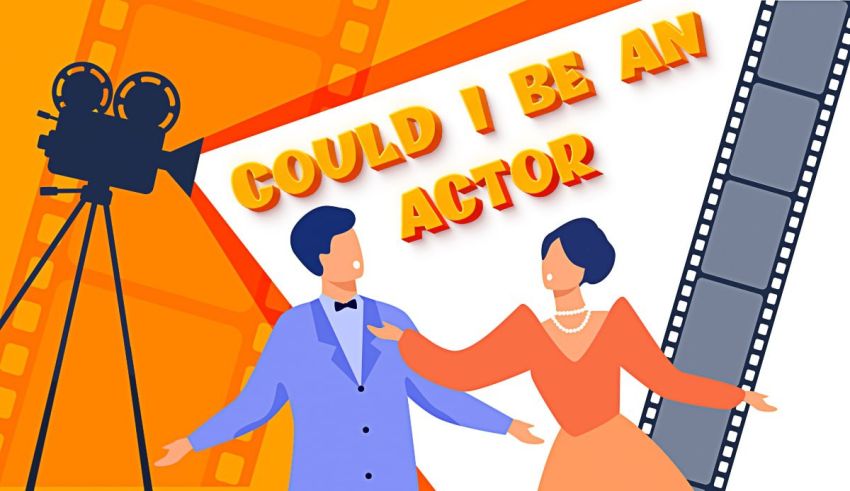 This quiz will help you find out if you could be an actor. It is a 100% honest test with 20 simple questions about your personality, lifestyle, and talents.
Is acting right for me?
Being an actor is a dream of many people, and why shouldn't it be? It involves a lot of money and fame. Of course, some people don't want to be an actor just for the money and they want to get into the business to be memorable actors.
But whatever you are trying to achieve, in this test, we are going to hit you with some questions, and after you answer all of them, you'll be able to answer the ultimate question, which is: "Could I be an actor?"
How hard is it to be an actor?
Nothing is gained in life without going through some challenges, and being an actor is no exception. Acting is considered to be a hard job, especially for the ones who try to get noticed for their method of acting and winning awards.
A lot of people would say that "I want to be an actor, but I'm scared". But that's a good thing. You should be scared; acting is a hard thing to do. But it doesn't mean that it's impossible. With hard work and enough study, and a little bit of talent, you could be an accomplished actor.
Where and How Could I Start?
You should know that it's not going to be a piece of cake, and there is so much to do before you get your first gig as an actor. First of all, you should have a passion for it and enjoy the performance. Start performing for yourself or others to realize if you enjoy doing this for the rest of your life and for living.
Then, it's study time. You have to read a lot of books, watch a lot of movies and go through experts' opinions and lessons about acting. Each time you learn something new, you should put that knowledge into your performance.
Actors Personality
Some of the things that make your career as an actor depend on yourself and your inner character. You should be a little different on the personality level from other people. Like when you are trying to watch a movie, you should be able to connect with the protagonist more than other people. You should be fun to watch, and people should enjoy your company that's one of the basic steps that tell you if you're ready to start your career as an actor or not.
You should always try to connect with your deeper level and find out who you really are. Learning about yourself helps you to connect with the characters you are going to play and makes you good at it.
Acting is full of life, and everybody thinks that they could dive into it just because they can be rich. Hollywood and top star actors may be rich, but that doesn't mean that everybody can come to the top as the superstars did.
Take the test to find out if acting is for you.
A lot of people want to know How to be an actress or ask themselves that "Should I be a model or actress?" But in the end, nobody tries to do the hard job and doesn't have a real passion for it. You can check our modeling ability test to find out if modeling is right for you. If you are ready, we gather some questions for you to answer, and after doing the Acting test online, we are going to give you a result that you'll be able to know if you are ready to be an actor or not.
This test is just a start for people who are doubting if they have what it takes to be an actor. So read the questions with proper care and answer them how you feel is the right one. There is no specific correct answer to these questions.
Are you ready? Good Luck and have fun.
How to Play?
Playing personality quizzes is straightforward: Choose the option that's true about you—or you relate to—and select "Next." Unlike trivia quizzes, personality tests have no right or wrong answers. But the questions are in forced-choice format. The point is to push you to choose an option that makes the most sense, not the one that's 100% true. For the most accurate results, don't overthink your responses. Go with options that you "feel" are the best.
Questions of the quiz
1

How do you feel about waking up very early every day?

I already get up very early

Everyday? Somedays i could but not every day!

I prefer to sleep more

I could never wake up early

2

What type of a person are you at the parties?

I usually am quite

I dance and chat with everybody

I just drink a lot and go home

I don't go to parties

3

What would you do in an argument with your girl/boyfriend?

I tell lies to get out of it

I try to make her/him calm

I always express my feelings and don't hold anything back

I always take the blame

4

Karaoke Night! What do you do?

I sit down and enjoy the performance of my friends

I Grab the mic and sing loudly

Karaoke? No thank you!

I try to impress everyone with my singing

5

You're on a trip, but you prefer:

Never left the home

Enjoy the road

Get to the destination ASAP

Took the plane to arrive faster

6

When your favorite music comes up, what do you do?

Try to enjoy listening to it

I don't feel anything. I heard it 100 times.

I sing along and feel the rhythm

I don't have a favorite song!

7

In the COVID Lockdown, you spend most of your time:

Learning a new skill

Reading books and watching movies

Sleeping

Fantasizing about post-lockdown

8

How do you describe a good movie?

Just anything that entertains me

A movie that helps me pass the time

A movie that makes me laugh

A movie to make me thinking in the end

9

How do you feel about talking in a conference in room full of people?

I prefer smaller crowds

A room full of people? That's a nightmare!

I don't think I have problem with it

I prefer not, I'm a little awkward at social gatherings

10

Do you have any issues with your body?

Not at all

I'm very insecure about how I look

I have my mental toughness with how i look but i don't show them

I think I don't look good

11

Which one is more horrific for you?

Being Alone

Being Poor

9-5 Routine

Risking

12

you got your first gig for playing a 1-minute role with 3 lines. What would you do?

1 Minute? 3 Lines? Are you kidding me?

I want bigger role

No worries. It's a good start

It's a little sad but a little step is still a step

13

As your first gig, you are going to be in a Leo DiCaprio movie. What would you do?

I'll celebrate the whole year!

I would be panicking a little

I try my hardest to impress him

So what? I will be better than him anyways

14

If you ever cast to play an ugly person or unattractive guy, will you agree?

Of course not

It would be challenging for me

I don't really care

Am i ugly?

15

If you like a movie, will you watch it multiple times?

Yes

No, but I don't mind

Like 2 or 3 times not more than that

I Already know what is going to happen!!!

16

You always express your feelings like:

I'm all over the place

I don't like doing that

I do it very rarely

I like to talk about it

17

Do you exercise?

I don't have the feeling for it

I do it regularly

No often, but I do it sometimes

Never done it but I'm open to it

18

When you're sad, you:

Cry my eye out

I sleep. It'll help

I eat a lot

Making myself busy to forget about it

19

If you wouldn't be interested in acting, what other things would interest you?

Basketball

Singing

Starting a Company

Marketing

20

What is the best thing about being an actor?

Being Rich

Being Famous

Experiencing new things

Running away from routine life