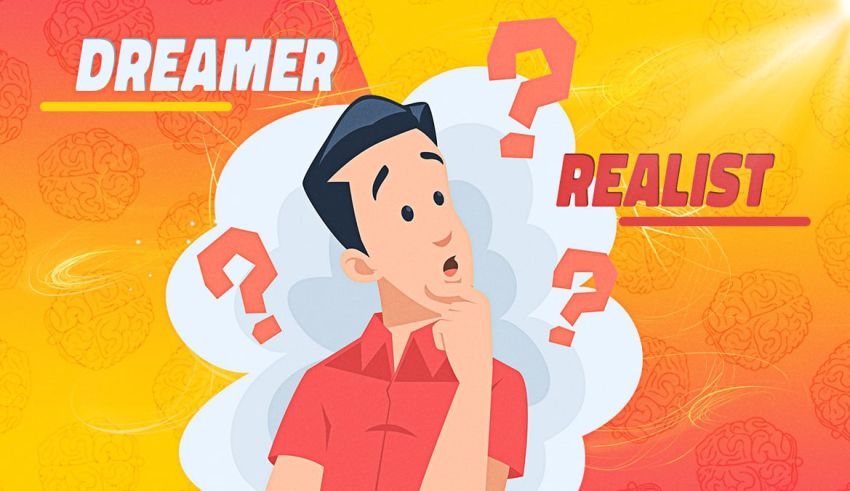 This personality quiz will reveal if you are a dreamer or a realist. Just answer 20 simple questions to find out your realism vs. imagination personality.
Are You A Dreamer or a Realist?
You are a dreamer if you have a positive outlook on life, are good at generating creative ideas, and spend a lot of time daydreaming about the future. But if you value logic and rationality and have a pragmatic view of life, you are a realist.
The primary traits of a dreamer are creativity, curiosity, optimism, and idealism. For a realist, the iconic traits are rationality, objectivity, level-headedness, and analytical views.
Signs You Are a Dreamer
Generally, you are a dreamer if you can relate to more than four of these behaviors:
Passion is your priority.
You think out of the box.
You think the future is bright.
You're connected with your inner world.
You value spirituality.
Time management is difficult for you.
You thrive in creative jobs.
You have ambitious goals.
Signs You Are a Realist
If you can relate to four or more of these signs, you're a realist:
Practicality is your priority.
You think analytically.
You may seem pessimistic.
You feel connected to the reality of the world.
You value rationality and logic.
Time management is easy for you.
You thrive in practical and expertise-requiring jobs.
You have clear and achievable goals.
Is It Bad to Be a Dreamer?
There is nothing wrong with being a dreamer. In fact, dreamers benefit from their bird-eye views, creative solutions, and optimistic predictions. Being a dreamer can become toxic only if you lose touch with reality and develop daydreaming or derealization disorders.
Is Being a Realist an Advantage?
One of the advantages of being a realist is basing decisions on facts and data rather than emotions. This helps realists play it safe—especially when it comes to business. But realism is not necessarily a superior concept to dreaming. In fact, becoming too realistic might be toxic, as it blocks the perception of non-tangible aspects of life. As David Ben-Gurion once said, "Anyone who doesn't believe in miracles is not a realist."
Realist Vs. Dreamer
Dreamers and realists are often seen as opposites, but this is a misconception. Dreamers can be great thinkers while still having visionary ideas, and realists can maintain their dreams while staying grounded in reality. Neither trait is superior.
It is not the difference between being a thinker or a feeler. While it's true that dreamers may have higher emotional intelligence, it's not fair to say they lack rationality. And while realists have analytical brains, you can't assume they don't read emotional cues.
Find Out If You're a Dreamer or a Realist with a Quiz
Do you still ask yourself, "Am I a dreamer or a realist?" If yes, answer the following questions and get an accurate analysis in minutes.
We have created an engaging test that reveals if you have dreamer or realist tendencies based on your traits, ideologies, and decision-making process.
The cool thing about our Realist Vs. Dreamer Quiz is that it offers a list of songs that you might like based on your personality.
Let's see if you have a dream or if you're grounded.
How to Play?
Playing personality quizzes is straightforward: Choose the option that's true about you—or you relate to—and select "Next." Unlike trivia quizzes, personality tests have no right or wrong answers. But the questions are in forced-choice format. The point is to push you to choose an option that makes the most sense, not the one that's 100% true. For the most accurate results, don't overthink your responses. Go with options that you "feel" are the best.
How many questions does this quiz have?
20 questions
How long does it take to complete this quiz?
4 minutes
Questions of the quiz
Question 1

Which one usually influences your decisions?

Intuition and emotions

Facts and data

Question 2

What type of strategy do you often employ?

Question 3

Do you usually prepare for the worst-case scenario?

No, I focus on positive outcomes

Yes, I'm ready for possible challenges

Question 4

Are you good at managing others or working solo?

I'd say I'm better at solo projects

I think I'm good at managing others

Question 5

Which one is likelier to result in success?

Pursuing your passions

Hard work and consistency

Question 6

Which one is similar to your train of thought?

I have a complex and unpredictable train of thought

I have a rational and analytical train of thought

Question 7

How do you see the future of humanity?

Question 8

Which topic is likely to engage you?

Arts, spirituality, or psychology

Mathematics, philosophy, or science

Question 9

Is "Follow your dreams" a good piece of advice?

Yes, it's an excellent piece of advice

No, it's not the ideal path for everyone

Question 10

Are you okay with taking risks?

Yes, I'd say I'm a risk-taker

Not really. It depends on many factors

Question 11

Choose the quote that you relate to

"The future belongs to those who believe in the beauty of their dreams." - Eleanor Roosevelt

"It does not do to dwell on dreams and forget to live." - J.K. Rowling

Question 12

Passion or financial security? Which one would you prioritize?

Passion

Financial security

Question 13

What's your take on new experiences?

I love them

I can't say I love them

Question 14

Which one inspires you more?

Inner thoughts, imaginations, and ideas

Success stories, data, and results

Question 15

Are you good at time management?

Not really

Yes, I'm good at it

Question 16

What makes humans unique? Soul or mind?

Question 17

Which one better describes your goals?

I have ambitious goals

I have clear and achievable goals

Question 18

Would you rather watch a fantasy movie or read a self-development book?

Fantasy movie

Self-development book

Question 19

Are you caught up in the present or the future?

The future. I often dream about what might happen

The present. I'm concerned with current tasks and goals

Question 20

Final question: Which one's true about your emotional state?

My emotions are rather unpredictable

I'm emotionally stable