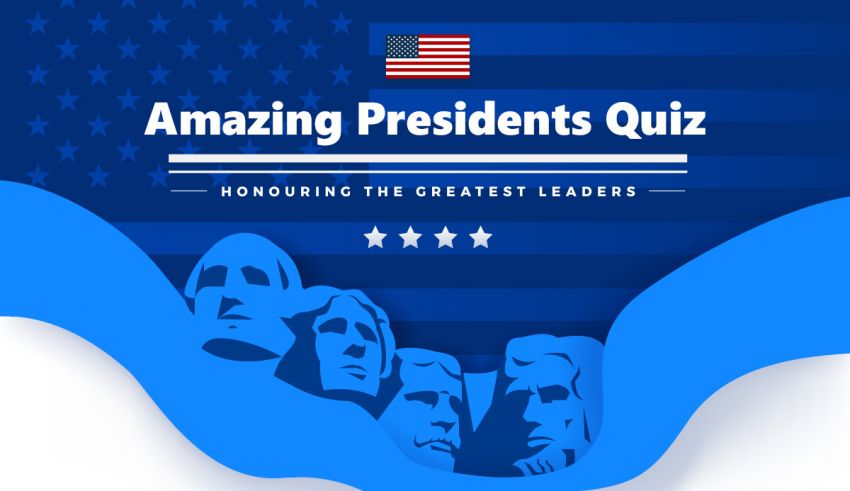 This US presidents quiz will change your view on the previous POTUS. Answer 20 trivia questions about the USA leaders, test your knowledge, learn fun facts, and get a score to show off.
What Is a Funny US Presidents Quiz?
US presidents quiz is a set of 20 questions about the previous leaders of the united states. It's based on funny details, statistics, and stories about each candidate's presidency. The goal is to reveal the bizarre, underrated, and exciting facts about the Oval Office heads in the past 232 years.
3 Reasons Why You Should Take It
Learn Fun Facts
Each question comes with a fun fact about a particular president.
Assess Your Knowledge
How much do you know about the history of US presidents? Taking this test can expose that. Those who score 90-100 on this test are the real gurus of America's presidential past.
Laugh It Off
The funny US presidents quiz makes you go LOL – even about some sensitive topics. It's a good way to laugh the politics off. And it's an excellent tool to learn how ridiculous policy and politicians could get.
It's a Kids-Friendly Presidents Quiz
The questions of the USA presidents quiz are kids-friendly. That means there is no age limit to take it. The facts are intended to be beneficial to people of all ages.
Of course, it might be difficult for kids to answer all the questions correctly. However, that's not an issue as the test is interactive. The correct answers pop up right after choosing an option. So, kids will have the chance to learn about the subjects while proceeding with the process.
Things to Know Before Taking the Funny USA Presidential Quiz
1. There's no time limit.
Many other presidents' quizzes on the web have time limits. That's why kids and beginners find them hard. QuizExpo's US presidency quiz does not contain any time restrictions. You have enough time to read the questions, think about the options, and select the correct answer.
2. You can check out the questions in advance.
Most other quizzes are mysterious. You don't get to see what's going on before "clicking a button." At QuizExpo, we don't like to waste your time. So, if you scroll down on this page, you'll see a list of all the quiz questions. If you don't find them attractive, there's no need to take them. That's our policy here—no ambiguity.
3. You learn the correct answer immediately.
Our funny US presidents quiz is kids- and beginners-friendly. That's why the correct answers pop up after selecting an option. The goal is to learn something new—rather than challenging your history class information.
4. You get a score after finishing the quiz.
There's a scoring system for those who like challenges. You get a grade (on a scale of 0-100) right after finishing the US President quiz. The higher you score, the more knowledgeable you are about the united states presidential past. Scoring 100 on this test is quite rare. So, you have all the right to show off such achievement.
US Presidents Quiz FAQ
– Can I share the results?
Yes, you can share the American presidents' quiz results after taking the quiz.
– How does the scoring system work?
Each question has a specific value, depending on how complicated it is. So, the QuizExpo algorithm calculates the final score according to your performance. Those who answer more challenging questions get higher scores.
– What type of questions do I need to answer?
You're taking a funny US presidents quiz. That means the questions are typically based on fun facts. You may know who was the first president of the USA. But do you know which president never got married? Who is known as the hottest president in America's history? And who is the poorest president yet? These are the type of questions you are going to face.
– Is it a president in order quiz?
No, it's not. The quiz is not designed in any particular order.
– Can I retake the funny us presidents quiz?
Yes, retaking the US president's quiz is possible. All you need to do is to get back to this page and press the "Take the Quiz" button on top.
– Are my results private?
Yes, all the results are privately shown to you. QuizExpo doesn't collect any data regarding your performance/responses. You have the right to share the results with others publicly.
Done with the US Presidents Quiz? Here's What to Do Next
QuizExpo is home to thousands of fun quizzes. However, history geeks love its US History Quiz. It's a set of questions about creating the original 13 colonies, forming cities, the flags, the statues, and more.
However, that's not the only test people like you love. Below is a list of quizzes that you might find interesting:
How to Play?
A trivia quiz comes with right and wrong answers. You receive one point for each correct response—but no negatives for the incorrect ones. Take your time and read the questions carefully because some might be trick questions. Choose an option and lock it in by tapping "Next." Lucky for you, the trivia quizzes have instant results. You see if your response was correct immediately. (Green is good, red is bad.) Even better, you can learn more about the topics with the "answer reveals," the fun-fact snippets that appear after each question.
Questions of the quiz
1

Who was the richest USA president before Donald Trump?

Ronald Reagan

Rutherford B. Hayes

Gorge Washington

Grover Cleveland

2

Which of the following presidents has a flower named after him?

Thomas Jefferson

Abraham Lincoln

James Monroe

Martin Van Buren

3

Who was the first US-born President?

Abraham Lincoln

Thomas Van Buren

Andrew Jackson

John Tyler

4

The shortest presidency in the history of USA only lasted for__________ month(s).

3 months

1 month

16 months

24 months

5

Which US president had the most kids?

Millard Fillmore

James Buchanan

John Quincy Addams

John Tayler

6

Who was the most notorious heavy smoker among the US presidents?

Ulysses S. Grant

Zachary Taylor

Rutherford B. Hayes

Calvin Coolidge

7

Who gave the White House its name?

Gorge Washington

Abraham Lincoln

Theodor Roosevelt

Franklin D. Roosevelt

8

"All the presidents of the united states have college degrees." Is this statement true?

9

Which US president gained so much money by playing poker that he financed his presidential campaign?

Richard Nixon

Herbert Hoover

Gerald Ford

Ronald Reagan

10

Which of the following statements is NOT true about Ronald Reagan?

A monkey almost choked him

He was a stand-up comedian

He was a professional actor

He was the 41st president of the USA

11

Who is the most GANGSTA president?

Abraham Lincoln

Zachary Taylor

Andrew Jackson

12

Who is believed to be the hottest 🔥 president of the united states?

Barak Obama

James Monroe

Gerald Ford

Franklin Pierce

13

Which one is a law that all presidents should obey?

No solo driving

Having a library named after you

Having your mailbox checked by the professional agents

All of them

14

Who was the last bearded USA president?

Benjamin Harrison

William Howard Taft

James A. Garfield

Ulysses S. Grant

15

Which president was also a bookworm?

Woodrow Wilson

Calvin Coolidge

Dwight D. Eisenhower

John F. Kennedy

16

Who was the poorest president?

James K. Polk

Dwight D. Eisenhower

Harry S. Truman

James Madison

17

Which one is the most hated president in US history?

Donald Trump

James Buchanan

18

Who is believed to be the least presidential president of the US?

Donald Trump

Richard Nixon

Bill Clinton

19

Which of the following presidents never went to school in his lifetime?

John Adams

Andrew Johnson

John Quincy Adams

Andrew Jackson

20

Who was the last US president to drive a car on his own?

Gorge H. W. Bush

Jimmy Carter

Barak Obama

Lyndon B. Johnson