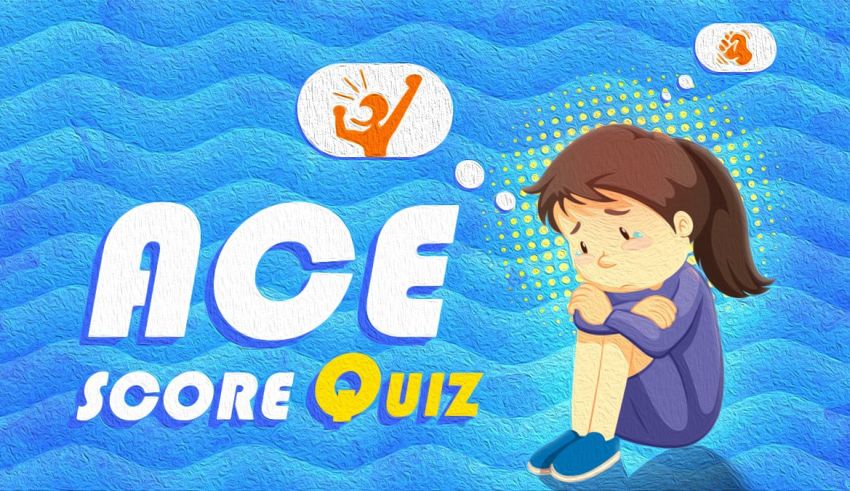 This ACE quiz reveals if you have had Adverse Childhood Experiences. Have you been abused, neglected, and traumatized?
What Is the ACE Study Quiz?
The original ACE Quiz is an abuse & trauma identifier. It's a 10-entry questionnaire determining whether the participant has had Adverse Childhood Experiences. Kaiser Permanente first introduced the test as a part of their ongoing investigations of childhood abuse and neglect and household challenges.
What Study Is the ACE Quiz Based on?
A 2-year study by Kaiser Permanente inspires the ACE Quiz. In 1995, the care consortium conducted a trauma study on 17,000 individuals, focusing on the effect of Adverse Childhood Experiences on mental and physical health. That study's results shape the current online abuse test on this page.
What Are the 10 Primary ACEs?
Psychologically, Adverse Childhood Experiences are categorized into three groups: Abuse, Neglect, and Household Dysfunction. And there are ten traumatic experiences under these categories: sexual, physical, or emotional abuse; emotional or physical neglect; mental disorders; absent relatives; domestic violence; addiction; and divorce.
| | |
| --- | --- |
| Adverse Childhood Experience | Commonness |
| Physical Abuse | 28.3% |
| Addiction | 26.9% |
| Divorce | 23.3% |
| Sexual Abuse | 20.7% |
| Mental Illness | 19.4% |
| Emotional Neglect | 14.8% |
| Domestic Violence | 12.7% |
| Emotional Abuse | 10.6% |
| Physical Neglect | 9.9% |
| Incarcerated Relative | 4.7% |
How Should You Interpret the ACE Test Score?
In the original ACE Test, the participants were given a score of 0 to 10 with a basic interpretation: The higher the score, the more ACEs you've had. The current online test, however, is a full version that calculates the results for you; it delivers a comprehensive analysis explaining what type of ACE you've had and how it's affected your life.
How to Know If You've Had Adverse Childhood Experiences?
Based on the ACE Pyramid, you can tell if someone has had Adverse Childhood Experiences if they show signs of social, emotional, and cognitive impairment, they have adopted risky behaviors, and they struggle with physical or mental health issues.
Signs You Have ACE:
Social anxiety.
Risky sexual behaviors.
Fight-or-flight mindset.
Severe anxiety or depression.
Smoking, drinking, drug abuse.
Early adulthood health problems like diabetes.
Take This ACE Study Quiz for an Accurate Analysis
Inspired by the Kaiser Permanente study, the Adverse Childhood Experience Quiz exposes your trauma and abuse memories with relatable—and considerate—questions. Start the test to see if you've been abused, hurt, or neglected by your parents.
Disclaimer
QuizExpo is not associated with any of the names/organizations mentioned in the ACE Quiz Study.
How to Play?
Playing personality quizzes is straightforward: Choose the option that's true about you—or you relate to—and select "Next." Unlike trivia quizzes, personality tests have no right or wrong answers. But the questions are in forced-choice format. The point is to push you to choose an option that makes the most sense, not the one that's 100% true. For the most accurate results, don't overthink your responses. Go with options that you "feel" are the best.
Questions of the quiz
1

Which one better describes the way your parents talked to you?

They rarely talked to me

They often humiliated me

They often yell at me

They treated me with love.

2

What was your parents' reaction when you cried?

They ignored me

They forced me to stop

They mocked me

They hugged me or talked to me about it

3

Did you have to hide your needs or avoid asking for things?

Yes, because nobody cared

Yes, because they mocked my needs

Yes, because we had no money

No, I could voice my needs

4

Were both your parents present in your life?

They were there, but they didn't care

I lived with a stepmother/stepfather or a caretakes

No, one or both of my parents were gone

Yes, my parents were together

5

What kind of punishments were you given as a kid?

They just ignored me for a while.

They yelled at me or hit me

They locked me in my room or things like that

Things like TV or video game ban for a while

6

Have you adopted any unhealthy habits?

I think I have risky sexual habits

I drink or smoke

I am addicted

No, I don't think so

7

How do you react when a loved one irritates you?

I stop talking to them

I yell at them or say mean things

I feel like I want to hit them

I often talk to them about my feelings

8

How would you describe your current lifestyle?

Messy

OCD-driven

Risky

Organized (healthy)

9

Which one sounds like a traumatic event you've witnessed?

Dad/Mom leaving us

Dad hitting mom

Mom/Dad abusing drugs

None of them

10

How do you feel about romantic relationships?

I think I'm unlovable

I'm scared of romance

I don't believe in love

I am in (or would like to start) a healthy romantic relationship

11

What kind of student were you at school?

Silent and ignored

Nervous and bullied

Troublemaker and naughty

Calm and friendly

12

Would you say you had a healthy diet as a kid?

No, I grow up eating junk food

No, I often ate leftovers

No, we're too poor to get good food

Yes, I believe my diet was healthy

13

Pick the unpleasant experience that you've had before.

Staying in a toxic relationship for too long

Being physically or sexually abused by a relative

Abusing drugs at a young age

None of the above

14

Which word describes your feeling as a child?

15

Final question: How is your career and work life like?

I'm not happy with my job

I'm struggling to find a job

I am unemployed

I like my job