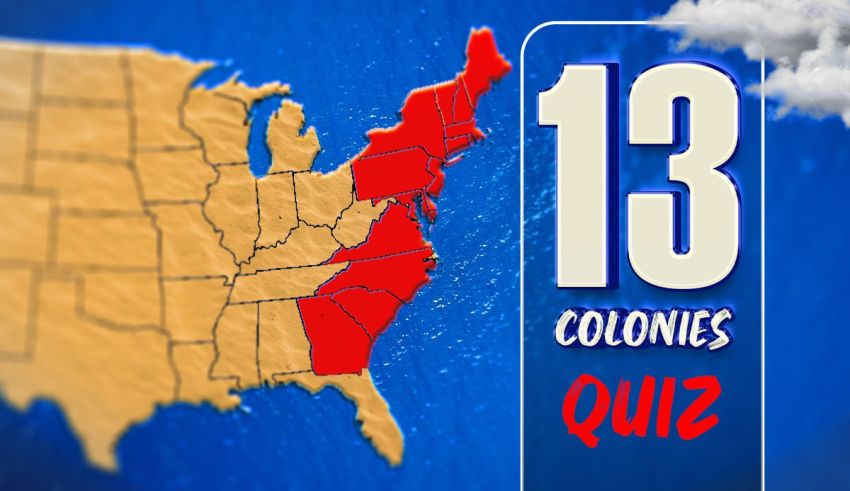 This 13 Colonies Quiz assesses your US history knowledge with 20 trivia questions. How well do you know the colonial history of the United States?
The goal of the 13 Colonies Quiz is to see how much you know about the history of the colonial US. It asks you 20 tricky questions revolving around historical events and figures, teaching you fun facts after wrong answers and encouraging you after the correct ones.
Here's what you get:
A score for your colonial history knowledge.
Lesser-known facts about the formation of the 13 colonies.
Kid-friendly questions.
Instant answer reveals (so you don't have to wait to see the correct options).
For those unfamiliar, the 13 colonies were the initial colonized parts of the US—back in the early 1600s. These settlements are considered the founding counties of what is known today as the United States of America.
Starting with Virginia, the other settled regions were New Hampshire, Massachusetts Bay, New York, Rhode Island, Connecticut, New Jersey, Delaware, Maryland, North Carolina, South Carolina, Georgia, and Pennsylvania.
But hey, the story of US colonies, the Revolutionary War, and the Declaration of Independence has way more twists.
Take the colonial era quiz on this page to see how nerdy of a history enthusiast you are. The test also reveals how big of an American patriot you are—because who can call themselves a flag-waver without knowing their country's past?
How to Play?
A trivia quiz comes with right and wrong answers. You receive one point for each correct response—but no negatives for the incorrect ones. Take your time and read the questions carefully because some might be trick questions. Choose an option and lock it in by tapping "Next." Lucky for you, the trivia quizzes have instant results. You see if your response was correct immediately. (Green is good, red is bad.) Even better, you can learn more about the topics with the "answer reveals," the fun-fact snippets that appear after each question.
Questions of the quiz
1

Which Colony was established first?

Georgia

New Hampshire

Virginia

None of them

2

Which one was the last?

Rhode Island

Pennsylvania

Georgia

None of them

3

Which Colonial region excelled in fishing and exporting fur?

New England

Middle Colonies

Southern Colonies

4

Which one was known for its cash crops?

New England

Middle Colonies

Southern Colonies

5

Which Colony was supposed to be a Catholic's heaven?

Maryland

Massachusetts

New York

New Hampshire

6

Which Colony started the American iron industry?

Massachusetts

North Carolina

Connecticut

Delaware

7

Which Colony was also known as New Caesarea?

New Hampshire

New York

New Jersey

Massachusetts

8

What was Virginia's most profitable crop?

9

Why was New York banned from trading hats with Britain?

It was a punishment for their disobedience

Their hats were too popular

The hats were of low-quality

10

Which one was one of South Carolina's most important products?

11

When was the state of Delaware created?

12

When did the American Revolutionary War happen?

13

How long was the American Revolutionary War?

5 years

6 years

7 years

8 years

12 years

14

When did the Boston Massacre occur?

15

When was the Declaration of Independence issues?

16

Who is believed to have designed the 13-star Colonial flag?

Christopher Gadsden

Betsy Ross

17

When was the Mayflower Compact signed?

18

Which Colonial figure believed in the separation of religion and government?

John Smith

Roger Williams

William Penn

Thomas Jefferson

19

Where is the Liberty Bell now?

Pennsylvania

New York

Philadelphia

Baltimore

20

Which New England Colony had the most enslaved Africans?

Massachusetts Bay

Rhode Island

Connecticut

New Hampshire