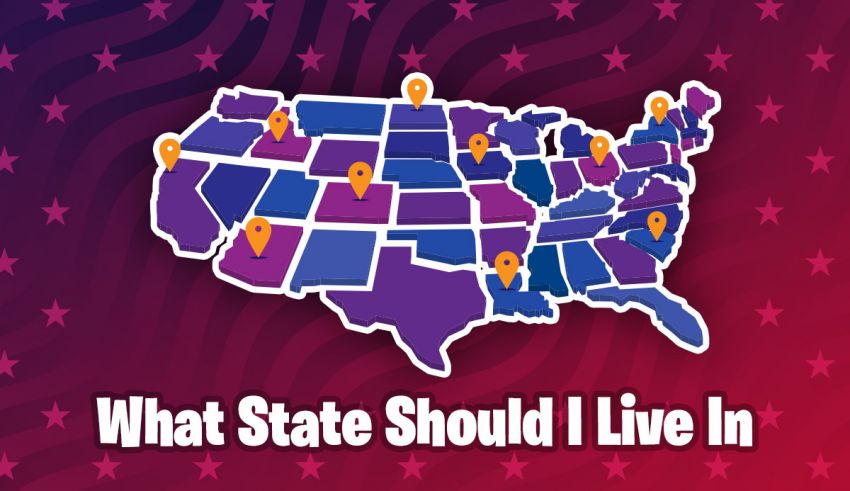 This quiz helps you find an answer to questions like "what state should I live in?". This test gives you an idea of your priorities and what your dream town would look like.
What State Should I Live in if…?
You face many "ifs" when choosing a city to move to. "What if I'm not graduated," "what if I had to pay more taxes," "what if people had a different accent," etc. So, here's a guide to answering some of these questions.
What If I Don't Like Populated Cities?
Wyoming is one of the smallest states. It currently has less than 570,000 residents. But due to its growth rate, more people are moving to Wyoming. According to US News, almost 6% of its population is not local. Wyoming is nearby Idaho and Montana, two other popular places for in-migration.
What If I Want to Pay the Least Taxes?
If you don't want to pay taxes, move to Wyoming, Washington, Texas, South Dakota, Nevada, Florida, or Alaska. These are the only states in the US that offer tax-free income. However, Alaska is an excellent choice as it doesn't require sales tax as well.
What If I'm Looking for a Job?
Massachusetts and New York are the best states to live in if you're a job seeker. Both places hold the lowest unemployment rates," says the US News. NY is also home to some of the largest companies in the nation. So, the chances of getting a high-end job are higher for New Yorkers. Massachusetts, on the other hand, has more in-demand jobs.
What If Safety and Security Is My Priority?
According to US News, the safest places to live in are Maine, Vermont, and New Hampshire. These three territories have the least property and violent crime rates.
What If I'm a Student?
You should live in Washington or Florida if you're a student. The former has the best education system. The latter, however, the latter has the most petite average tuition.
What If I Like a Specific Weather Condition?
If you like cold weather, Alaska is an excellent place to move. However, Florida is a better option if you enjoy warm climates. Western North Carolina is a better choice if you want to experience all 4 seasons.
What If I Want to Live a Free Life?
New Hampshire is a proper state to live in for libertarians. NH endorsed the Free State Project back in 2003. The goal of the project was to bring in at least 20,000 libertarians. As of 2016, 20 thousand people have already signed the deal. And nearly 2,000 of them were planned to move in as early movers.
What If I'm Planning to Retire?
What state should I live in if I'm planning to retire soon? The answer is South Dakota. The cost of living in SD is below the US average. Plus, there's still a fair chance for residents over 65 to earn a reliable salary. Moreover, the average healthcare costs are lower than in other states. So, it's a first-rate place for retirees.
What If I Have Kids?
According to Jill Gonzales, a professional analyst, Massachusetts is the best place to have kids. The state has one of the lowest medical care costs. And it is currently on top of the list of the best places for labor in the US.
What If I Care About the LGBTQ+ Community?
According to USA Today, Nevada is the best state to live in the USA for LGBTQ+ families. Nevada "has nearly all laws suggested by the HRC for LGBTQ+ rights." And more than 5 percent of its residents are a part of the LGBTQ+ community. (That's more than 26 thousand people).
What If I'm an Artist?
What state should I live in if I want to sell my artworks? The answer is Nevada. Artists make more money in Nevada than in any other state. According to Zippia, the average salary of an artist is nearly $65K in Nevada. That's above the US salary average for an artist.
What States Are the Most Popular for in-Migration?
1. Colorado
More than 200,000 Americans have moved to Colorado in recent years.
2. Nevada
According to US News, California residents migrate to Nevada the most. By 2018, more than 45,000 Californians had moved to Nevada. However, the in-migration has left the state with 130,000+ new residents.
3. Idaho
Idaho was home to more than 18 thousand new citizens only in one year (2018). Idaho is also one of the top places to find a new job. So, more in-migrations are due to the more job opportunities of the state.
Some Statistics That Might Interest You
More US citizens are moving to Florida.
People prefer Southern states over others
Most in-migration happened in LA County back in 2019
More than 600,000 Californians moved out in 2019
Texas is the second-highest when it comes to our movers 400,000+ people left TX last year
Note: the abovementioned statistics are according to a study by the US Census Bureau.
Can a US State Quiz Tell Me Where I Should Live?
A US state quiz might not be able to answer a question like "where should I move?" However, it could suggest the best states to live in the Us – based on your answers. The QuizExpo quiz, for instance, tells you where to live or move regarding your personality.
Questions: There are 20 questions to reveal your personality.
Answers: You should choose the options that describe you and your desires better.
Results: The US state quiz will offer four different places to move in based on your personality.
Take the quiz to find the answer to "what state should I live in?" right now.
How to Play?
Playing personality quizzes is straightforward: Choose the option that's true about you—or you relate to—and select "Next." Unlike trivia quizzes, personality tests have no right or wrong answers. But the questions are in forced-choice format. The point is to push you to choose an option that makes the most sense, not the one that's 100% true. For the most accurate results, don't overthink your responses. Go with options that you "feel" are the best.
How many questions does this quiz have?
20 questions
How long does it take to complete this quiz?
6 minutes
Questions of the quiz
Question 1

Which one makes more sense?

Not paying tax when shopping

Paying tax only for your property

Not paying tax for your wealth

Not paying tax for your income

Question 2

How'd you like to spend your vacation?

Hiking and walking in the nature

Exploring the City

Sightseeing

Ordering a pizza and Netflixing

Question 3

What is your dream wardrobe like?

Full of jackets and warm clothes

Filled with T-shirts and shorts

A combination of all sorts of dresses

Mainly casual clothes

Question 4

Which option describes your dream nightlife?

I want to live in a city that never sleeps

I like places with calm and relaxing nights

I prefer partying wild the whole night

I'm not a night person, but I'd like to party once in a while

Question 5

What do you feel when you hear the word "BUSY?"

I get nervous/anxious

It sounds adventurous

I don't feel anything specific

I've been busy enough to feel numb

Question 6

It's 4 a.m. on a Saturday, and (for whatsoever reason) you're starving. What do you do?

I order some food. I don't care what time it is

I cook

I'll eat whatever is left in the fridge

I will sleep and forget about it

Question 7

You have only $100 left. And you need to wait for at least 15 days for the next paycheck. How'd you feel about it?

$100 sounds like a lot of money. I'd be okay.

I'd save it. I'd walk to work and reduce extra expenses.

I'd feel anxious and probably borrow some money from a friend.

I would rely on my friends and family for that particular month

Question 8

You got 4 different job offers from 4 different cities. Which one do you choose?

A high-salary job in a well-known company

An average-salary job withing walking distance to your home

A low-salary job with lots of leisure time

A high-salary job with a possibility of getting promoted

Question 9

You're planning to propose to your significant one. What is it going to be like?

I'll propose in nature

I prefer to propose in a fancy restaurant

I'd do it on the beach

The place doesn't matter. I'd make it ROMANTIC anyway.

Question 10

Which of the following pictures looks like your dream house?

Question 11

You have 3 days of paid time off. What do you do?

I go on a road trip

I'd go camping somewhere near the city

I will stay in my city and explore it

I would spend it with my family

Question 12

How do you describe yourself?

An adventurous person

A family person

A workaholic

Just someone seeking peace of mind

Question 13

Look at the following pictures. Which one makes you feel better?

Question 14

On a scale of 0-10, how much do you care about your career

1 to 3

4 to 6

7 to 9

IT's 10 out of 10

Question 15

Which word describes the inner you?

Freedom

Wildness

Development

Quietness

Question 16

What do you think about the US crime rate?

I think it's exaggerated

I think crime rates are only high in larger states

The US crime rate is unbelievably high. It's unsettling

I don't care about numbers. I know how to deal with criminals

Question 17

You're having a nightmare in which you're falling off an edge. What are you falling off?

A mountain

A skyscraper

A small rooftop

An airplane

Question 18

What do you think about the most?

Future

Past

Now

None of them

Question 19

You're getting a new tattoo. Which of the following symbols would you choose for that?

A snowflake

A raindrop

A river

A tree

Question 20

You're going to work. Which scenario sounds more pleasing?

You take public transportation

You wake up early and walk to work

You drive to work (not in a hurry)

It doesn't matter. You're okay with all of them