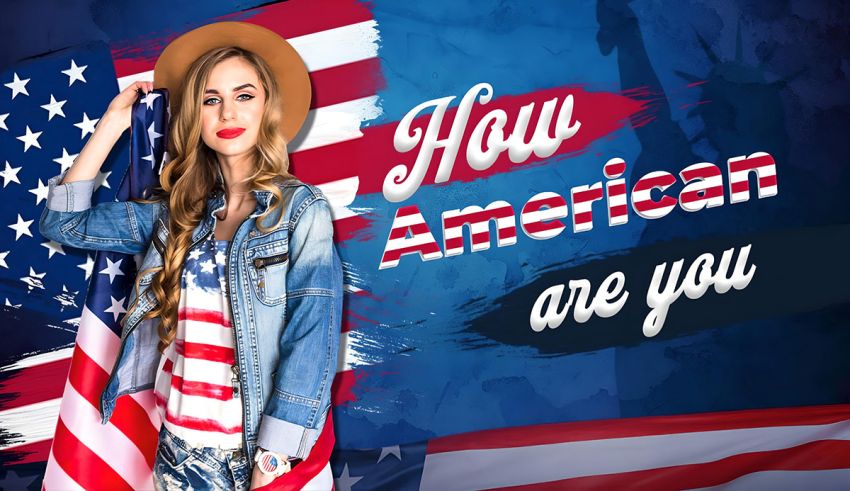 Have you ever wondered how American you are? This heritage, patriarchy, and culture quiz exposes your Americanness—with complete brutality.
How American Are You?
In short, you are as American as you feel. But to give the whole concept a quantifiable perspective, your Americanness is determined by your cultural knowledge, lifestyle choices, and overall belief systems.
Here's a self-test to measure your American patriarchy:
Do you feel a strong sense of pride and loyalty towards the United States?
Are you familiar with the history and founding principles of the United States?
Do you actively support and engage in civic activities, like voting or community volunteering?
Are you willing to defend the values and ideals of the United States, even during tough times?
If you answered three or more of these questions with "Yes," you're a true American.
What Makes You American?
Americans are known for their cultural diversity, entrepreneurial spirit, civic engagement, adaptability, optimism, and individualism. So, the more in touch you are with these concepts, the "bigger" of an American you might be.
Take This Test to Evaluate Your Americanness!
Do you still want to know how American you are? It's fine; we've got you. The American Patriarchy Test on this page measures the nationalism in you based on lighthearted and relatable measures. All you need to do is answer 15 fun questions that expose your American spirit.
By the way, if you like these types of tests, we also have a quiz called "How Black Are You?" that you might want to check out. (Don't let the name fool you, though. It's an African-American heritage and culture evaluation.)
Okay, now, hit the start button to find out how American you look.
Disclaimer
The American Heritage Quiz is designed to be an enjoyable and informative test with interesting outcomes. Its purpose is not to categorize or discriminate against individuals based on their ethnicity or culture in the United States. We kindly request that you take the results with a light-hearted approach, understanding that they are for entertainment purposes. If any of the questions or results have caused any discomfort, we apologize and encourage you to let us know so we can address your concerns.
How to Play?
Playing personality quizzes is straightforward: Choose the option that's true about you—or you relate to—and select "Next." Unlike trivia quizzes, personality tests have no right or wrong answers. But the questions are in forced-choice format. The point is to push you to choose an option that makes the most sense, not the one that's 100% true. For the most accurate results, don't overthink your responses. Go with options that you "feel" are the best.
Questions of the quiz
1

Okay, is it soccer or football?

It's football

They're both the same thing

It s definitely soccer

Only stupid ones don't know the difference

2

It's the fourth of July. What are you doing?

Nothing. I'm at home chilling

I want to go out and have fun with friends

I'm throwing a party at my backyard

I'm setting up fireworks and bringing beer packs

3

What's your Super Bowl plan?

I don't watch sports

IDK. I might watch it with friends

I'm gathering the family around to watch the match

I'm in that MF stadium watching it live, babe!

4

How do you start your day?

Just a quick breakfast, and I'm out

I've recently been starting it with coffee

I have to get my morning Starbucks

Bacon, eggs, and coffee, duh

5

Do you speak another language?

Yes, multiple of them!

Yes, my mother tongue and English (those two)

I know some Spanish words if that counts

Nah, English is all I got

6

How does the British accent sound to you?

Spectacular

Classy

Familiar

Funny

7

What's the biggest issue in America?

Gun violence?

Unemployment

Inflammation

We got no issues down here, babe

8

How many friends of yours are from other ethnicities or nationalities?

All of them

Most of them

A few of them

None of them

9

What's your go-to restaurant choice?

Sushi joint or a cozy Italian trattoria

A booth with a predictably delicious menu

A neighborhood sports bar

A local mom-and-pop diner

10

How would you describe a perfect burger?

Juicy patty, brioche buns, kimchi, guacamole, feta cheese

Beef patty, melted cheese, crisp lettuce, tomato, ketchup

Perfectly cooked patty, bacon, cheddar, onions, barbecue sauce, pickle

Grilled beef patty, seasoned, cheese, lettuce, tomato, onions, pickles, secret sauce

11

What kind of leader must be in the office?

Open-minded

Progressive

Liberal

Conservative

12

How many guns do you own?

None

I want to get one

Only one

I have a bunch

13

How often do you say Howdy?

Never

Rarely

Often

All the time

14

What's BBQ to you?

A fun party

A family gathering

A lifestyle

True nostalgia

15

What sports did you play as a kid?

Soccer (or no sports at all)

Football

Basketball

Baseball