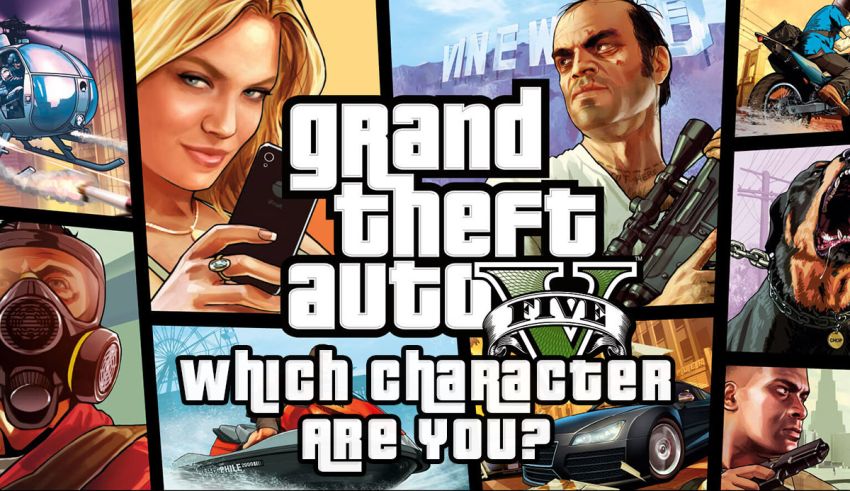 Hey, which GTA character are you? Take this 20-question gameplay and personality quiz to see if you are CJ, Trevor Philips, Niko Bellic, Tommy Vercetti, or else. Mind-blowingly precise.
The Most Hilariously Accurate GTA Quiz is Here
Okay, it's random to think about which Grand Theft Auto character you are—but it might happen. So, we created a fun, quirky quiz that matches you to one of the game's protagonists.
Honestly, the test is similar to our Mario Character Quiz. Instead, it's not kid-friendly, not at all. The questions are as unreasonable as the GTA's world itself. So, expect your brows to rise while responding to some.
Find out which character you are.
The premise of the GTA quiz is to find your perfect match among all the main characters. We have a database of the leading personalities in the game (including both good and bad ones). Your answers help us compare your person to our data, creating an accurately matching profile.
Meet your crush and best friend.
No other GTA Character Quiz tells you this. But we expose your in-game girlfriend/boyfriend as well as your bestie. Your personality helps us figure out what other characters would vibe with you. It's also possible that we don't find any friends or crushes for you. The results depend on how likable, social, and friendly you would be in the game's universe.
Receive a funny playstyle analogy.
The big question is, "Which GTA character are you?" And we know that. But here's a fun little extra thing to reveal about you: PLAYSTYLE.
What kind of Grand Theft Auto player are you? The one who's mistaken the game for Forza Horizon, one who has more weapons than the USA Army, or the kid who kills every pedestrian by punching them in the face while running? Well, those are questions our quiz answers pretty precisely.
Get a personality analysis.
Let's face it; you're actually taking a personality test. No matter how silly the questions are, they're designed to reveal your true self. So, by the end of the test, we know what kind of person you are, and we share our insights with you. It might not be a 100% perfect match compared to your GTA character. But we also explain why we think your persona is similar to a particular protagonist/antagonist in the game.
How to Know Which GTA Character You Are? (Without a Test)
Taking a personality questionnaire might not be your thing. And that's fine. There's another old-fashioned method to answer questions like, "Which GTA character am I?" You have to read the description of each protagonist individually to decide which one you resemble in real life.
It's neither an accurate technique nor a time-friendly one. So, we do recommend taking the quiz instead because it only takes a few minutes to finish.
#1. CJ
When asked, "Which GTA character are you?" most old-school fans would pick CJ. He's by far one of the most iconic personalities ever. Unlike other GTA protagonists, Carl Johnson is a chill, cool, and even remorseful guy. He doesn't seem to be as violent as others and gives his enemies a second chance no matter what.
Matching him in the Grand Theft Auto personality test means you're a nice and outgoing person. It's easy for people to trust you, and your loyalty is endless.
#2. Tommy Vercetti
Tommy is a classic. He made GTA characters even more popular by his style, behavior, and backstory. However, he's known to be a violent, short-tempered murderer. Tommy does have a soft spot for his loved ones and cares about them deeply. But that doesn't keep you from slaughtering enemies in cold blood.
If your GTA personality is Tommy, you are easily irritated. But you also do your best to keep your cool and don't flip out. Another detail about you is that you hate working for others. Having your own business and taking care of your own thing sounds like a life goal. And you do everything in your power to achieve it—just like the Harwood Butcher himself.
#3. Trevor Philips
Not many fans would say, "I'm Trevor," when asked which GTA character are you?" That's because he's a mentally unstable, freaky, drunken, psychopathic person. Being a former military pilot hasn't made him a disciplined and dutiful guy. Instead, he has turned into a living monster, ready to kill others for the least money possible.
If you saw this guy's name in your GTA quiz result, you better be consulting with a therapist. That's because Trevor is f-ed up. (But seriously, it's just a test. So, take the results lightly and no hard feelings, please).
#4. Niko Bellic
Everyone was fascinated when the 7th gen of consoles was out and GTA IV hit the stores. Niko was introduced as a war survivor with so much guilt to carry around. He is a protective character willing to risk his life to save his loved ones. But like many other Grand Theft Auto protagonists, he may go violent in certain situations—especially when his family is in danger.
If you took the test only to see Niko on your results, know that you're a self-conscious person. You do care about right and wrong in life. But the concept of good and bad confuses you.
| | |
| --- | --- |
| GTA Character | Age |
| Franklin Clinton | 25 |
| Michael de Santa | 48 |
| Amanda de Santa | 43 |
| Jimmy de Santa | 20 |
| Lamar Davis | 26 |
| Devin Weston | 51 |
What About Other Characters?
The GTA franchise has introduced some of the most memorable characters of all time. Think Franklin, Toni Cipriani, Lamar Davis, Lester, and Big Smoke. (The list can go on forever). However, you just read the description of four of them, and none could be your actual match. Take the GTA quiz instead to increase your chance of figuring out which character you are. The results won't disappoint you—we promise.
Disclaimer
QuizExpo does not own any of the images used in the GTA quiz. Rockstar Games owns all the said pictures.
Grand Theft Auto is an R-Rate game so is its character test on this page. So, user discretion is advised.
Questions of the quiz
Question 1

You spawn in the San Andreas map. What's the first thing you do?

Get a bike

Call a friend

Look for my family

Find a mission

Steal a car

Kill someone

Question 2

You're on a mission to rob a bank. Which one sounds like the type of plan you'd go with?

Non-violent and stealthy

Fast and furious

Cautious and slow

Smart and tactical

Loud and movie-like

Violent and remorseless

Question 3

What kind of person irritates you the most?

Irresponsible

Cheater

Careless

Stupid

Talkative

Everyone

Question 4

What do you like about Grand Theft Auto the most?

The stories

The characters

The gameplay

The missions

The weapons

Killing others

Question 5

What do you dislike about it?

Graphics

Gameplay

Stories

Characters

Cutscenes

Cops

Question 6

How do you feel when you kill an innocent NPC in a game?

I feel bad

It makes me laugh

I don't feel anything specific

I kind of like it

I LOVE the feeling

It EMPOWERS me

Question 7

A random question; how old are you?

18 or younger

19-20

21-24

25-28

29-34

35 or older

Question 8

Which one is your favorite GTA game?

GTA 1

GTA 2

GTA 3

Vice City

San Andreas

None of them

Question 9

If you had to choose between your best friend and one million dollars, which one would it be?

My best friend

That'd be a tough choice. I don't know

I want to pick my friend. But not sure

I want to pick the money. But I'm not sure

I'd pick the money. Are you kidding me?

I'd go the extra mile to kill a friend for that money.

Question 10

If you had to kill off one of these characters, which one would it be?

Trevor

Tommy

Lester

Niko

Lamar

CJ

Question 11

What kind of personality attracts you?

Kind

Funny

Cautious

Smart

Tough

Rude and chaotic

Question 12

Which one is the definition of an ideal girlfriend/boyfriend?

Caring and supportive

Funny and cool

Careful and smart

Shy and cute

Badass and harsh

Carefree and crazy

Question 13

What would you do if someone stole your car in the game? (Assuming you have all these options).

I'd call the cops on them

I'd call a friend and ask for help

I send some people to find them

I'd try to track them down

I'd make them regret it

I'd find and kill them right away

Question 14

Which one describes your driving style in GTA games?

Slow and controlled

Synced with the music on the radio

Fast but not chaotic

I don't drive

Fast and chaotic

I prefer planes

Question 15

How would you describe yourself in one word?

Considerate

Outgoing

Careful

Thoughtful

Irritable

Crazy

Question 16

Fill in the blank. My friends are ______________.

Lovely

Loyal

Reckless

Stupid

Cowards

Useless pieces of Sh**

Question 17

Which one is your priority in life?

Education

Career

Family

Money

Power

None of them

Question 18

What would you do if your best friend lied to you?

I'd forgive them

I'd test their loyalty

I'd cut ties with them

I'd never trust them again

I'd give them a lesson

I'd make them regret it

Question 19

Fill in the blank. My enemies deserve _____________.

Remorse

A second chance

A fast and easy death

A miserable life

A slow death

Torture and pain

Question 20

Final question; how challenging is it for you to make new friends?

It's fairly easy

It's not a big deal

It depends

It's impossible

I don't need friends

I hate making new friends