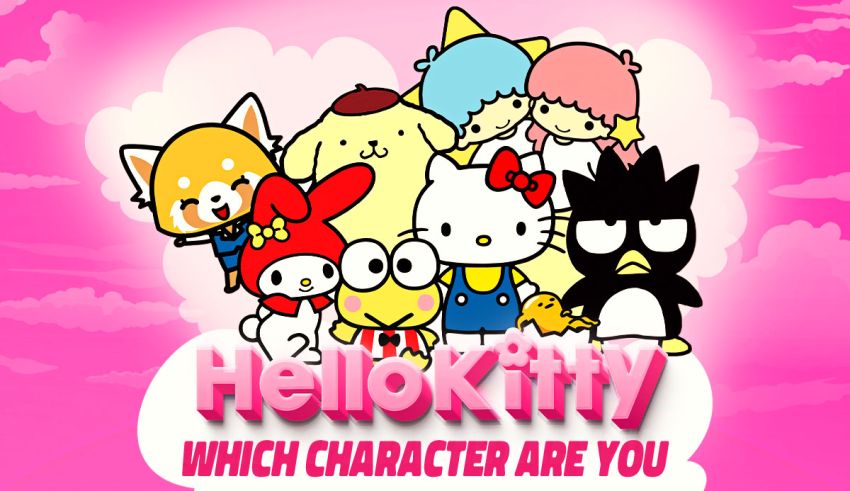 Do you want to know which Hello Kitty character you are? Take this Kawaii quiz to match your personality to Kitty, Badtz, Kuromi, Melody, or other characters.
Hello Kitty Quiz Explained.
It's a 20-question personality test to reveal which Hello Kitty character is similar to you.
Hello Kitty is a Japanese franchise that's part of the 80+ Sanrio characters. And the quiz is designed exclusively for fans asking, "Which character am I?"
This Is an MBTI Personality Test
For the first time, we've created a Hello Kitty quiz that works based on your MBTI. Unlike interest-based tests, it compares your personality type with Harō Kiti characters', which is why the results are super-accurate.
| | |
| --- | --- |
| Kitty White | ESFJ |
| Bad Badtz-Maru | ISTP |
| My Melody | ISFJ |
| Dear Daniel | ISFP |
| Kuromi | ISTP |
| Kiki | INTP |
| Chococat | INTJ |
| Mimmy White | ISFJ |
Which Character Are You?
Your Hello Kitty character is the lovely creature you resonate with and share similar traits. And one way to find it in the Sanrio universe is by reading the characters' descriptions.
The Hello Kitty Fandom is an excellent place to start. It offers a list of all the main characters along with detailed explanations.
Here's an excerpt of the main characters' descriptions.
#1. Kitty White.
As an ESFJ, she is a kind girl who enjoys helping others. Personality-wise, Hello Kitty (or Kitty White) is a lovely, lively, and friendly character who is also a bit tomboyish.
#2. My Melody
An honest friend, My Melody or My Melo is sweet, innocent, and trustworthy. Her personality type is ISFJ, meaning she's introverted, quiet, and observant.
#3. Bad Badtz-Maru
He might be a little brat whose individualistic mindset makes him seem selfish and ignorant. But Badtz is a nice guy hiding behind his rather mean comments.
#4. Kuromi
Cheeky but charming, Kuromi's personality differs from most antagonists. She is girly, soft, and even emotional. But she finds it difficult to express her feelings, makings her seem mischievous and cold.
Other characters.
The franchise has over 30 characters. It's not easy to answer questions like "Which Hello Kitty character am I?" But thanks to its precise comparison, the quiz increases your chances of finding a perfect match.
Are You a Popular or Underappreciated Hello Kitty?
With 883,485 votes, My Melody is the most popular Hello Kitty character, followed by Kitty White and Kuromi. And Honeymomo is the least liked character among all (she's in 71st place in the top 80 Sanrio characters' list).
Take the Hello Kitty quiz to see how popular—or disliked—you would be if you lived in the same anime universe.
Find Your Sanrio Soulmate Here
Along with the Doraemon characters, Hello Kitty's kawaii creatures are among the oldest and most popular fictional characters. And now you can discover your counterpart among all the Sanrio OCs.
Simply answer 20 fun questions and receive instant results.
Disclaimer
QuizExpo does not own the images in the Hello Kitty quiz. Sanrio owns the said pictures, and no copyright infringement is intended.
Questions of the quiz
Question 1

What's your favorite thing about Hello Kitty characters?

Their personalities

Their voices and looks

Their friendships

Their adventures

Their jokes

Meh, I don't like them.

Question 2

Choose a color for your Hello Kitty costume.

Red

Pink

Blue

Orange

Black

Purple

Question 3

How would you react if one of the Hello Kitty characters irritated you?

I'd probably cry.

I'd politely ask them to stop.

I'd pretend it doesn't bother me.

I'd try to figure out what's bothering me so I can stop it.

I'd try to irritate that person and take my revenge.

I'd cut ties with that person and never talk to them again.

Question 4

What's your mood like right after waking up?

Peaceful

Happy

Prepared

Energetic

Tired

Irritated

Question 5

How many Hello Kitty toys or items do you own?

Question 6

What would you gift Pochacco on his birthday?

Book

Homecooked food

Hat

Backpack

Gift card

Meh, something cheap

Question 7

How would you spend your free time if you lived in the Sanrio universe, among other characters?

Gardening

Cooking or baking

Reading

Hiking

Playing video games

It depends on my mood

Question 8

How would you react if you found Little Twin Stars crying in a corner?

I'd bring them a hot drink and comfort them

I'd immediately hug them and ask what happened

I'd try to be a good listener and let them vent.

I'd come up with a few plans to help them solve their problems.

I'd try to be goofy and make them laugh.

I'd mind my own business and leave them alone.

Question 9

Which one could be one of your favorite activities?

Watching reality shows

Throwing a party for your friends

Organizing your stuff or cleaning your room

Learning a new skill

Sleeping

Doing nothing and wasting time

Question 10

What would you do if you had some sort of magical power?

I'd stop wars

I'd stop world hunger

I'd heal all the diseases

I'd use it to invent cool devices

I'd create my own Hogwarts

I'd use it to make me the richest person ever

Question 11

How do you (or used to) feel in school?

Excited

Happy

Calm

Nervous

Bored

Sad

Question 12

What do you do when your best friend is talking about something boring?

I pretend I'm excited to hear it all

I smile and listen carefully

I try to ask them to change the topic politely.

I ask more questions to make it enjoyable for myself.

I mock them and let them know that they're super-boring

I ignore what they say and mind my own business.

Question 13

How did you feel when you realized Kitty White is not a cat and is actually a feline?

Shocked

Sad

Cool

Not surprised

Meh

Happy

Question 14

What kind of Hello Kitty characters are your favorite?

Cute

Unique

Kind

Smart

Funny

Mean

Question 15

What makes a character cute or kawaii?

Personality

Style

Voice

Size

I don't know

None of the above

Question 16

What do you do when you're angry?

I cry alone

I talk to a friend

I calm myself down

I go for a walk

I yell and start a fight

It depends on my mood

Question 17

What would it be if you had to eat only one type of food for the rest of your life?

Vegetables

Sweeties

Fruits

Meats

Fast foods

Junk foods

Question 18

Which one could be your pet?

Turtle

Rabbit

Owl

Baby shark

Baby monkey

None. I don't like pets.

Question 19

How do you feel when your friends throw a birthday party for you?

Shy

Grateful

Appreciated

Curious (about the gifts)

Bored

Annoyed

Question 20

Final question; how old are you?

11 or younger

12-14

15-16

17-18

19 or older

I'd rather not say