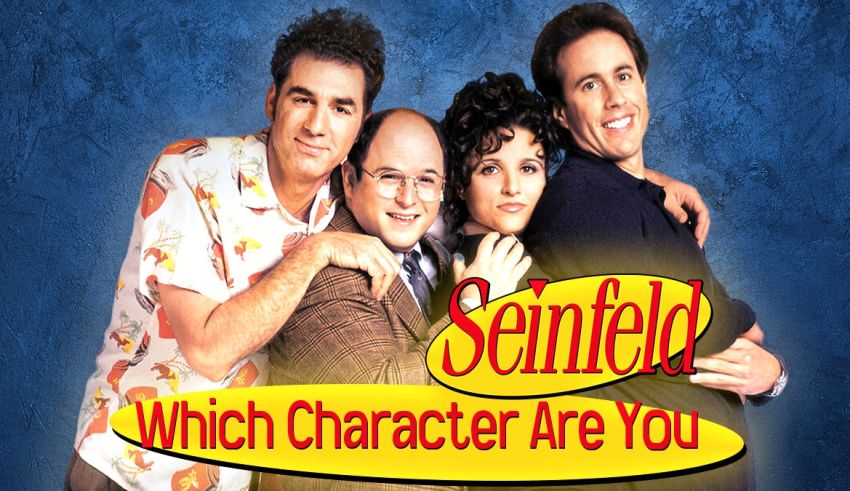 After all these years, it's time to find the answer to "Which Seinfeld character are you". Is your sitcom persona Jerry, George, Elaine, or Kramer?
This Seinfeld Quiz Reveals Your Character in the Show
Discover which character from the beloved TV show Seinfeld matches your traits, reactions, and sense of humor with our Seinfeld Personality Quiz. Comprised of twenty questions, the test identifies which of the show's characters you resemble in real life.
Seinfeld is a 90s sitcom considered one of the best shows of all time for its relatable characters and unforgettable simple plot. With the current quiz, you get to see which personality from this show matches your energy and gives off the same vibes to find your doppelganger.
| | |
| --- | --- |
| Seinfeld Character | MBTI |
| Jerry Seinfeld | INFJ |
| George Costanza | INTP |
| Elaine Benes | ESTJ |
| Cosmo Kramer | ENTP |
| Newman | INTP |
| Susan Rose | ESTJ |
| Uncle Loe | ESFP |
How to Know Which Seinfeld Character You Are
Classic sitcoms like Friends, Golden Girls, and Seinfeld never die. Their characters become a part of viewers' lives, almost as if they were our playmates, roommates, or beloved neighbors. But how can we—as fans—find out which of our favorite characters looks like us? Well, there's more than one way for that.
The ideal method for meeting your Seinfeld counterpart is taking an accurate personality test—like the one on this page. But an alternative would be reading the four main characters' descriptions, trying to find the relatable one. The following guides help with that.
Jerry Seinfeld
As an INFJ personality, Jerry is easygoing and calm but also quite sarcastic. He manages to squeeze in random jokes in every situation, almost ignoring all consequences. But as a friend, he's a caring guy that wants everyone to live a happy life and smile.
George Costanza
A beloved Seinfeld character, George is an INTP personality who struggles with insecurity, low self-esteem, and love life problems. But he's also a reliable and honest friend who's always there for his loved ones.
Elaine Benes
Elaine is an independent, ambitious, and bold woman. In Seinfeld, she portrays the young, strong-willed, and competitive American girl who won't stop chasing her dreams.
Cosmo Kramer
Kramer's personality can be described as eccentric, quirky, and non-conforming. However, despite his weirdness, Kramer is sometimes the voice of reason in the show, guiding others to do the right thing.
Suggested Quiz For You: The Hardest Friends Trivia
A Quiz to Expose Everything for a Show About Nothing
Seinfeld used to call itself a show about nothing. But that's probably why we all fell in love with it. The show describes a nothingness that we all go through every day—and learn to accept as our lives.
But hey, don't you wonder what kind of character you'd be had you been living in Seinfeld's universe? (Because we're dying to know.)
Imagine you're living in New York City at 129 West 81st Street, apartment 5A, and you start every day by hanging out at the Monk's Café with other Seinfeld characters. Now, close your eyes and try to guess which one you are. Is it Jerry, George, Elaine, or Kramer? You know what, scratch that. Take the following quiz and see which Seinfeld character looks like you based on your personality. That's even better. 👀
How to Play?
Playing personality quizzes is straightforward: Choose the option that's true about you—or you relate to—and select "Next." Unlike trivia quizzes, personality tests have no right or wrong answers. But the questions are in forced-choice format. The point is to push you to choose an option that makes the most sense, not the one that's 100% true. For the most accurate results, don't overthink your responses. Go with options that you "feel" are the best.
Questions of the quiz
1

Why do you like Seinfeld?

Smart jokes

Relatable characters

Inspiring characters

Good memories

2

Which one describes your temperament? (Don't overthink the answer)

Calm

Nervous

Irritable

Abnormal

3

What kind of roommate are you?

Easygoing

Tidy

Protective

Freaky

4

What type of people you can't tolerate?

Sensitive

Careless

Insecure

Normie

5

Are you a risk taker? Why?

Sometimes. Just for fun

Not at all; I hate risks

Yes, because I'm ambitious

My whole life is a risk

6

What role do you play in your friend group?

Clown

Voice of reason

Leader

Joker (unpredictable)

7

What are you afraid of?

Loneliness

Everything

Failure

Spiders

8

Which one describes your sense of humor?

I'm sarcastic

I often roast myself

I like clever jokes

My sense of humor is weird

9

What kind of career suits your personality?

Freelance

Corporate job

Entrepreneurship

Creative work or art

10

What's your love language?

Words of affection

Act of service or gift

Quality time

Physical touch

11

How would you feel if they rebooted Seinfeld with a new cast?

Disappointed (but not surprised)

Excited

Indifferent

Mad

12

What would it be if you could change one thing about Seinfeld?

I'd add more comics to the cast

I'd explore more characters' backstories

I'd add more romance

I'd make it an R-rated funny show

13

Which actor should've been in Seinfeld?

Dave Chappelle

Robbin Williams

Kevin Hart

Richard Pryor

14

How would your friends describe your personality?

Funny

Cute or nice

Inspiring or independent

Unique or weird

15

What kind of people are you attracted to?

Smart

Kind

Confident

Non-conforming

16

What is your toxic behavior?

Saying things that I shouldn't

Running away from people

Being an absolute workaholic

Laziness and bad decisions

17

Which one could be your spirit animal? (Choose the one you relate to)

18

Would you like to time-travel back to the 90s? Why?

Yes, life was way easier back then

No, I can't live without technology

Not sure. It depends on who's going with me

Why not? It'd be a fun experience

19

What other 90s shows do you like?

The Fresh Prince Of Bel-Air

Friends

Frasier

Mr. Bean

20

Final question: How do you deal with emotional pain?

I laugh it off

I hide it

I talk about it

I don't know what pain is