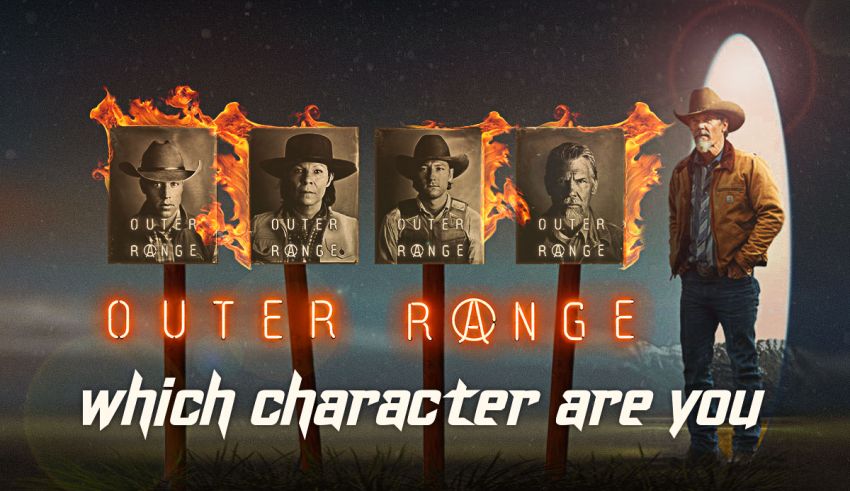 Hey, Which Outer Range character are you? This mysterious quiz reveals whether you are Royal, Cecilia, Autumn, Rhett, Perry, etc.
Outer Range Quiz Explained
The test is a series of psychological questions to discover which Outer Range character is similar to you. It creates your accurate avatar and matches it to the Abbotts'.
Unlike other tests like the Outer Banks character quiz, the questions are rather gloomy to convey Amazon's science fiction neo-Western mystery thriller theme.
Discover Which Abbott You Are
The goal of the quiz is to reveal which Abbott family member looks like you.
Outer Range is about mysterious events on the Abbotts' property. After the disappearance of the family's bride, Rebecca, the remaining family members (i.e., Royal, Cecilia, Rhett, Perry, and Amy) continue living together in their land. But things change when a mysterious hole shows up on their property.
Get a Free Personality Analysis
A perk of taking the Outer Range quiz is that it provides you with a free character breakdown. So, by the end of the test, you realize why you matched a particular personality.
How to Find Out Which Outer Range Character You Are
Amazon's neo-Western thriller has a limited number of characters. However, most of them are secretive and heard-to-decipher. So, it's not easy for fans to find their accurate matches. Moreover, we've only got to watch one season, leaving us with more questions than any concrete answers.
But reading characters' descriptions is one way to find your soulmate. It might not be as accurate as taking the actual quiz. But this is your best bet if you insist on finding your match on your own.
#1. Royal Abbott
He's a fatherly figure trying to protect his family at all costs. Unlike his wife, Royal is not a believer and questions his own values throughout the show.
If you ask the fans, "Which Outer Range character are you?" many would pick Royal. It's because he's a strong-minded, protective, and caring individual. He's also a badass cowboy. So, lots of people would want to switch places with him.
#2. Cecilia Abbott
She's a true believer who has never lost her faith in God. But Cecilia is also a protective motherly figure who wants to keep his family away from evil. Throughout the first season events, we also find out that she could be a formidable warrior when her loved ones are in danger.
Cecilia is fiercely loyal to her family and is ready to cross the lines to take care of them.
#3. Autumn
She's a cryptic character who doesn't reveal much about her true intentions. But one thing's for sure; Autumn is seeking truth. She's looking to solve the unknown and is willing to accept the challenges.
Amazon Studios described her this way: "She lives without regrets and embraces the unknown with reckless abandon."
#4. Rhett
Not many fans would like to match Rhett in the Outer Range character quiz. Yes, he's good-looking. But his reckless and impulsive nature makes him a troublemaker that no one wants to have around. Rhett's actions affect his whole family and put them in danger. But he doesn't seem to care and continues his risky lifestyle.
During the show's first season, we realize that Rhett has drug and alcohol abuse issues, which only worsen his anger issues.
| | |
| --- | --- |
| Character | Attribute |
| Royal Abbott | Patriarch |
| Cecilia Abbott | Believer |
| Rhett | Reckless |
| Perry | Responsible |
| Autumn | Curious |
| Amy | Innocent |
Other characters
The show has other interesting characters, such as Wayne Tillerson, Sheriff Joy, Perry Abbott, and Billy. You can either head to the Outer Range's official fandom and read all their personality descriptions or simply take the quiz and meet your 100% accurate match in no time.
Bonus: Get to Know the Darkest Side of Your Character
As an additional feature, our Outer Range quiz exposes your dark core, too. It analyzes your responses to figure out what could be the worst thing about your persona. Is it that you lie a lot? Or maybe you're a disloyal person? What if you're a backstabber? Let's find out.
Are You Ready to Face the Void?
We've created accurate profiles of all the main cast of the show. So, you're only one step away from finding out which Outer Range character you resemble in real life. Are you an Abbott or Tillerson? Are you one of the good guys or the bad ones?
Disclaimer
QuizExpo does not own any of the images used in the 'Outer Range Character Quiz.' Amazon Prime Video owns the rights to all the said pictures, and no copyright infringement is intended. Please, get in touch with us for any concerns or requests for removal.
Questions of the quiz
Question 1

What would you do if you found a mysterious black void on your property?

Tell my family about it

Take some pictures

Ask a friend to come to check it out

Call the authorities

Keep it a secret

Jump in it

Question 2

Would you ever cover-up for a family member who's committed a horrific crime?

I'm not sure

It depends

I probably wouldn't do that

No, I'd definitely not do that

Yes, I'd definitely do that

I've done that before

Question 3

What would you do if someone humiliated one of your loved ones?

I'd ask them to stop

I plan my revenge

I'd ignore them

I'd call the cops on them

I'd punch them in the face

I'd make them regret it for the rest of their life.

Question 4

How do you feel about owning a farm and having a cowboy/cowgirl lifestyle?

I could deal with it

It'd be interesting

I prefer city life better

I'd get used to it

I'm used to such lifestyles

Meh

Question 5

Which one could make you feel furious?

Disobedience

Lies

Ignorance

Irresponsibility

Disloyalty

Rigidness

Question 6

What would you do if you found a way to predict the future?

I'd use my powers to protect my family

I'd look for the reason behind my strange power

I'd tell my family about my power

I'd let the authorities and people know about it

I'd keep it a secret

I'd use it to make myself rich

Question 7

What's something about Outer Range that you think is unique?

The relationships

The mysteries

The characters

The plot

The actors

Meh

Question 8

How would you treat a stranger that needs to stay on your property and is willing to pay for it?

I'd let them stay and refuse the money

I wouldn't let them stay because it sounds risky

I would let them stay but keep an eye on them,

I'd call the cops

I'd let them stay and take the money

I'd ask for more money before letting them stay

Question 9

What do you think about Rhett Abbott and his actions?

He's just a careless young man

He's impulsive and scary

He's a troublemaker

He's the actual bad guy of the show

I like him

I relate to him

Question 10

You wake up in a strange room, and there are six objects in front of you. Which one do you pick?

Bible

Matches

Helmet

Blanket

Keys

Dagger

Question 11

What do you do when someone lies to you?

I pretend I didn't realize it.

I confront the liar and ask them to tell the truth

IDK. It depends.

I trick them into revealing the truth

I ignore them until they tell the truth

I make them regret lying to me

Question 12

What kind of career would you choose if you lived in a small town in Wyoming?

Cook

Teacher

Post officer

Sheriff

Farmer

Bartender

Question 13

Do you believe in God?

Yes

Not really

Maybe

I used to believe in God

No. I don't

Only when I'm in trouble.

Question 14

What do you do when you feel lost in life?

I pray and ask for guidance.

I talk to a loved one

I spend some time alone

I go on a walk or something like that

I never feel lost

I get drunk to forget about it

Question 15

Which one describes your anger better?

Controlled

Predictable

Manageable

Minor

Unpredictable

Uncontrollable

Question 16

Which one do you think is the main ingredient of a happy life?

Faith

Truth

Order

Trust

Loyalty

Power

Question 17

What would you do if someone you know (not a family member) went missing?

I'd pray for them

I'd look for them

I'd help authorities to find them

I'd hire a private investigator to find them

I'd ensure nothing is threatening my family

I wouldn't bother to look for them

Question 18

What do you think is the most challenging thing about having children?

Protecting them from the world's cruelty

Teaching them how to be a better person

Coping with their stupidity while they're young

Watching them grow up as you get older.

Always being for them no matter what

I don't know. I've never had one.

Question 19

Who's the first person you call when you're in trouble?

My mom

My significant other

My best friend

My dad

No one

It depends

Question 20

Final question; how old are you?

30-40

18-20

21-25

26-29

41 or older

17 or younger