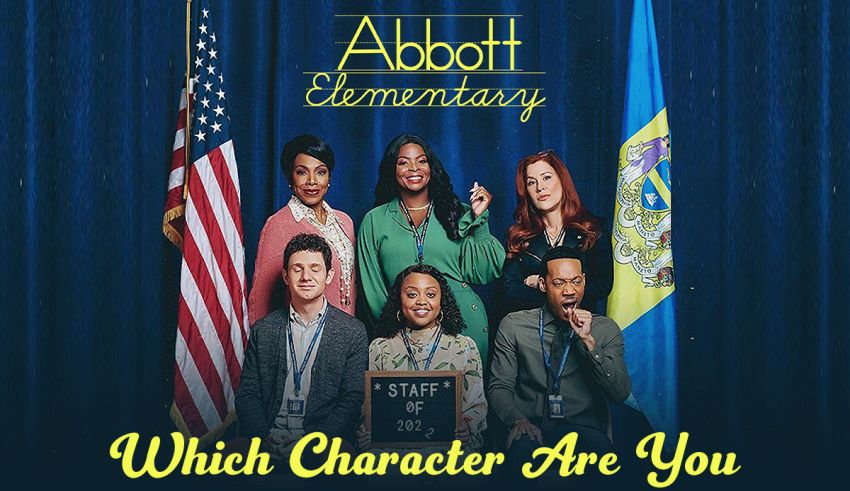 This personality quiz identifies which Abbott Elementary character you are. Are you Janine Teagues, Jacob Hill, Ava Coleman, or else?
The Abbott Elementary Character Quiz.
The character quiz is a set of 20 questions to reveal which Abbott Elementary teacher you represent IRL.
Abbott Elementary is a workplace sitcom about a group of teachers in a Philadelphia public school doing their best to bettering the conditions for kids despite the challenges.
It's a mockumentary with seven main characters—five teachers, one principal, and one janitor—that gives off The Office vibes.
The current test lets you find out which school staff member shares a similar personality as you.
The Test Is Based on the Cast's MBTI Type.
Unlike other silly quizzes, this one considers your actual personality type to suggest your Abbott Elementary match.
If you already know your Myers-Briggs type, use the following table to discover your soulmate.
| | |
| --- | --- |
| Character | MBTI |
| Janine Teagues | ENFJ |
| Barbara Howard | ESTJ |
| Jacob Hill | INFP |
| Melissa Schemmenti | ESTP |
| Gregory Eddie | ISTJ |
| Ava Coleman | ESFP |
| Mr. Johnson | ISTP |
| Tariq Temple | ESFP |
| Sahar | ENFP |
What Kind of Elementary School Teacher Are You?
Would you be an easygoing, cool, and popular teacher or a strict, mean, and hated one? The Abbott Elementary quiz unveils the type of teacher you would've been if you lived in the same universe as other characters.
How to Know Which Abbott Elementary Character You Are?
Read the following character descriptions to find your perfect match.
#1. Janine Teagues.
A spirited 2nd-grade teacher, Janine has an optimistic, helpful, and caring personality. She has a strong sense of right and wrong, always motivated to do what's best for her students.
As an ENFJ character, Janine Teagues is warm, affectionate, and supportive.
#2. Jacob Hill.
He is a nerdy teacher in the Philadelphia public school. Personality-wise, Jacob Hill is friendly, polite, sensitive, and devoted. He's often trying to bond with other teachers, which matches his INFP type.
#3. Barbara Howard.
A hardworking kindergarten teacher, Barbara takes her job seriously. However, her personality can be described as confident, cautious, and robust.
#4. Melissa Ann Schemmenti.
Although short-tempered, Melissa is an independent woman with a sarcastic personality.
#5. Ava Coleman.
A bit narcissistic, Ava is a talkative, airheaded, and bossy principal at Abbott Elementary. She tries to be trendy, spends a lot of time on social media, and often ignores the school district's issues.
Meet Your Philadelphia Public School Counterpart Now.
Still, wondering which Abbott Elementary character you are? Take the quiz now to meet your perfect soulmate. It's a series of fun questions inspired by the show's season 1 & 2 events.
Disclaimer
ABC owns the Abbott Elementary quiz pictures, and QuizExpo does not indent copyright infringement.
How to Play?
Playing personality quizzes is straightforward: Choose the option that's true about you—or you relate to—and select "Next." Unlike trivia quizzes, personality tests have no right or wrong answers. But the questions are in forced-choice format. The point is to push you to choose an option that makes the most sense, not the one that's 100% true. For the most accurate results, don't overthink your responses. Go with options that you "feel" are the best.
Questions of the quiz
1

What makes the Abbott Elementary characters unique?

Their intentions.

Their friendships.

Their sense of humor.

Their determination.

Their dialogues.

I don't think the characters are unique.

2

What would you prioritize if you were the Philadelphia public school principal?

Improving the quality of education.

Ensuring that kids have fun learning.

Competing for the best school title in the district.

Teaching kids what they need instead of BS.

Getting promoted or finding a better-paying job.

I'd prioritize fun. I don't want to work hard.

3

What would it be if you had to change one thing about the show?

I'd add more romance to the show.

I'd add more drama.

I'd reduce the humor.

I'd turn it into an inspirational tragic story.

I'd add more gags and turn it into a real comedy show.

I'd remake the whole thing because it's just not good enough.

4

What kind of student were you during your school life?

I was the teacher's pet.

I was a nerdy student.

I was a troublemaker.

I was a hardworking student.

I was popular (but I don't know why)

I was the best, and everyone was jealous of that.

5

What would you like to teach at an elementary school?

Language arts.

Social studies or art.

Physical education.

Mathematics.

Science.

None. I hate teaching.

6

What type of teachers is your favorite?

Passionate.

Gentle.

Funny.

Hardworking.

Strict.

Trendy.

7

Imagine you're a teacher that students often disrespect. How do you deal with that?

I give them some time to get to know me.

I ignore the disrespect and try to be cool about it.

I ask them to stop or else I'd give them a lesson.

I'd give them a ton of assignments in retaliation.

I'd roast them and make them stop.

I'd disrespect them as well.

8

Your school is ranked as the worst in the district. What now?

We should work harder.

We should stop caring for the silly ranks.

We should hire better teachers.

We should push the students to work harder.

We should quit competing with better schools.

We should bribe the evaluators to give us a better rank.

9

Which one sounds like the best strategy to boost students' grades?

Turning learning into games.

Avoiding any pressure and being patient.

Trying different strategies and testing new methods.

Teaching the kids how to learn on their own independently.

I think no strategy is good enough for that.

The best strategy is to push the students to study.

10

Which one is your favorite teaching technique?

Visualization.

Cooperative learning.

Science or math-based.

Behavior management.

Differentiate (Teaching based on students' abilities).

Technology in the classroom.

11

One of your students refuses to do any homework. How do you deal with them?

I try to figure out the reason.

I let them be. No pressure to do homework.

I give them a deadline and ask them to do it anyway.

I send them to the principal's office and talk to their parents.

I ask them to leave my class and never come back.

I compare them to other students and push them to do better.

12

A local newspaper has criticized your elementary school. How do you react to that?

I try to listen to their criticism and be better.

I send them a thank you email and move on.

I sue them.

I go to their office and confront them in person.

I just ignore the whole thing because it's ridiculous.

I just ensure the kids' parents don't read it.

13

Parents think that you're not a good teacher. What now?

It's fine. I'll change their mind.

It's heartbreaking and rude.

I don't care what they think.

I confront all of them and make them apologize.

I probably quit and find another job.

I just mock them and show them who's the real boss.

14

Your coworker won the teacher-of-the-year award. How do you feel about that?

I feel so happy for them.

I feel proud.

I feel annoyed.

I feel inadequate.

I feel indifferent.

I feel irritated and jealous.

15

What's the best age group to teach?

4-7

8-9

10-14

15-17

18 or older

None.

16

How did you use to feel about going to school?

Excited

Anxious

Bored

Lucky

Indifferent

Sad or irritated

17

What do you like about Abbott Elementary?

The characters.

The relationships.

The relatable challenges.

The story.

Meh, I don't know.

Nothing. I can't say I like this show.

18

How do you often spend your free time?

I read

I watch TV

I work out

I do things like gardening.

I play video games or stuff like that.

I be on social media, watching and posting random stuff.

19

How would you rate Abbott Elementary on a scale of 0 to 5? (5 means it's perfect).

20

Final question: How old are you?

20 or younger

21-24

36-42

43 or older

25-35

I'd rather not say.