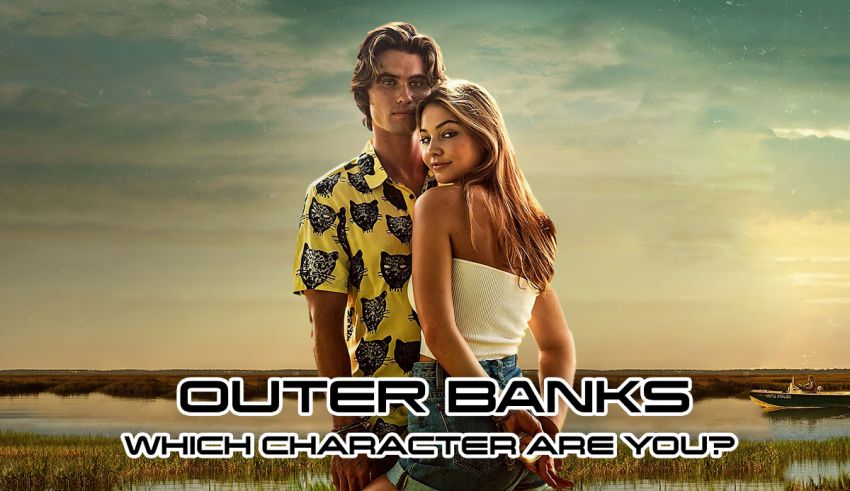 You are a fan and all that, but seriously, which Outer Banks character are you? Take this 5-min quiz to find out which Pouge member matches your personality.
This Outer Banks Quiz Reveals Your Character
Are you John B, Sarah, Kiara, or JJ? The personality test on this page exposes your Outer Banks persona in no time. All you have to do is answer 20 fun questions about your fictional life in the mysterious North Carolina barrier island.
First of All, What Is OBX All About?
Netflix's 2020 drama is about a group of teenagers called the Pogues who live in the Outer Banks. The five protagonists and members of the said group start an adventure to discover a lost treasure. But they soon get involved in other secretive and troublesome events that challenge their lives.
The test on this page is called 'Which Outer Banks Character Are You?' And its goal is to determine which of the Pogues members is your counterpart.
What Do You Get by Taking the Test?
We have something more than a simple Outer Banks quiz. Not only will the test expose your soulmate, but it will also offer additional information about your wealth, boy/girlfriend, and iconic traits. (More on this below).
Your Perfect Match
The premise of the questionary is to answer the big question, "Which Outer Banks character are you?" So, the results tell you which of the main cast's personality tones with yours.
Your Crush
If you are looking for an Outer Banks boyfriend quiz, you are on the right page. We will expose your real crush (boy or girl does not matter).
Your Wealth
The primary question is, "Which OBX character are you?" But there are other things to consider as well. For instance, where are you from? Are you a Kook? Are you from the Cut? These are the type of questions our test answers as well.
A Comprehensive Personality Analysis
What does it mean if you are John B? How does your character differ from JJ or Kiara? Our quiz provides you with an inclusive analysis to explain why you matched a particular OBX teenager.
Which Outer Banks Character Are You – Without a Quiz!
Okay, not everyone might be interested in taking an OBX test—we get it. But that should not stop you from finding your adventurous 16-year-old counterpart. Here is how to discover your good-looking, risk-taking matching part without answering a single question.
You Are John B
If you tend to lead a group of friends, you are likely to match John B. He is a charismatic teenager who is determined to achieve his goals, no matter what.
You Are Sarah Cameron
You might seem like a sassy and selfish person on the outside. But you are a warm-hearted and kind person deep inside. Just like Sarah, you tend to push away people who love you—because you are afraid of losing them.
You Are Kiara Carrera
Bold and adventurous. You are the one who always calls for journeys despite the danger. People love the fact that you are easy to get along with. And you consider yourself to be a social person.
You Are JJ Maybank
You might be a straight-up bad boy/girl at first glance. But you are all about loyalty and bravery. Your family and friends are the most important thing to you. And you would do anything to keep them safe and sound.
You Are Pope
"Intelligent" is the first word that comes to mind when one thinks about you. You are the brains of the operation. People rely on your opinions because they know you have a cautious and rational side—which comes in handy when making decisions.
Most Iconic Traits of Each Outer Banks Character
The Pogues consists of only five persons. But each of them has its unique capabilities, as well as iconic traits. The following table shows what each of them is famous for in Netflix's drama.
| | | | |
| --- | --- | --- | --- |
| Character | Actor | Known for/as | Nickname |
| John B | Chase Stokes | Charisma and leadership skills | Buttercup |
| JJ Maybank | Rudy Pankow | Bravery and risk-taking | The bad boy |
| Kiara Carrera | Madison Bailey | Voice of reason | Kie |
| Sarah Cameron | Madeline Cline | Warm-hearted princess | Little Miss Perfect |
| Pope Heyward | Jonathan Daviss | The brain | Dr. Spock |
Fun Facts About the OBX Characters in Real Life
During a 2020 interview with Buzzfeed Celeb, the original Outer Banks cast played the Who-is-Who game. Here are some of the highlights.
Who Is Most Similar to Their Character?
The cast did not hesitate to answer, "Everybody!" in their opinion, all of the crew is similar to their characters in the show.
Who Is the Most Different from Their Character?
Unsurprisingly, the real-life OBX teenagers believe Madeline Cline is the least similar person to her character. That is predictable as Sarah is described as a princess-like perfect girl of the town.
Okay, But Which Member of The Pogues Are You?
You have all the information you need to take the test and find out which Outer Banks character you are. We designed the questions in a way that would excite fans and remind them of the show's memorable moments. So, "Woogity Woogity Woogity!" (if it makes any sense).
Disclaimer
QuizExpo does not own any of the images used in the 'Which Outer Banks Character Are You?' quiz. Netflix owns all the said pictures.
How to Play?
Playing personality quizzes is straightforward: Choose the option that's true about you—or you relate to—and select "Next." Unlike trivia quizzes, personality tests have no right or wrong answers. But the questions are in forced-choice format. The point is to push you to choose an option that makes the most sense, not the one that's 100% true. For the most accurate results, don't overthink your responses. Go with options that you "feel" are the best.
Questions of the quiz
1

Who do you think is the faultiest one in Sarah and Kierra's friendship?

Kierra

None

Both

Not sure

Sarah

2

Choose your favorite kissing scene. (Even it never happened in the series).

John B Kissing Sarah

John B Kissing Kierra

Kierra Kissing Pope

All of them

None of them

3

You see John B running away from the social services. What do you do?

I distract others so he can run away

I fight the social services back

I take him away

I give the social services the wrong address

I give him my car's key

4

You and the Pogues finally find the gold. What are you going to do with the money?

Buy a house

Go to Vegas and party

Save it

Spend it on my education

Buy some clothes and luxury stuff

5

Pope is about to get arrested for something stupid. What do you do now?

Help him escape

Go into jail instead of him

Find ways to get him out ASAP

Call his parents

Get him a lawyer

6

Which one sounds like a wild night-out plan?

Sailing into the ocean with no plans

Drinking games and naughty stuff

Going to movies

Reading, yeah

Going to a luxury disco/bar

7

You witnessed a murder scene. What do you do next?

Go check out the body

Try to catch the murderer

Record the incident

Gather clues

Call the cops/run away

8

Which one sounds like a real adrenaline-boosting activity?

Scuba diving

Hunting

Parachuting

Chess

Roller-coaster

9

Imagine someone told you a story about how your dad was killed and who did it. How do you react?

Plan my revenge

I need a gun

I don't know

I'd set a trap for the murderer

I'd breakdown—that's it

10

What is your favorite watercraft?

Dinghy boat

Catamaran boat

Fishing boat

Houseboat

Yacht

11

What is your favorite water sport?

Swimming and diving

Surfing

Waterskiing

Sailing

Fishing

12

How would you like to dress for a midsummer celebration?

Casual

Funny

As usual

Formal

Unique/Classy

13

How do you describe your best friend(s)?

Loyal

Family

Supportive

Wise

Lovely

14

What pisses you off the most?

Lying

Cowardness

Selfishness

Stupidity

Disrespect

15

How do you describe your relationship with your parents?

Very well

Awful

Okay

Meh

Not good

16

What is your favorite weapon?

Sword

Handgun

Dagger

Sniper

Rocket launcher

17

Which one sounds like a cool quote to you?

Only the brave ones make it

Two words describe my life, family & friends

Adventure is awaiting us!

Your mind forms your world

Love yourself first before begging others to do so

18

What would you tattoo on your neck if you had to?

Fire

Dollar sign

Heart shape

Tree of knowledge

Hello Kitty

19

Which one sounds like a nice and memorable first kiss?

Unplanned and sudden

Drunk and spontaneous

After a long hesitation

Planned and slow

Anything would do

20

Final question; which of the following nicknames suits you?

King

Soldier

Queen

Guru

Princess/Prince