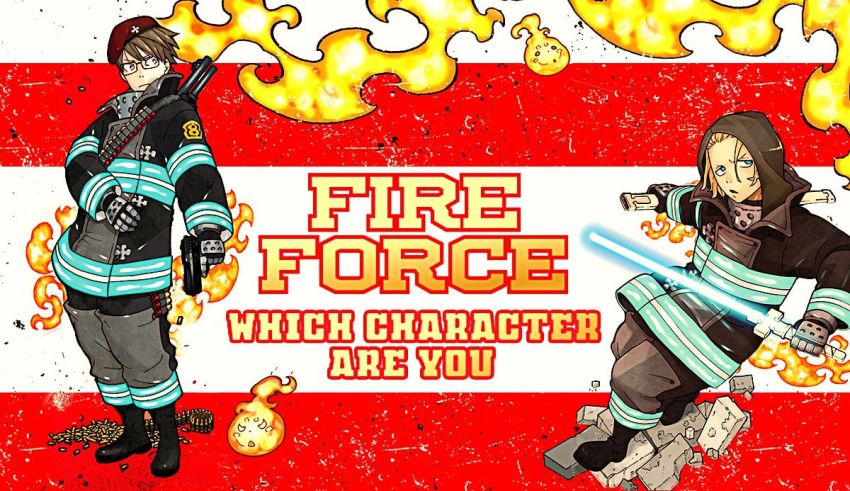 This anime quiz reveals which Fire Force character you are. Are you Shinra Kusakabe, Arthur Boyle, Tamaki, or else?
The Fire Force Quiz That Reveals Your Character
With its 20 personality questions, the Fire Force quiz compares your traits with the main characters to discover similar ones. It also replicates the anime's lore, enabling you to alter your fate as a Special Fire Force Soldier.
Created by Atsushi Ohkubo, Fire Force is a manga series about an organization of pyrokinetic people fighting Infernals—hellish creatures wanting to destroy the world. It takes place in the same universe as Soul Eater, and many consider it a prequel to that show.
The current test reveals the character in Fire Force you resemble in real life.
For a more comprehensive match, take "What Anime Character Are You?"
How to Know Which Special Fire Force Member You Are
One way to find your lookalike—or counterpart—in the Fire Force lore is by getting to know the main characters. Simply read the character descriptions and see which one you relate to.
Use the following guides to determine your match quickly.
1.    Shinra Kusakabe
A true hero, Shinra is a pyrokinetic boy wanting to make the world a better place. His personality type is ISFP, meaning he's brave, intelligent, and confident—with a strong sense of right and wrong.
2.   Arthur Boyle
Despite his distant and blunt façade, Arthur is a caring friend. His personality can be described as stubborn, unruly, and combative. But deep inside, Arthur is an ENTP—a friendly boy desperate to impress others.
3.   Tamaki Kotatsu
Known for her Lucky Lewd Syndrome, Tamaki is an ENFP. She's nice, bubbly, and loud. But she also struggles with insecurity about her body and looks. As the Fire Force arc progresses, Tamaki becomes more of a Tsundere—an emotionally unstable girl around her crush, Shinra.
Suggested: Find out what Dere you are with a fun quiz.
4.  Hibana
Initially a deceptive girl, Hibana is a complex character. She is narcissistic on the outside and compassionate on the inside. As an ENTJ, Hibana is competitive, focused, and highly motivated. But she's also quite sassy and lewd.
5.   Benimaru Shinmon
An experienced master, Benimaru is a traditionalist. He apricates peace of mind and hates anything that disrupts it. As an ISTP, Benimaru is also a short-tempered loner who's quite outspoken—to the point that some may consider him rude.
Find Your Enen no Shouboutai Character with an MBTI Test
While your comfort character or the character you kin shares a few characteristics as you, it's not your counterpart. Your perfect match is actually the person with the same—or the closest—personality type as you.
To identify your replica in Fire Force, the quiz utilizes an MBTI database. In other words, it detects your personality type, compares it to that of the anime's characters, and declares the most similar one(s).
If you already know your MBTI type, use the following table to see which Fire Force character you are.
| | |
| --- | --- |
| Character | MBTI |
| Shinra Kusakabe | ISFP |
| Arthur Boyle | ENTP |
| Tamaki Kotatsu | ENFP |
| Iris | ISFJ |
| Benimaru Shinmon | ISTP |
| Hibana | ENTJ |
Meet Your Fire Force Crush, too
Do you happen to ask yourself, "Who is my Fire Force boyfriend or girlfriend?" If yes, the time has come to know the answer. This character quiz uses your responses to uncover the boy or girl you'd have a crush on.
Ready for an Adolla-Inspired Quiz?
Your Fire Force character is waving on the other side of the quiz. Hit the start button, respond to twenty amusing Otaku-level questions, and meet them.
Disclaimer
QuizExpo does not own the images in the Fire Force character quiz and intends no copyright infringement. Funimation and David Production own the rights to the pictures.
How to Play?
Playing personality quizzes is straightforward: Choose the option that's true about you—or you relate to—and select "Next." Unlike trivia quizzes, personality tests have no right or wrong answers. But the questions are in forced-choice format. The point is to push you to choose an option that makes the most sense, not the one that's 100% true. For the most accurate results, don't overthink your responses. Go with options that you "feel" are the best.
Questions of the quiz
1

What's the best way to deal with Infernals?

Restoring their souls.

Keeping them away from cities.

Setting up traps all over the city.

Building walls around the city like Attack on Titans.

Training citizens and teaching them self-defense.

Paying hunters to eliminate them at sight.

Evacuating the cities and starting an all-out war.

No one can stop Infernals. It's pointless.

2

How'd you feel if you encountered your Doppelganger?

I'd be scared.

I'd be cautious.

I'd feel excited.

I'd feel horrible and scream as loud as possible.

I'd feel calm but prepared to react.

I'd feel awful for seeing a cooler version of myself.

I'd feel happy to meet my Doppelganger.

I'd feel proud and would try to Link with them.

3

What would you prioritize if you became the Fire Force leader?

Fighting the White-Clad.

Protecting kids.

Becoming a badass warrior.

Creating underground tunnels for citizens to hide.

Meh. I'd never want to be a leader.

Buying sexier uniforms for my team.

Firing cowardly soldiers.

Joining the White-Clad.

4

How would you deal with the White-Clad?

I'd try to negotiate with them.

I'd capture and exile their members.

I'd kill their members.

I'd treat them friendly and ask them to join us.

I'd assassinate their leaders.

I wouldn't mess with them.

I'd torture their members and scare others away.

I'd join them. Easy.

5

What would you use your Adolla Burst for?

I wouldn't want to have it.

I'd use it to fight the bad guys.

I'd use it to become an undefeatable warrior.

I'd use it to have fun.

I'd use it to protect my family.

I'd use it to become famous.

I'd use it to put fear in my enemies.

I'd use it to conquer the world.

6

What if a sentient Infernal decided to join Fire Force?

I'd let them in.

I'd let them in but keep an eye on them.

I'd never let them in.

It depends. I'd let them in if they're good-looking.

I'd kill them right away.

I'd use them as my bodyguard.

I'd use them as a spy.

I'd ask them to Link with me.

7

What kind of Special Fire Force Soldier is your favorite?

Kind and generous.

Brave and responsible.

Hardworking and tough.

Hot and funny.

Experienced and collected.

Confident and powerful.

Cold and ruthless.

None. I don't like Special Fire Force Soldiers.

8

How do you feel about becoming a hero? Is it something you want?

No, it's too much responsibility.

Yes, I'd love to become a hero.

Yes, I'm already a hero.

Yes, it sounds fun.

No, heroism for the stupid.

Yes, being a hero would make me famous. I love it.

No, I dislike heroes. They're fake.

No, I prefer becoming a villain.

9

Do you like Pyrokinetic abilities? Why?

No, they look dangerous.

Yes, I could use them to help others.

Yes, I could use them to beat up bad guys.

Yes, I could use them to mess with everyone.

Yes, I could use them to protect myself.

Yes, I could use them to become famous.

Yes, I could use them to rule over others.

No, that's a weak ability. I want something lethal.

10

How would you react if Infernals attacked your friend?

I'd be terrified

I'd run to save them without thinking.

I'd analyze the situation to come up with an idea.

I'd run and ask for someone's help.

I'd distract the Infernal and make it attack me instead.

I'd yell at my friend and ask them to run.

I'd let my friend handle the situation.

I'd hide and make no noise.

11

What makes Fire Force a great anime?

Characters

Story

Jokes

Relationships/friendships

Action

Styles

Tragic events

Meh. It's not a great anime.

12

What other anime shows do you like?

D. Gray-Man.

My Hero Academia.

Bleach.

InuYasha.

Goblin Slayer.

Brotherhood.

Tokyo Ghoul.

None of them.

13

Which word describes your personality?

Friendly

Responsible

Intelligent

Extroverted

Introverted

Popular

Unbothered

Irritable

14

Choose a nickname for your bestie.

Angel

Brother/Sister

Dummy

Cutie

Mr. or Ms. Annoying

Sexy.

I don't have a best friend.

Useless.

15

Which one could irritate you?

Rudeness

Irresponsibility

Pushiness

Ignorance

Cowardice

Bad taste in fashion

Talkativeness

Politeness

16

How'd you spend the weekends if you lived in the Fire Force universe?

I'd go to church or study at home.

I'd work out or visit a friend.

I'd party with friends and get wasted.

I'd lay in bed and watch Netflix.

I'd read books and enjoy my peaceful weekend.

I'd go shopping or eat out with friends.

I'd lock myself in my room and do nothing.

I'd drink, smoke, or something like that.

17

How do you feel about training hard and working out every day?

I'm too weak for that.

I love the idea.

That sounds horrible. I don't want it.

I like it. But I'll never be able to do that.

That's my lifestyle.

I think it's a stupid idea.

I'm trying to live like that.

That's a stupid question. I don't get it.

18

Some believe that Adolla Link is destructive. What do you say?

Yes, it's demonic.

Yes, but sometimes that's the only way to save others.

Meh. I don't know.

It's not destructive. It makes you hot.

Yes, it's for the weak.

Linking is kind of erotic.

No, it's not destructive. It makes you stronger.

It depends. Linking with demons is quite fun.

19

Fill in the blank. The world would be a better place only if people were _________.

Empathetic

Responsible

Brave

Easygoing

Tough

Smart

Less emotional

Dead.

20

Final question: How old are you?

14 or younger

15-17

18-20

21-24

25-27

28-30

31 or older

I'd rather not say.