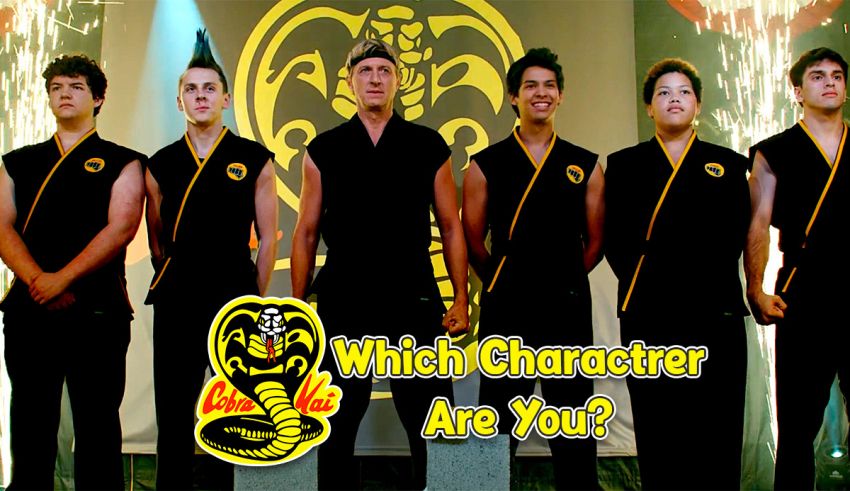 Do you want to know which Cobra Kai character are you? Here is a martial arts-inspired quiz to reveal if you are Daniel, Johnny, Miguel, Miyagi, or else.
A New Cobra Kai Character Quiz That Doesn't Disappoint You
A real fan, at some point, would ask, "Which Cobra Kai character am I?" And the test here is a tool to help when the time comes. It is a 20-question personality quiz that exposes your karateka self, matching you to one of the 10+ characters of Netflix's spin-off show.
Unlike other teenager tests like 'High School Musical Character Quiz,' this one is serious—and slightly gloomy. That is because the new show's storyline is relatively dark compared to the original Karate Kid saga.
Find out which Cobra Kai character you are.
The goal of the quiz is to answer questions like, "Which Cobra Kai character are you?" To do so, we analyze your traits, characteristics, and mindsets, matching you to one of the show's personas.
Discover your fighting style.
We wanted to create a personality test that is loyal to the show's primary theme. Since the new Netflix series is all about martial arts, specifically karate, the results include related info as well. By participating in the questionary, you find out your fighting style as a Cobra Kai character.
There are two possibilities, though:
Mr. Miyagi taught this style to Daniel in the original Karate Kid movie. It is all about balance and control. Harming the opponent and being violent are discouraged in this fighting style. And a karateka who uses Miyagi-Do is often believed to be humble, self-managing, and responsible.
In this style, the karateka is encouraged to show no mercy. Promoted by Johnny Lawrence in the new Netflix series, Cobra Kai is a harsh and damaging method. People who employ it might have anger issues or develop them thanks to its vicious nature.
See if you would win the All-Valley tournament.
The whole Karate Kid saga revolves around the events of the 84 All-Valley tournaments, where Daniel beat Johnny in the finals. To acknowledge the importance of the game, the Cobra Kai Character Quiz includes a section where we predict if you could ever be a champion.
Meet your possible love interest.
You know how it went; a new kid came to the town and stole the school's bully's girl (Ali). And the rivalry began. But that is not how things work in the Cobra Kai Character Quiz. We analyze your personality to decide which of the characters would have the potential to be your girlfriend or boyfriend.
Want to Know Which Character You Are Without a Test? Here's How
Not every fan is up for a personality-matching quiz. So, we wanted to give you a quicker way of finding your perfect Cobra Kai counterpart. Read the following descriptions and see who you represent in real life.
#1: Miguel Diaz
Being one of the key karateka kids in the new show, Miguel starts as a nice, naïve, and caring person. But the events of the first few seasons, and the influence of his new sensi, Johnny, turn him into a tough and rather cold boy. Despite being encouraged to have no mercy, Miguel still keeps his kind personality alive underneath his fighter persona.
#2: Johnny Lawrence
If you asked the 80's fans, 'Which Karate Kid character are you?' hardly anyone would say, "I'm Johnny Lawrence." That is because he started off as a villain. But Netflix's take on the original story made Johnny a new fan-favorite personality. He is now a disappointed, broke, and lonely man in his 40s or 50s. Plus, he seems to be stuck in the past, constantly comparing his failure to Daniel's success.
#3: Daniel LaRusso
Being the protagonist of the original saga, Daniel is a friendly, easygoing, and heroic person. He has continued his success as a karateka kid into his adulthood, running a thriving local business. Despite being a tolerant guy, Daniel can be overprotective and stubborn. Sometimes, he acts like a guru who knows everything about life and forces others to follow his ideologies.
#4: Robby Keene
Robby is one of the newly introduced characters in the Cobra Kai series. He is Johnny's son, a troublemaker who hangs out with the city's bad boys and all that. However, thanks to the positive influence of Daniel, he becomes a Miyagi-Do practitioner and gets his life together—at least for a while. He is an attractive and charismatic young man who happens to be clever, too.
| | |
| --- | --- |
| Character | Age |
| Daniel LaRusso | 52 |
| Johnny Lawrence | In his 50s |
| Miguel Diaz | 16-18 |
| Robby Keene | 16-18 |
| Mr. Miyagi | 86 |
The Quiz Includes Karate Kid Characters
The good news is that you might match some of the original film's personalities, too. Iconic characters like Mr. Miyagi, John Kreese, and Ali Mills are all part of our 2021 test.
Disclaimer
QuizExpo does not own any of the images used in the Cobra Kai Character Quiz. Netflix owns all the said pictures.
How to Play?
Playing personality quizzes is straightforward: Choose the option that's true about you—or you relate to—and select "Next." Unlike trivia quizzes, personality tests have no right or wrong answers. But the questions are in forced-choice format. The point is to push you to choose an option that makes the most sense, not the one that's 100% true. For the most accurate results, don't overthink your responses. Go with options that you "feel" are the best.
Questions of the quiz
1

Your sensi does not believe in violence. How do you feel about that?

I admire them

I guess they are right

I believe in them

I think they might be wrong

Sometimes, violence is essential

Violence is key to victory

2

Which of the following sentences about life do you agree with?

All lives matter equally

Life is not fair, but it's fun

Life always gives you more lemons

Life is a survival game

Life is not a joke

Life is unfair and stupid

3

Of the Cobra Kai cast, who do you dislike the most?

Johnny

Robby

Miguel

Daniel

Aisha

Miyagi

4

Pick a title for yourself.

Mastermind

Healer

Supporter

Warrior

Outlaw

Unstoppable

5

How would you describe your anger in one word?

Controlled

Unknown

Unpredictable

Tense

Explosive

Uncontrollable

6

What should be a fighter's priority?

Honor

Health

Fair play

Victory

Surviving

Beating the enemies

7

What should a fighter do right after being defeated?

Show respect

Accept the failure

Practice to get better

Get some rest

Keep their head up

Plan their revenge

8

What type of karate sensi would you like to have?

Caring

Knowledgeable

Responsible

Strong

Friendly

Strict

9

What should be a martial arts tutor's priority?

Discouraging violence

Improving student's skill

Remind the students of their mistakes

Help the students become unbeatable

Be the students' best friend

Teach the students how to become a living weapon

10

What is the worst thing that can happen to a fighter?

Losing honor

Becoming violent

Losing faith

Accepting failure

Becoming soft

Showing mercy

11

What would you do if you felt like someone was trying to steal your boy/girlfriend?

Nothing

Talk to my boy/girlfriend

Talk to that person

Talk to both of them

Kick that person's butt

Dump my girl/boyfriend

12

What would you do right after defeating your opponent?

Show them respect and love

Get some rest

Shake hand with my opponent

Celebrate my victory

Invite them for a rematch

Humiliate my opponent

13

Winning a tournament is ___________.

Not a big deal

Fun but not vital

Honorable

A lifetime goal

Stupid

The only thing that makes you a real fighter

14

Which one sounds like your guilty pleasure?

Smoking

Getting off

Watching adult film

Getting high

Making troubles

Picking up on others

15

What do you like about the Cobra Kai series?

Story

Characters

Romance

Its Karate Kid vibe

I don't really know

Fight scenes

16

Someone is bullying your best friend. What do you do?

Call the authorities

Shield my friend with my body

Warn the bullies and ask them to stop

Start a fight with bullies

Plan a revenge

Nothing

17

"Fear" is a fighter's ______________.

Mentor

Friend

Mirror

Shadow

Weak point

Enemy

18

On a scale of 0 to 10, how much violence is okay in martial arts? (10 means a lot).

19

Are you happy with your life as it is?

Yes

Kind of

I've had better days, but I'm fine

I don't really know

I could be happier

I'm depressed and dissatisfied

20

Final question; what type of sensi would you be if you had to teach karate to kids?

Kind

Orderly

Easygoing

Strict

Reliable

Scary